Rachel Berthoumieux got her fame by scripting the 2015 Valentine Day Hijacking of Marline Mith-Elie, 9 months before Dr. Dupiton would also execute her Thanksgiving-kidnapping.
It all began in January 2015 when my wife told me about an invitation she received to a family wedding in Haiti and of her desire to attend. Something that I saw as a great opportunity for her to get away on a relaxing little vacation with her family, and also give me a little time to myself.
But I later realized that it was NOT her family's wedding, but the wedding of someone from her ex-husband's Charles family. So that invitation was just a formality as her Charles children were expected to attend, but she was not really expected. So I obviously changed my mind over her going because:
FIRST: It was a Valentine day wedding when couples are supposed to celebrate their love together.

SECOND: I was scheduled for an eye surgery for that same week, when a wife is supposed to be by her husband's side.

THIRD: Marline was unemployed at the time with me solely responsible for all the house finances. So such an expense was no longer warranted for a non-family function.
However, at the time, Marline was already under pressure by the women instigators to prove that 'her husband does not control her', as her sister Joelle had told her in writing stating:
"Marline... JC cannot "push himself on us" and telling us he has control over you and would not let you go anywhere without him..
So after some disputes over this unnecessary trip, I figured the matter was settled, specially since Marline and I had confirmed our reservations to a Valentine's Day Gala by Kwizine Arts Catering for Feb. 14, 2015.
ENTERS INTRUDER-HIJACKER RACHEL BERTHOUMIEUX
Then days later, while using my wife's laptop, an email popped up from her friend Rachel Berthoumieux with the subject line "JetBlue Airline Booking Confirmation". So I opened it and here is what I saw.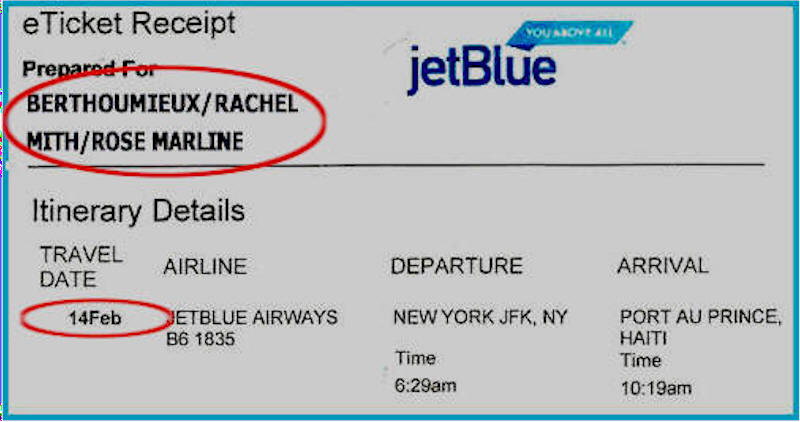 AN AIRLINE RESERVATION FOR RACHEL & MY WIFE FOR HAITI ON VALENTINE DAY. THE SAME DAY THAT WE HAD JUST CONFIRMED OUR VALENTINE'S DAY GALA RESERVATION.
CONFRONTING RACHEL
So in total dismay, I tried to reach Rachel to inquire as to what these tickets were about, but she kept ignoring my messages and calls. As I insisted, she finally replied with this blasting text message full of insults & threats;

Now, I immediately recognized her reply as a guilty reaction. Because all she had to say was that 'Marline had asked her to make the reservation for her", and that would be it. Instead, she went the ghetto route with ill-mannered words of "Police, BS, Disturbed, Will not tolerate, etc.".
In the end, she exposed herself as a woman with low character, no class, nor education. So much so that she could not see that in her attempt to insult Marline's husband, she actually showed maximum disrespect for Marline herself. Specially after she had pushed herself into being a second Maid of Honor at our weeding with Marline's true friend Cherely already given that honor.
PEOPLE-PLEASER MARLINE DEGRADES HERSELF TO RACHEL
So when Marline heard that I had contacted Rachel about the secret Airline Reservation, and saw Rachel's angry message to me, her 'People-Pleaser' personality took over, and instead of scolding Rachel for insulting her husband, Marline did the most self-degrading thing ever. She apologized to Rachel in a disturbing letter that reads more like a love letter. One that I had labeled as 'Classified', and never to be released. But then I decided to release it with Marline trying to blame me for the marriage demise. So here it is:
WARNING: Please have your r seatbelts fastened for the shock you are about to receive
From: Marline Elie
To: Rachel Berthoumieux

Rachel,
You think I'm going to let JC break our friendship. He will be the one out of my life.

He is a sick man. As I told him, I'm giving him one more change. If he was a boyfriend he would have been out

I already told him MY FAMILY AND MY DEAREST FRIENDS COME BEFORE HIM. He begged me to marry him. ….. Then he started with Tiffany, then Joelle then you and anyone that is close to me.

He will never have the kind of friendship that we have. Anyway I just wanted you to know I miss you
I'm sorry for my stupid husband illness at you. and hope you can forgive me because I put you in his life and you do not deserve that.

He knows now that if he ever talk to you or any of my friends or family like that we are done.. Any way hope to see soon

Love you,
Marline.
Obviously I was extremely upset at my wife for degrading herself to Rachel with an apology letter of love. But while I attributed it to the chronic 'People-Pleaser' personality that gave her the fear of losing Rachel's friendship, I had questioned Rachel's reason for being receptive to a wife putting her above the husband.
MARLINE DOUBLES UP ON HUSBAND FOR RACHEL
Now while Rachel was delighted by Marline's apology and willingness to dump her husband for her, she decides that an apology from Marline was not enough.' Marline had to prove her loyalty by requesting that I apologize to Rachel myself for the nerve of questioning her secret vacation booking with my wife.
Well, since you may not take my word for what came next, let me have the 'Evidence that does not lie' speak for me in this blasting message my wife sent me requesting that I apologize to the arrogant Rachel.
PLEASE; Keep the seatbelts on.
From: Marline Elie
To: Jean Claude

JC.
You are finish with me. You mess with my sister, my daughter or any of my family and my friends you better lose my number. You will not tell me whom I can talk to or see. I will talk to and see whom I want.

You are sick get help. You don't apologize to Rachel, do not ever speak to me again. I mean it By the way, I told Rachel just like I told Joelle to sue your Ass for harassment.
I will find a man that will love me and all my family and friends.
Do not call me to bail you out or come to get you. Call your family.
Marline
Well, at least Marline still thought that I had a family.
Now let me show you why this shocking message letter in the last year of the marriage was a reflection of the brainwashing she received from her sister Joelle the Brainwasher and Johanne Dupiton the Mad Doc.
FIRST: There is her reference to the "Police & arrest" teachings that were first introduced by Joelle with the "Assault Tiffany" Big Lie, then confirmed by the Mad Doc in this message to me after the break up.


SECOND::, You have Marline saying "I will find a man...", which comes from Joelle's brainwashing letter telling Marline: "... JC may feel good about getting an desirable woman that other men wanted".

THIRD: We have Marline complaining about me 'not loving her family and dearest friends", while I did not know that in taking her as a wife, I also took all her family and girlfriends as wives to love.
THEN RACHEL DECIDES TO PULL THE HIJACKING OF MY WIFE
By this time, I had enough of Rachel thinking that she also controlled my wife with the obsessive-possessive sister Joelle. So I decided to put an end to their secretly booked Haiti vacation by calling JetBlue and cancelling the reservations. That's when Rachel decided to prove to me who's the boss.
She proceeded to call JetBlue, and rebook the reservation that I cancelled for my wife.
SO SHE EXECUTES THE VALENTINE'S DAY WIFE-HIJACKING
So on Feb. 14, 2015 Valentine day, Rachel picked up my wife from our home, and without saying good bye to me, Marline left the house, and headed to Haiti with her "Booking Agent Rachel Berthoumieux' for vacation, leaving her baffled husband to have a lonely Valentine Day.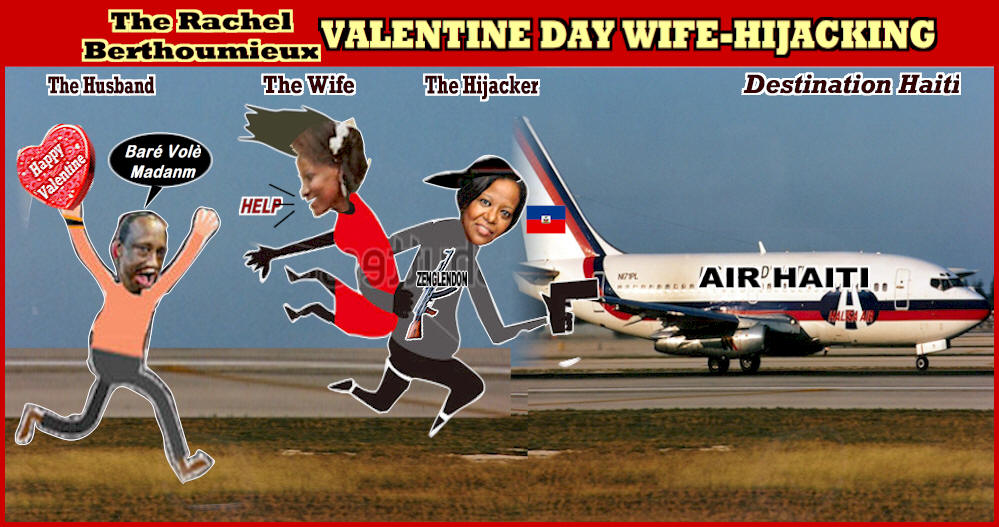 But guess what Good-Husband JC did next?
Upon my wife's return, I welcomed her back with open arms, hoping that she had gotten this 'People-Pleaser' urge out of her system, having proven to big sister Joelle, Johanne and Rachel, that 'her husband cannot control her moves'.
AND HERE WE ARE TODAY WITH MARLINE TRYING TO BLAME ME FOR BREAKING THE MARRIAGE AS CONSOLATION FOR HER SORRY-SELF.
AFTER A VICTORIOUS WIFE-HIJACKING, RACHEL WAS EMBOLDEN FOR THE NEXT MISSION.
Now to show you that Rachel's level of arrogance had no frontier, let me present you a SAMPLE of her next moves on my wife.
WARNING: For the following cases, you might want to grab some Valium.
CASE #1: THE 2015 HAITIAN ROUNDTABLE GALA
Later in that dreaded 2015 year, the Haitian Roundtable Organization was having its annual Recognition Award Gala in Manhattan. So Rachel decided to attempt her next move on my wife. A move that I only discovered later from a text she had sent to my wife.
Rachel had sent my wife a message, inviting to secretly take her to the gala alone , and to leave the irrelevant husband JC home in bed.
But this one scheme of Rachel turned out to be too challenging for my wife to pull off. So in replying to Rachel, she had to find an excuse to give her, since the normal wife response of "Sorry Rachel, but I can't go to such a gala alone, specially without telling my husband", would be viewed as letting her husband control her moves. So Marline came up with this reply:
"Oh Rachel, I can't afford to go. I just spent $500 on busted water pipes".
But there were many problems with that excuse:
1) It's true that $500 was spent on busted pipes, but the $500 came solely out of MY pockets.
2) Rachel's invitation came with a $150 Min admission price, and there would be NO VIP welcome showing up with a Rachel.
3) She could have tried to use the RockMasters Business Master card that I gave her to use as she pleases.



But the bill comes to me, and hell would surely break loose.
So that was one failed attempt by Rachel. So let's go to Case #2
CASE #2: RACHEL'S SOBs SHOCKER
That was the day we had a full VIP invitation from the owner of SOBs to a special event in honor of President Michel Martelly, with our table waiting for us in the VIP section. But just before heading there, an argument started over her sister Joelle, spoiling my mood.. So I told Marline that I will call Jube, the manager in the morning to apologize. So she got upset, went to her mother's house as I went to bed.
So the next day I called SOBS to apologize for the no-show But before I had a chance to do so, Jube told me:
Hey Rock. Sorry you could not make it, but we took good care of your wife & her friend Rachel"
Wow! But what also pissed me most was Rachel's audacity to use MY VIP for Free admission and to seat at my VIP table as RockMaster guest.

Well, ore one more goal for Rachel in the 'Volè madanm moun" Department.
CASE 3: A NIGHT ON BROADWAY STOLEN BY RACHEL
It was now October of the same dreaded 2015 year , when on a nice Sunday afternoon, I saw the advertisement for a new Gloria Estefan show on Broadway. So I decided to surprise my wife with a romantic afternoon with show and dinner at a fancy restaurant on Broadway

So I go to excite her with my great plan. But she tells me that she could not go because she had a house to show, and could not cancel since the people were from out of town. Well, disappointed, I agreed to postpone the romantic evening.
So as she went to show the house, I took a drive when I came across her car parked near the residence of a Heal Haiti member where she was attending a meeting of the organization on Rachel's invitation. A meeting with Rachel that was more important than a romantic evening on Broadway with her husband. Proving that she meant it when she wrote Rachel saying:
"Rachel... I already told him my family and my dearest friends come before him...".
Well, that was one more goal for Rachel
CASE #4: THE NEXT HIJACKING ON A FALSE PROMISES AT THE HEAL HAITI GALA
In this case we find Rachel Berthoumieux joining forces with Mad Doc Dupiton to pull off another wife-hijacking job, with the bait of a membership promise in the organization..
That day, my wife, myself and my family were to attend the premiere of a movie produced by a niece in-law of mine, and for which we had 2 backstage VIP tickets since RockMasters had promoted the movie.
So I got dressed and waited for my wife to return from an errand, except that time was passing and she was not returning. So since my niece Johanne Dupiton would be at the event, I called her to say that we might be late.
Well, what followed was a Bombshell conversation with my niece the Mad Doc who was not at the movie premiere. And it went like this:
Me to Doc
Jojo, are you at the movie premiere.? I'm home & can't find Marline
Doc Dupiton
Oh, Oh. she is here at the Heal Haiti gala
Me in shock
What the heck is she doing there? I'm waiting to go to the movie premiere in Brooklyn
Doc Dupiton
She's here because that's her club that she's a member of.
Me in shock
No she isn't. She was just helping with a journal.
Doc Dupiton
(with arrogance)
Well she is. AND IF YOU DID NOT KNOW, NOW YOU KNOW
And the evidence that my wife was once more hijacked by Rachel in association with the Mad Doc was provided by Facebook. So here is the trio of Rachel, Doc Dupiton with her sister Dominique, surrounding my wife at the gala.
Picture taken while dumb husband JC was left stranded at home with 2 VIP tickets in hands for a movie premiere with my wife.
Then look at this 2nd picture of the puppet husbands Guy Dupiton and Patrick Colimon seated with their wives and quietly watching them hijack my wife.
And neither of them was man enough to say that this was not right, nor have the courage to warn me of what was going on with a simple text. But as Marline once told me: "Guy can't say a word in that house afraid that Johanne will kick his ass out.
'THE MEMBERSHIP PROMISE TO MARLINE::
Now, you should remember the ridiculous promise of membership in a fictitious 'Ex-wives Club' that Doc Dupiton had made to Marline in exchange for dumping her husband, and confirmed by this text from Marline to Johanne:


Well, that was a similar promise of membership in Heal Haiti that Rachel and Doc Dupiton made to Marline if she dumped her husband.
So score one more goal for Rachel
the highjacker.
COMES DECEMBER 31, 2015 - RACHEL'S EXPLOSION OF RUDENESS
So come December 31, 2015, and my wife and I had patched things up after attending a religious marriage retreat. A day that she sent me a heart-warming and hope-filled New Year Resolution for 2016, so we decided to celebrate the new beginning at Mirelle's Restaurant with the group Enpresyon.
.Arriving there, Marline and I were directed to our table next to the stage where many of our acquaintances were seated, and to my surprise, so was Rachel whose seat at our table was not coincidental. However, I did not see her as a threat for the night.
So I went around the table to shake everyone's hands, and as I came upon Rachel, I did what any well-mannered person would do in a social setting. I reached out to shake her hands & to say Happy New Year.
Well, the rude Rachel first ignored me. So thinking that she did not see that, I reached out a 2nd time, then a 3rd time. At which point the ill-mannered Rachel made a sudden angry gesture toward me yelling "STAY AWAY FROM ME". It was an ugly public display of what Haitians refer to as 'Vyé Moun', or a 'Machan pwason', as depicted in this picture.
\Well, being the gentleman who will not allow anyone to drag me down into their swamp, I simply smiled and took my seat at the table. But while I was more embarrassed for my wife getting no respect from the fake girlfriend, we had a great time as Rachel became irrelevant at the table.
BUT PESKY RACHEL RETURNS IN 2018 AFTER THE MARRIAGE BREAK UP
Now here I was in 2018, 2 years after Mad Doc Dupiton drove the final nail in marriage demise. So to increase the pressure on her in my demand for accountability for her actions, I decided to take my story public vial email and text messages to my phone contacts. So pesky Rachel saw that as an opportunity to become infamous once more and sent a reply to the group, dated Aug. 15, 2018, 10:11PM.
So as the evidence man, let me present Pesky Rachel in the 'Evidence that does not lie".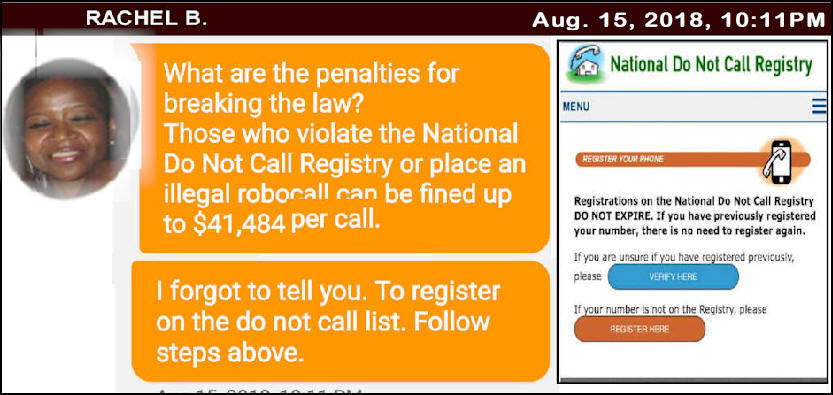 So if Rachel is wondering why she is under a global spotlight today, it is because the pest that she is, has refused to fly away.
MY LAST WORDS & ADVICE TO RACHEL
So I close with these words of wisdom for the low-Class, wife-hijacker & booking Agent Rachel Berthoumieux
'Life is a school we wake up in each day". So I hope that by reading this message in my classroom of life, you learned these 4 life lessons.
Lesson #1: The role of a maid of honor is to provide positive support to the couple, not to become the wife's booking agent in promoting a 'Single-wife' lifestyle.

Lesson #2: A true girlfriend with character, does not insult nor disrespect her friend's husband. As the greater disrespect in your case went to Marline, and not to me.

Lesson #3: Choose your adversaries carefully, and never pick on someone more educated, and with more class & character than you.

Lesson #4: Never inject yourself in someone's marriage . Because it creates the 'Boomerang Effect', which you got a dose of, and as represented in the artwork below,.

So if you learned these 4 lessons as my good student in the 'School of Life', you will not repeat the same mistakes that made you a member of:
THIS WOMEN SYNDICATE THAT ATTACKED MARLINE'S MARRIAGE
And responsible for her current condition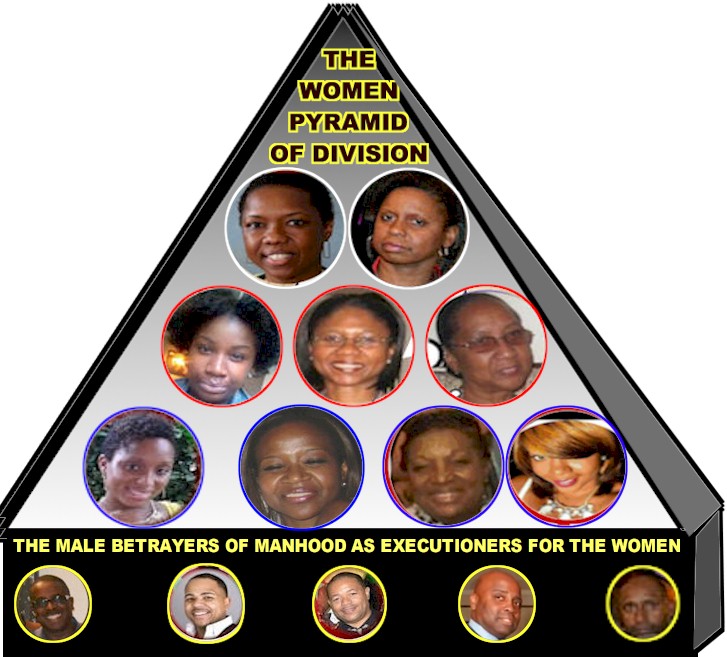 AND CONSIDER YOURSELF LUCKY NOT BEING ON THE
THE IMPEACHMENT POSTER WITH YOUR PARTNERS IN CRIME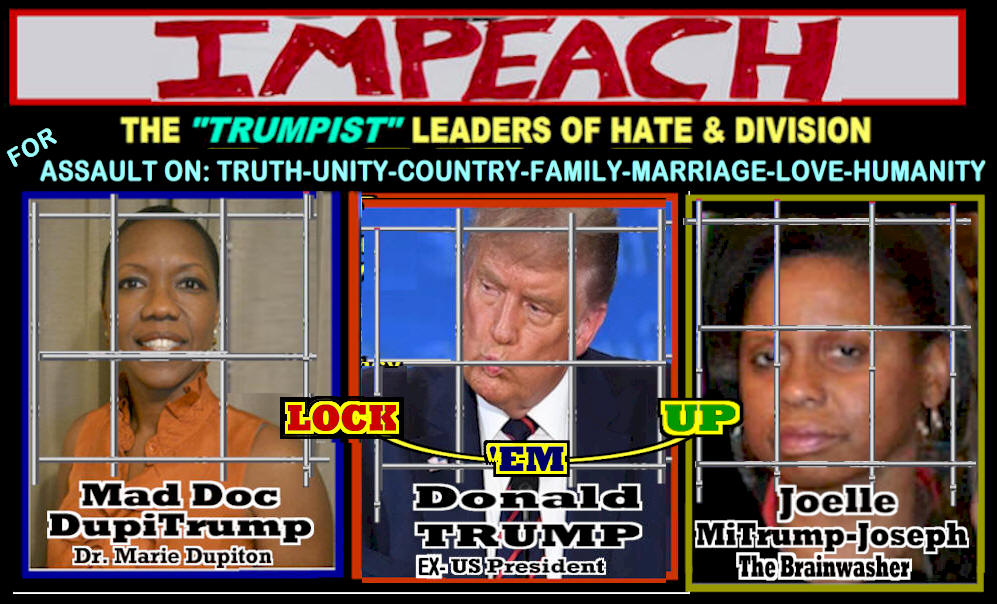 NOW I STRONGLY RECOMMEND THAT YOU READ
The previous presentation below that exposes the Hard-Truth & Root-Causes behind Marline's recent text messages in denial that, events like those above, resulted in the demise of her marriage. And also learn the basis for the impeachment poster & possible filing of complaints against the practicing licenses of Dr. Dupiton MD, and Joelle Mith-Joseph LCSW in my demand for accountability.
CLICK BELOW:
THE HARD-TRUTH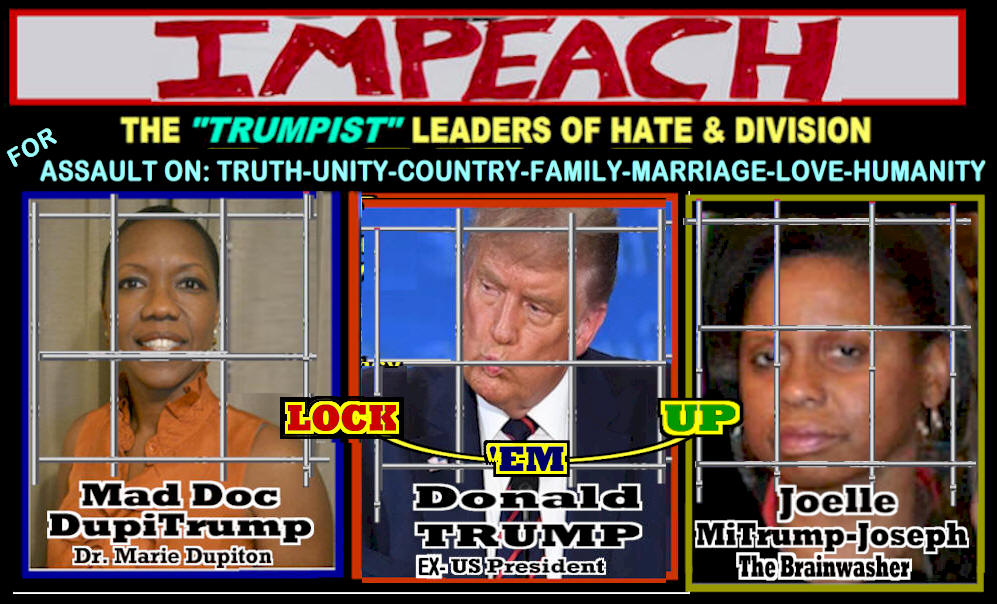 THE ROOT-CAUSES
A Must-Read Presentation