UPDATED CONDENSED VERSION
OF THE DUPITON "MASTER PLAN #1"

Now let me introduce you to the engine that drove a complex set of conspiracies converging into the real life catastrophe and outrage of today. An engine referred to as 'THE MASTER PLANS', engineered by Mad Doc Dupiton. So let me present you a comprehensive version of the 'Master Plan'.
THE MASTER PLAN GOALS
The goal remains the destruction of Jean Claude Elie and of everything that brings him happiness, love, financial reward, joy of life, and specially whatever Doc Dupiton thinks that Jean Claude has better than her.
THE TARGETS OF THE PLAN EXECUTION:
My marriage, wife, daughter, business, reputation, status in the community, even my residence in Jamaica Estates which she views as Beverly Hills, to my physical wellbeing.
EXECUTION PLAN & EXECUTORS
Following are the individuals enlisted or coerced into executing the different Elements of her Master Plan over the years. It is also important to keep in mind that each of the 9 elements listed below could be a full report by itself. So these are very condensed versions for which I selected only 1 or 2 example cases to make the point.
#1) MY 1ST WIFE PAULETTE (Mother of my daughter)
Soon after I met Marline, the Claudes brought her back and Indoctrinated her into the feminist philosophy. Then brainwashed into the erroneous idea of getting revenge for our divorce of over 30 years ago, and for the break up of a second marriage that gave me Marline. Therefore I must be made to experience the feeling of these women by making Marline dump me
Well, after my wife Marline did exactly that, my ex-wife sent me a message saying: "...You know what? This is KARMA"
And here she was as a guest at our wedding with my daughter. The day the Doc started cooking her Master Plan.

(
SO ELEMENT #1 OF PLAN EXECUTED BY THE DOC.)
#2) MY DAUGHTER TANISHA ELIE
The youngest one indoctrinated into the feminist philosophy & brainwashed into believing that her father did her mom wrong in divorcing her over 30 years ago . Then she was brainwashed into an amnesia of her real father, and into believing I was not really in her life. Even told that her father is now paying for Marline's son delinquent college loans, when he should be paying hers. So "What kind of father does that?. Then just like her father dumped her mom, he will also do it to Marline. So we can't let him do that to nice Marline. can we?. So we must help her dump him first.
So after my single, immature daughter was sold on these nonsense and supported the Doc ruining her dad's marriage, she sent me a message saying: "You could not just shut up and be a good husband... You are obsessed with Marline. She is your ex-wife
(
SO ELEMENT #2 OF PLAN WELL EXECUTED)
#3) MARLINE'S CHILDREN
Marline had to believe that I do not like her children. For that, she was brainwashed into reversing herself to accept her sister Joelle's blatant lie that I had hit her daughter. A reversal achieved by putting in her head that I was a crazy man because I had kicked a door 10 years before, and I had a late uncle who was supposedly crazy. In addition, I did not like her children because I had complained about her daughter's dog using the living room as private toilet, and for having cleaned out a guest room closet of 200 empty sneaker boxes to give my wife more closet space for her expanding wardrobe. But somehow, Doc Dupiton translated these to Marline as me invading her adult children privacy. And this list goes on and on.
The results was a Marline who was happy to find someone helping her make excuses for her children behavior. So before I knew it, Marline started saying "You hate my kids..., You hit my daughter... (By kids, she is referring to adults in their late 20's & early 30's)
(
PLAN ELEMENT #3 ALSO WELL EXECUTED BY THE DOC.)
#4) DOC DUPITON AS THE SPY INSIDE:
The Mastermind of the pan who operated behind the curtains had managed to infiltrate the marriage as my confident getting inside information from me that she'd use negatively in a secret relationship she had developed with my wife, along with secret telephone and secret email address that were unknown to me.
(PLAN ELEMENT #4 EXECUTED AS UNDERCOVER OPERATION)

#5) DOC DUPITON'S FAIL-SAFE & BACK UP SOLUTION
There was one sadistic element of the plan that, if the opportunity presented itself, would have given immediate, and trouble-free victory. While a few opportunities did present themselves, I kept them in the classified folders, and only made mention of these two:
- The "Faking 230BP" Diagnosis. As dead men can't publish reports
- The "Hiding from Pharmacist", as blind man sees no evil nor write about any evil.
(SO ELEMENT #5 PARTIALLY SUCCESSFUL WITH DAMAGE TO VISION)
#6) DOMINIQUE CLAUDE-COLIMOND (Sister of the Doc)
An element who I discovered only weeks after the marriage break up when I questioned the family about my suspicions of their involvement in the break up. Then niece Dominique sent me a blasting letter from which I quote:
From: Dominique Claude-Colimond - Date:02/03/2016
To: JeanElie@aol.com
----
.- What I don't understand ... you want to remain in the marriage. SOMETHING DOES NOT ADD UP.
Marline did nothing to us. But you, to the contrary, you did a lot more with your words.
- After all, I find it surprising that as our uncle having been married three times ...
- If we had advised you not to marry your (3) wives, you would have not listened ..
WELL, THE LAST PARAGRAPH ALSO PROVES THAT BREAKING THE MARRIAGE WAS THE WOMEN REVENGE FOR ME GETTING MARRIED 3 TIMES.
Then while trying to resolve issues with my wife, I clearly told niece Dominique not to get involved with my wife. Because being my niece would signal a conflict of interest, since family stands with family. Well soon after the break up, my investigations revealed that I was ignored as proven by this on-line picture of a secret family business arrangement with my wife.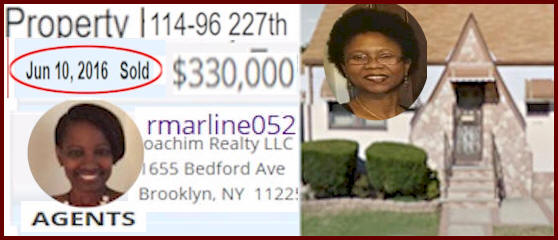 (SO ELEMENT #6 - BACKSTABBING OPERATION SUCCESSFUL)
So on to the most important element of the Master Plan.
#7) VICTIMIZATION OF MY WIFE MARLINE - THE CLOSER
Someone I married as a great lady, but one with a "People-Pleaser & Professional Helper" personality weakness used to make her the principal plan executor by self destructing her marriage. Something achieved through indoctrination into a twisted feminist concept that a wife must "Fe Sa'm vle, le'm vle - Soti le'm vle, rantre le'm vle", and not allow a husband to "Control her MOVES". But for you to truly get the full effect of that indoctrination, I invite you to hear Marline's tone in saying these exact words to me in Kreyol.

Then to prove that she accepted those concepts, she had to express it with a public display of a "Single-wife" lifestyle".
THE SINGLE-WIFE LIFESTYLE MARRIAGE KILLER
Here are 2 perfect examples of that lifestyle with Dupiton's signatures.
FIRST: It was on the day that one of her secret activities with Doc Dupiton was revealed to me by a suspecting individual who text me the picture below to show me where my single-wife was, partying & drinking in the company of the Claudes while she was to be home.
Obviously, an embarrassing way for a husband to learn of his wife's whereabouts. But it was nothing compared to the night when I called Doc Dupiton very concerned about the whereabouts my missing wife. Only to have the Doc reluctantly admit that my wife was with her at a Heal Haiti Gala being a "Professional Helper". Then the Doc happily informed me that "Well, she is a member of Heal Haiti"

So when I said to the Doc that "I only knew that my wife was helping them with a journal. And she would have told me if she was truly a member, because I would have been glad for her'.
So the Doc arrogantly replied: "Oh well, she is, and now you know"
Well. I did not know because there was some outrageous & troubling conditions imposed on her for that membership. And I will soon get to the gory details

However, ell, that phone call to Doc Dupiton ironically saved me the next major embarrassment. That came when I got a phone call right after from a very well known individual asking me "Hey Rock, I see your wife, where are you?". So instead of badly stuttering, I was able to quickly make up a story that probably was not believable.
THE DOC'S MEMBERSHIP PROMISE WITH EVIL CONDITIONS
However, there was more to this case than my wife proving to the Doc that 'I don't control her moves'. Because the Doc, in coordination with girlfriend Rachel B., had also promised her membership in the organization, just as Doc Dupiton had promised her membership in some imaginary "Ex-wives club" if she dumped her husband, which my wife confirmed in this text to the Doc.



So here is the trio of Rachel, Doc Dupiton and her sister Dominique surrounding my wife at the gala that night, while dumb husband JC was worrying about his missing wife.

But on the far right of the picture, we see the Doc and her sister not behaving as single wives like their student Marline. We see them seated with their "Just-Shut-Up" husbands, while true men who are not family call me and text me picture wondering: "Do you know where your wife is?". Well, I did not. But my nieces & their "see-no-evil, hear-no-evil, say-no-evil" husbands did.

So, we now have condemning evidence of my nieces and her girlfriend staging this public
'Single-Wife'
performance for Marline in the presence of her husband's friends, acquaintances and business associates. One of whom made the phone call to me at home.
But so far the only condition that Marline had not yet satisfied, was '
Dumping her Husband
'. But that would come in a shot 3 months after that gala
MEMBERSHIP PROMISES KEPT
Now, after Marline executed her parts in the Master Plan, by breaking the marriage with no valid reason given, Doc Dupiton kept her promises and awarded my wife with membership in the ex-wives club and in the Heal Haiti organization. A victory that was celebrated with my wife at the organization's following year gala, as proven by this celebratory picture of Doc Dupiton seated in company of Marline's sister Joelle Mith-Joseph who was a secret supporter of the Doc's Master Plan.

Also present at the celebration, but not pictured here, were Dominique Colimond, my nieces Just-Shut-Up husbands and girlfriend Rachel.


So when you hear Marline say "WHAT DID JOHANNE HAVE TO DO WITH OUR MARRIAGE?". Show her the pictures above and say "EVERYTHING". Cause Evidence don't lie.


MY FAMILY MEMBERSHIP & MY DAUGHTER AS BONUS REWARDS
As extra bonus for allowing herself to be fooled into self-destruction, Doc Dupiton also duped Marline into a false membership in my family as my replacement. Then since Doc Dupiton had also severed my relationship with my daughter, Marline was further duped into believing that she was granted greater privileges than me over my daughter. And however weird that all sounds, Marline believed it, because here is the message she sent me relating to my own daughter Tanisha
"You think anyone can force me or Tanisha to do what you want. You got the wrong ladies. We do what we want when we want"
THIS CONFIRMS THAT DOC DUPITON HAD GAINED SOME MENTAL CONTROL OVER MARLINE TO MAKE HER BELIEVE IN SUCH IDIOCY ABOUT SOMEONE'S DAUGHTER. THUS THE REASON I SAY THAT MARLINE IS A MENTAL VICTIM OF MY NIECE JOHANNE.
But what's even more troubling is that this also further confirms Dr. Dupiton's mental corruption and manipulation of my daughter, who she must account for..
FURTHER NEGATIVE IMPACT ON MY DAUGHTER
Now. on top of Marline's comments above, let me remind you that this past Thanksgiving marked the 4th Anniversary of Doc Dupiton's "2015 Kidnapping of my wife", that she had executed at my daughter's house, and in her presence. And as Marline was heading there alone over my objections, I never forgot these words that she threw at me:
"Oh! you don't have a daughter anyway".
Words I thought were simply angry words at the time, but which gained great significance with her now saying to me "You think anyone can force me or Tanisha to do what you want. You got the wrong ladies..." .
So it is clear that my daughter's separation from me was a premeditated and scripted part of the 'Master Plan'. Now that it's accomplished, Doc Dupiton is handing my daughter over to Marline as a prize. IT DOES NOT GET MORE EVIL, DERANGED OR IMMORAL THAN THAT.
But all this will have a life long impact on my single, inexperienced daughter who Doc Dupiton had also infected with the feminist absurdities of 'Just-Shut-Up' husband, 'Control', and 'Single-Wife lifestyle'. However, as the future will reveal, the outcome is that my daughter will end up as a 'Single Old-Maid'.
THUS AS A FATHER, I REPEAT: THE DOC CAN KEEP THE MARLINE SHE STOLE AS A 'VOLÈ MADANM'. BUT SHE MUST, AND SHE WILL ANSWER FOR WHAT SHE DID TO MY DAUGHTER. AND NO AMOUNT OF FABRICATED ARRESTS WILL STOP THAT.
#8) MISCELLANEOUS ELEMENTS OF MENTAL MANIPULATION
So you were just exposed to some of the Elements and Executors of the Master plan . But there are many more elements that were directly executed though Dr. Dupiton's undercover operations with very damaging results. So let me introduce you to a few..
A) HUSBAND OF SINGLE-WIFE WEARS NO WEDDING RING
Now, another problem for Doc Dupiton was the wedding ring on my finger which conflicted with the single-wife lifestyle imposed on my wife. So for Marline to mentally believe that the man in her bed was not truly a husband, my wedding ring had to go. And here is how it went:
I woke up one day and noticed that my ring was not on my finger. Knowing that it was a little loose, I searched all over the bed with no success. So, as I nervously told my wife about it, expecting an angry reaction, she just looked at my finger and said nothing. Because she was ordered to remove it, then never once asked me if I did find it. Now that I think about it, since 'us men' don't pay attention to certain details, I bet that her ring was already gone by then.
(SO GREAT UNDER COVER JOB DOC.)
B) YOU ARE A WIFE, NOT HIS MAID.
Now, this one is to reinforce in the feminist, anti-men philosophy.. Now Marline was a wife who regularly prepared dinner for the family, and enjoyed doing so. Even before she went to work, she'd leave me a lunch bag to take to the office, and clearly labeled "FOR JC" to be sure no one touches it.
On the other hand, her husband who was very appreciative, was also raised to be an independent man who does not rely on a wife for anything, except for a fun and happy life. So as a good cook myself, I would return the favor, and she'd often come home to find a full course dinner ready with the table set. In addition, she often woke up on weekend to see breakfast being served to her in bed. It was the type of husband gestures that drove feminist women like my niece into a jealousy rage.
So all was well for years, until the last few months when I noticed that she had not cooked for weeks, and only brought Pizza if I did not have dinner ready. So when I questioned her about the change, I got a shocking response directly from the book of the ultra-feminist cult. She said:
"Oh! what do you think I am? I am not your maid. You know how to cook, cook for yourself". WOW I said, So I replied
"Oh forgive me. So for the 4 years you've been cooking, I did not know you were my maid. I thought you were being a wife".
``(GREAT UNDER COVER JOB BY THE DOC)
C) NEW NAMING RULE: THEUS=> DUPITON, ELIE=> CHARLES
It started soon after Marline and I got married and after my niece, then divorced Ms. Dupiton, decided to also get married to Mr. Guy Theus in the Dominican Republic. But since we did not attend, she organized a 2nd ceremony at the same place Marline and I got married trying to outdo our '"Wedding of the century". Then instead of divorced Ms. Dupiton becoming the new Mrs. Theus by tradition, it was Mr. Theus who became Mr. Dupiton #2.
At this point in our marriage, Marline was still excited sending out name change forms to all her creditors. But when my niece remained Mrs. Dupiton after her marriage, I noticed that Marline's name changes stopped coming.
Now, since my wife had been unemployed and I was in charge of the finances, I got tired of sending my money to pay bills addressed to some Mrs. Charles, and have the creditors take me for a Mr. Charles. So when a creditor told me that he never received any name change requests, I added 1+1 and came up with my dear niece Mrs. Dupiton #2 pressuring Marline to follow her example, and new ultra-feminist concept by telling her:
Why do we women have to give up our name to take the man's name? That's "Control". That's why I made Guy take the name of my ex-husband that he found me with. And you should do the same. Keep your Charles name and have my uncle become Mr. Charles. THAT'S WOMEN POWER.
So Marline had a huge problem. Because no way in hell could she dare approach a proud Jean Claude Elie with the insulting idea of becoming Mr. Charles, or for her to remain Mrs. Charles as my wife.. So being stuck between a Dupiton hard place and a real 'Rock', the best she could do is nothing. So the name changes stopped coming. And Doc Dupiton had created another problem in our marriage.
(ANOTHER DESTRUCTIVE ELEMENT WELL EXECUTED)
#9) CRITICAL FINAL ELEMENT - POLICE BRAINWASHING
But to close the deal, the last piece of the plan required Marline's indoctrination into the devious & cruel 'Police & False arrest' tactic. Now, this 'Police' word is one that Marline had never pronounced in the prior 19 years of knowing her. The first time she used it was just 2 months before breaking the marriage with a second 911 call on the final day of plan execution, January 24, 2016.
SO WITH THAT, IS MASTER PLAN #1 SUCCESSFUL?
- THE PRELUDE TO MASTER PLAN #2 -
POST-EXECUTION MISTAKES IN MASTER PLAN #1
Now upon exiting my marital home with the family making me enemy #1, and Doc Dupiton imposing a full gag order on communications with me, she began the celebration believing that I would disappear and never to be seen or heard from again. Well, that was a big post-victory miscalculation that also exposed some big mistakes in the original MASTER PLAN #1. So here are the Top 3 mistakes.
MISTAKE #1: KNOW THE ENEMY YOU CREATE
First thing in a Master Plan, you have to be careful in picking your fights and your enemies. Then you must do your research on their strengths, weaknesses and what weapons they have to strike back at you. Obviously, as you will see in my counterstrikes, Doc Dupiton did not do her research on me, therefore did not know what weapons and ammunitions I had waiting in my arsenal when I decide to strike back.
MISTAKE #2: THE MISTAKE OF DUMMIES
Whenever you design a Master Plan, you must have a strategy to handle post-victory. For example:
1) If you plan a bank robbery, and you hit it big, you lay low for a while. You do not celebrate by purchasing a Rolls Royce the next day.
2) Then If you successfully break someone's marriage, you should play dumb, and at the minimum you ask "Oh! What happened?". WHAT YOU DO NOT DO, is immediately make the person enemy #1 before asking 'What happened?'.
MISTAKE #3: THE KILLER MISTAKE- LEAVE NO LOOSE ENDS
Well, when Doc. Dupiton ordered that all doors to all family houses be closed to me, she miscounted & left open a big gate of a loose end. She forgot the house of my other good sister Roselyne Balmir who suffers from Alzheimer, and therefore unaware of this Master Plan that the Doc could have never gotten off the ground if sister Roselyne was in good mental health. The good sister whose doors are always open to her brother into the family house that saw me through high school, college, and where our matriarch Anna Rose Victor took her last breath. A house so sacred that it was spiritually shielded from Doc Dupiton's mind while developing her evil Master Plan. However, a house she would bring hell into upon hearing that uncle Claudy found the loose end, and took residence in that Safe-House.
HELL COMES TO SAFE-HOUSE DOORS
So when the words got out that Jean Claude Elie had taken residence at his sister's house in Cambria Heights, just blocks from Camkids Pediatrics, a shockwave hit the Dupiton Renegades Baldwin headwaters, and an SOS message was broadcasted saying:
"HOUSTON, HOUSTON, WE GOT A MAJOR PROBLEM!". - So Huston replies:

"WE READ YOU!! WHAT IS THE PROBLEM?":

"Claudy did not go away. He is still around, and now even closer than Jamaica Estates. So, how the hell can we show up at the family house base with Claudy waiting for us with a loaded machine gun of incriminating questions we can't answer. THAT'S THE DARN PROBLEM,.. 10-4"
Well, General Mad Doc's mother Liliane Claude decided to take the challenge and headed over to sister Roselyne's house. So upon her arrival, I welcomed her by saying "What's up sis? Little brother got a couple of questions for you, and here is the first one":
"Please sis, explain the coincidence of the family ignoring my SOS calls, from Hillside Ave, then making me enemy, and closing all doors to me at exactly at the same time that my wife put me out?. I'd like to know"
Well, I did not expect an honest answer. But hell if I expected the one I got. As sister Liliane Claude yelled at me from the living room of our sick sister Roselyne Balmir
"Map fe yo fout ou deyo ici a TOU" (I'm going to get you kicked out of here ALSO)" . To which I replied :
"Oh, ALSO? Is that a confession that you did it before?" Then the next thing from her was even more revealing, as she said:
"Oh! Fanmi madan'm li fout li deyo, epi lap vin bay moun responsab (His wife family kick him out & he wants to blame us)
Well. no need for me to continue. Use your imagination. But upon learning of this first encounter, Doc Dupiton realized that mommy Liliane was a 'blah-blah' mouth who can't be trusted for the job. So she decided that it's time for Master Plan #2 to deal with the Claudy problem
"MASTER PLAN #2"
FINAL SOLUTION TO THE CLAUDY PROBLEM
Well, while I was calling for family meetings, communication and resolution, General Mad Doc Dupiton got on the drafting board to design Master plan #2 "THE FINAL SOLUTION TO THE CLAUDY PROBLEM
THE GOAL:
The final elimination of Claudy by getting him out of the house through intimidation, eviction or whatever it takes.
THE PLAN EXECUTION:
FIRST: Label him a someone so undesirable, that he can't be at his sister's house. Then discourage Marline from letting him back in the marital home. Therefore his only option will be the streets, or under some bridge.
SECOND: Harass him to the point that he'll self-evict himself, using Illegal lock outs, denying him the new key, 911 calls, disconnect his internet cable, install surveillance cameras in every room to watch his moves. Etc., Etc. (BTW: All these acts were actually executed.)
The previous failed Self-Eviction from my home:: Remember that the Doc also tried to execute a 'Self-Eviction' in 'MASTER PLAN #1' when I was still home. Seemingly, Doc Dupiton got impatient with Marline taking too long to get me out of that Jamaica Estates house. Because here I was getting dinner ready before my wife came home, when the jealousy demon took control of the Doc, and she sent me this shocking text message.
What the hell? I said. So I showed it to Marline who just grinned at it. Then I wrote the Doc back to say "My wife is home, and I still see no Cop". Well, I never got a reply. Well, seemingly the Doc was teaching my wife the "Police" lesson, and thinking that Marline had graduated, she sent the text as Marline's final exam. But Marline failed it, and still never spoke that 'Police" word until she truly graduated and broke the marriage with a 911 call in Jan. 2016.
SO PEOPLE, THIS IS HOW THE PIECES FALL IN PLACE OVER TIME.. THE DOC WAS ALREADY A MAD DOC BACK THEN TO BE ORDERING A HUSBAND OUT OF HIS MARITAL HOME. PROVING WHO IS THE MENTAL ONE.
THIRD: Launch a campaign of character assassination by framing him as a drug addict, alcoholic, mentally deranged and an elder abuser of his sick sister and her elderly husband.
All the above acts were to culminate into the Final Solution of a legal eviction with a one-way ticket to the streets, and no loose ends for him to come back
THE EXECUTORS OF THE 'FINAL SOLUTION'
Just as Master plan #1 had elements to executed, Master Plan #2 needed Executors. So her Renegade army needed new soldiers to be enlisted. But before the new soldiers came in, there was one security act she need Marline to execute.
#1) MARLINE & THE FRAUD HAITI DIVORCE.
Now, with Jean Claude having not disappeared at the end of Master Plan #1, and knowing my wife's weaknesses, Doc Dupiton's greatest fear was Marline letting me sweet-talk her into coming back to the marriage and marital home. That would be an embarrassment that the Doc could not take any chance with. So soon after I left home, a secret Haiti divorce was quickly planned for her, and in no time, she was shipped to Haiti to obtain a fraudulent document.
However it is one worthless document, as it did not follow the guidelines of the Comily standards for foreign divorce, which requires documented notifications of the other party, and does not permit secret divorces. Thus the reason it is not registered in the state of NY. Therefore if anyone hears Marline claim that she is divorced, it's only because that's what the Doc wants to hear. The reality is that Marline is Mrs. Elie legally today, as she was the day I was forced out of home. And if she insists on saying so, ask her for the court approved settlement of marital assets addressing my $100k+ investment in the marriage, including twice saving the house for her. Once by financially stopping foreclosure, and another time by legally preventing the house to be sold from under her from a prior relationship. So if Marline wants to keep letting Doc Dupiton dupe her like a fool, that's her choice. But all I will say is...
(DOC DUPITON'S FRAUD DIVORCE ELEMENT HAS FAILED)

So with that, let me go into the newly enlisted executors of 'Master Plan #2' to deal with the 'Claudy Problem''
#2) DONNA FABLE BALMIR
So Doc Dupiton called upon my nephew Frantz Balmir's Jamaican wife Donna Balmir to fabricate an excuse to justify my eviction, and she came up with the most immoral one possible. She fabricated the claim that I was abusing my sick sister and her elderly husband. A cruel lie that she even had the audacity to throw at me in an email from which I quote:
... Now, what kind of sons Frantz and Ricky would be if they sit back and have their father living in fear without taking some kind of action? ...
Now this was a most evil claim by a niece in-law who never once visited her in-laws the whole time I was there helping with their care. So this shows the voracity with which the Doc was coming after me. NO LIE WAS TOO BIG. NO SIN WAS TOO IMMORAL FOR THE EVICTION MISSION.
So that takes us to the next team of newly enlisted executors
#3) NEPHEWS FRANTZ & RICKY
Let me first explain that my nephew's wife Donna, who Marline had nicknamed the Jamaican 'Prima-Donna', is one of those ultra-feminists who did a good job in making her husband the perfect example of a "Just-Shut-Up" husband who was easily sold on the idiocy that I was abusing his parents, which he saw as an opportunity to prove his manhood to his wife. A Prima-Donna who never worked in her life, and owes everything she possesses to me from the 2 engineering career positions I gave to my nephew. Possessions that include her collection of wigs that she uses to turn herself from blonde to brunette in a snap. So when I realized the kind of dirty jobs that she was assigning to my idiot of a nephew against his benefactor uncle, I decided to use my graphic skills to send him this graphic representation of himself as a 'Just-Shut-Up' panty-wearing husband, kept in a fishbowl by his 'Prima-Donna' wife. Hoping he'd get the message.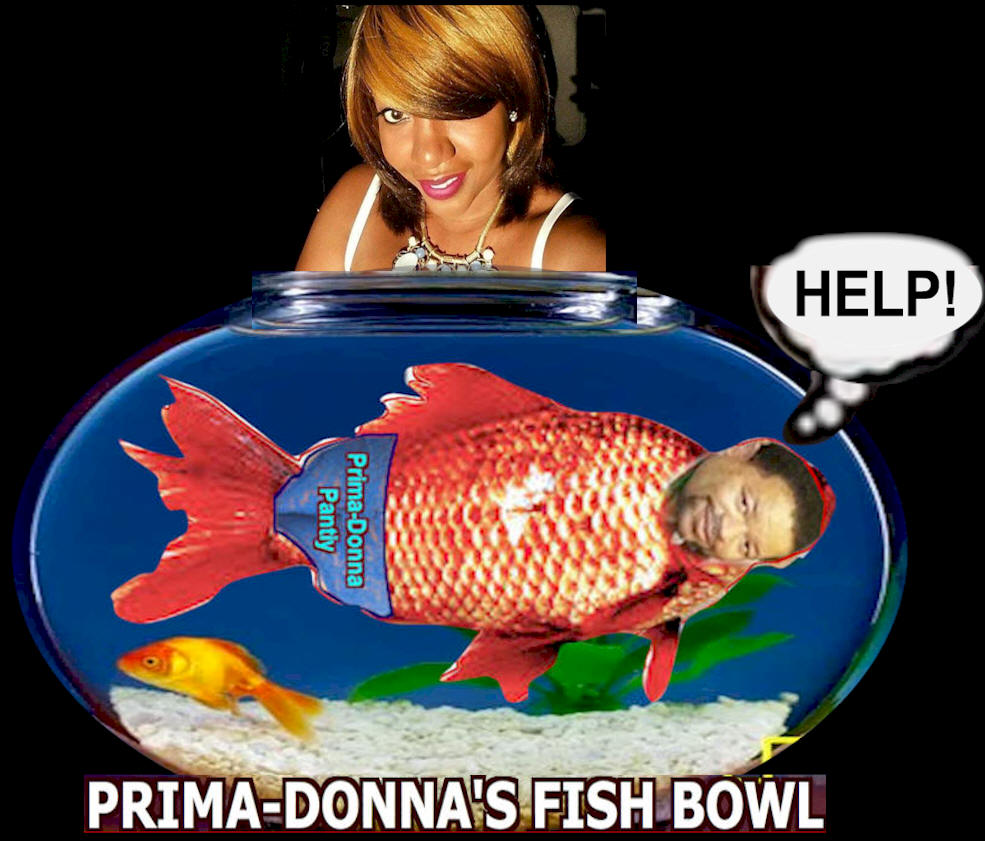 DID HE GET THE MESSAGE? HELL NO! SO LET'S CONTINUE

MASTER PLAN #2 HITTING A ROADBLOCK
Well, my nephews soon realized that evicting me from my sister's house was not a privilege they had, as the only people with that authority were the legal owners, my sick sister and her elderly husband. So the first attempt was thrown back to their face in eviction court
BUT TO EVIL DOC NO TACTIC IS TOO IMMORAL
So to deal with that roadblock, the Doc had a solution that surpassed the frontiers of immorality. She pushed my nephews to trick their father into signing the house deed to them without him realizing what he was signing.. So now with homeowner power, they went to court and Doc Dupiton got the eviction gift she wanted
THE DOC EMERGES FROM THE SHADOWS FEELING MISSION ACCOMPLISHED:
On the day of the eviction, Doc Dupiton came out of the shadows after 2 years to send this text to mission commander Eric Balmir Jr. to check on the success of the eviction mission.

And the commander replied
..


SO DID MY BATTERIES TRULY RUN OUT?? OR WAS IT ANOTHER MISCALCULATION?
First of all, since you are reading me now, it means that my batteries are still fully charged. And contrary to their beliefs, a resourceful man like me could never be in the streets. Since I knew what was coming, I had already planned for it. So my temporary new residence, which was more of a guest house than a shelter, was waiting for me. A place where I was well cared for, and had the opportunity to put my skills and education at the service of the lesser fortunate. A spirit uplifting charitable work done from the heart, and definitively not for self-promotion or to receive honors.
BUT HERE THE BEST PART:
I had peace of mind, and a lot of quiet time to reach into my arsenal of weapons, and plan a surprise counter attack that will lead to the transformation of Dupiton MD, into Dupiton Mad Doc
IMPORTANT: BEAR IN MIND THAT AT THIS POINT, I HAD NOT YET PUBLISHED ONE REPORT TO YOU. NO ONE YET KNEW WHAT WAS GOING ON. SO THAT WAS ABOUT TO CHANGE WITH THE EVICTION.
-THE ROCK COUNTERSTRIKES
THE ENOUGH ALREADY
As I mentioned on top, one of the Doc's mistakes in developing her original Master Plan, was not having done her research on the enemy to learn his strength and what weapons he has in his arsenals. So for the 2 years hat I was under attack, I kept asking for answers, negotiation and peace meetings with the hope of preventing a family collapse. So the Doc once more made the mistake of assuming that she saw all I had to give.
PLANNING THE COUNTER STRIKE
So once I got evicted and settled down, I decided that "It's time to teach the stubborn kid a lesson". So I headed to my arsenal, opened the gates and pulled out these powerful weapons and ammunitions
WEAPONS: RockMasters System - E-Blast Truth-Launchers - Global reaching Database - Community contact & support, - Technical, writing, investigating skills. Etc
.AMMUNITIONS: Truth that never misses - Evidence that can't be challenged, and the credibility of my words
LAUNCHING THE FIRST STRIKE
So on father's day in June 2018, I launched the first missile. A blast to a select group of 250 key people announcing the anti-marriage conspiracy & the campaign of jealousy, hate and vindictiveness by Dr. Marie Dupiton against an uncle and servant of the community who committed no crime, and did nothing to her or anyone.
Soon after the strike, shockwaves reached the Dupiton Renegades headwaters, and once more the SOS call went out:
"HOUSTON WE A BIGGER PROBLEM. OUR COVER IS BLOWN"
So that first selective counterstrike was followed by a series of E-Blasts, launching more missiles of truth, facts & evidences. And soon after, Doc Dupiton's renegade soldiers retreated into silence, leaving her exposed and alone to deal with a community questioning what went on, and the gossips spreading through the rumor mills.
So with Doc Dupiton having no means of defense against the volume of truth, facts and evidence facing her, instead of stepping back to deal with reality and resolve the issues in the peaceful manner I was hoping for, she went into a rage and raised her level of vindictiveness to the maximum level looking for the kill. And when her mother raised the white flag and extended an olive branch of peace, the Doc crushed it and sent me the following messages.

Once more proving herself as Marline's brainwasher into the police tactic. Because when the Doc went to the 105th precinct to fabricate my first arrest, the person she dragged along for cover by implicating her in filing a false police report was none other than Rose Marline Elie. Something that I discovered when the detective told me that Dr. Dupiton had my ex-wife with her. So we have case #100 of Marline letting herself be duped like a fool by a Mad Doc.
So now, the Mad Doc took a personal family drama and raised it into a police drama. So with each false complaint or wrongful arrest she fabricated, I immediately used as ammunitions against her by launching them in E-Blast missile toward the community to expose her true face and the voracity of her sadistic drive to inflict misery on an uncle whose life, marriage daughter and family she damaged.
So as I am now ready to bring you Part 4, and have you enter the Dupiton Hell to see the evil, stubbornness and vindictiveness of a seemingly deranged Doctor who is unable to understand that no amount of fabricated arrests will stop a father from getting to the bottom of what she did to my daughter, and the reason she dismantled and disgraced the family over my marriage. Something never heard before.
SO I PRESENT YOU WITH AN UPDATED LIVE WINDOWS VIEW OF 2 WEEKS INSIDE THE DUPITON HELL