THE DUPITON WAR ON MY VISION.
BACKGROUND:
Before walking you through the series of events in this Dupiton evil War on my Vision, let me give you a background summary of related information that was previously published.
MY EARLIER GLAUCOMA DIAGNOSIS:
Before my marriage to Marline, I was diagnosed with Glaucoma in both eyes. A condition of high pressure in the eyes that damages the optical nerves and can lead to blindness. However this can be successfully controlled with eye medication or surgery if needed.
However, having been retired for a while, my COBRA health insurance had expired, so my insurance premium was very high. But as Obama Care was about to be signed into law, I decided not to renew my expensive policy waiting to sign up for Obama care.
But during that time, I ran out of eye drops and my current prescription had expired. So to avoid an expensive doctor visit to get a new prescription, I asked my niece Dr. Marie Dupiton if she was able to write me a new one as a pediatrician. She replied that she could write prescriptions for any drug, and proceeded to write me a new one. So I felt good having a doctor in the family.
It was also around the time that Marline and I met again, then later got married in 2011.
DOC DUPITON STARTS INTRUDING IN OUR MARRIAGE.
Well, as I previously reported in EPISODE-2 (Dupiton Master Plan), we were still renting the office/apartment above Camkids when the first sign of trouble appeared. It was the day that my wife informed me that my niece Johanne had approached her with information that would be helpful to her marriage. And that supposedly helpful information was:
"Marline, your husband brings girls to the office"
Not too happy with that advice, Marline replied with something like:
"Johanne, I did not come here to talk about my husband. But he is in the entrainment business and I know that all kind of people come to his office, including girls looking for free tickets to parties"
So Johanne was not happy with Marline's reaction and intensified her advances on her, including sending a party invitation to my wife that excluded me. So as these early advances were unsuccessful, she began intruding in my office/apartment and creating issues. So when Marline approached her about the office/apartment issues, Johanne replied with more so-called helpful information saying:
"Marline, JC is acting this way because he does not want to pay the rent."
To which Marline replied:
"Johanne, that's not true. Because I see the checks that he writes each month, and he always pays you on time."
At this point, Marline suggested that we give Johanne back the apartment and to move my office to our home. But when Marline informed her of our decision to leave, the vindictive Johanne who must have the last word had her lawyer send us an eviction letter. Thus confirming her eviction obsession that would lead her years later to plot my eviction from my sick sister Roselyne Balmir's house.
So, having given you this background summary, let's go into the central subject of her war on my vision.
THE FULL STORY OF
THE DUPITON EVIL WAR ON VISION
Now, let me walk you through the series of assaults on my vision by Dr. Dupiton that spanned of many years, then I will close with the final verdict from my latest consultation with vision specialists.
THE INITIAL ATTACK: HIDING FROM A PHARMACIST
As mentioned above, Doc Dupiton had written me a prescription for my critical Glaucoma eye medication. So as I went to my Walgreen pharmacy to get it refilled, the pharmacist informed me that I had no more refills and that 'He would call Dr. Dupiton to renew my prescription". To which I replied "Great, call me when it's ready"
But many days later, I realized that I had not used the eye drops for a week nor heard back from the pharmacist. Figuring that he forgot, or that I missed his call, I called to ask if my prescription was ready. That's when he told me that 'he's been calling Dr. Dupiton's office, and was unable to reach her'. So thinking that he was calling at the wrong time, I gave him her cell phone number to guarantee that he will reach her.
But 2 days later, he called saying that "he still had no success reaching her, and that he will keep trying". At that point, I started to be concerned about having spent nearly 2 weeks without the critical eye drops.
Then days later, I got a final call from the pharmacist telling me in dismay:
"Mr. Elie, at this point I believe that Dr. Dupiton is purposely avoiding my calls as to not renew your prescription. But she could have simply informed me of her decision rather than hiding from me. So I strongly suggest that you immediately go to another doctor to get a new prescription.."
Well you can understand my shock and anger that gave me the first High Blood pressure episode that also did not help with my Glaucoma. Then it was another week before I could get an appointment with the regular eye doctor.
In the end, Doc Dupiton caused me to spend a full month without my critical eye drops. But since I did not observe any change in my vision, I figured that no harm was done, especially since my niece is a physician who would have known the danger of a month without the eye medication.
THE SHOCKING DIAGNOSIS
Well this is when I realized that whatever change I could not notice in my vision was very noticeable to the ophthalmologist instruments who informed me that there was significant reduction to my peripheral vision and loss of optical nerves in my right eye. Then on subsequent visits, he became concerned that I may lose the right eye and he opted for surgery as a more permanent solution to protect my vision.
The bottom line is that all this initial damage to my vision and the need for surgery were a direct consequence of Doc Dupiton's "Hiding from pharmacist" scheme that put my vision on a downhill path.
BUT THAT WAS ONLY THE BEGINNING AS THE WORSE WAS YET TO COME ON HER VINDICTIVE 'WAR ON MY VISION'.
VISION ATTACK #2: DISRUPTING MY UPCOMING EYE SURGERY
So, as we entered the dreaded '2015 year of infamy', my wife received an invitation for a wedding in Haiti by her ex-husband's Charles family. An invitation that was only a formality as her Charles children were invited and expected to attend.
However, I was still unaware of Doc Dupiton's undercover operation of marriage division and her attempts to indoctrinate my wife into an ultra-feminist mentality that says: "A real woman does not let a husband CONTROL her moves".
Then as previously reported in EPISODE-1 (The Mith archives), this "Control" idiocy was first pushed on Marline by her sister Joelle Mith-Joseph writing her:
"JC cannot without apologizing "push himself on us" and telling us he has control over you and would not let you go anywhere without him....this we cannot accept and you should not also.
So that Haiti wedding invitation became my wife's first opportunity to show to Johanne & Joelle that 'her husband does not CONTROL her'. Therefore, no husband was going to stop her.
MAJOR PRIORITY CONFLICT: VACATION WITH GIRLFRIEND vs. HUSBAND VISION
But her decision to go faced a major conflict. One for that would be a no-brainer decision for any wife or husband. But to make the point, let me ask this question to the wives reading this.
Let's say that you were scheduled for a major surgery that would leave you incapacitated for days, and relying on your husband to take care of your needs.
Then your husband says to you:
"Sorry baby, but I have this 10-days fishing trip with the boys that is more important. So I won't be here during and after your surgery".
What would you do?
Well, regardless of what you'd do, I know that I could never say that to my wife, unless I wanted to commit suicide.
Well, Marline's conflict was that the Haiti wedding was on the same week as my surgery. So when I informed her of the conflict, I considered the matter closed.
Well before telling you the response I got, let me jump many months ahead. I was when I realized that, just as Doc Dupiton had Mind-Controlled my wife into believing that I was Faking my High BP in her FAKING-230BP murder plot, she had also convinced my wife that I was Faking about the surgery conflicting date to control her. Therefore surgery or no surgery, no husband was going to keep her from going to control her moves.
So enters her girlfriend intruder Rachel Berthoumieux on the scene as booking agent to secretly book 2 JetBlue reservations for her and my wife that I accidently stumbled upon. Now, this is a full story by itself that you can read as EPISODE-4 (The Rachel Berthoumieux Connection).
So with the shock of my wife putting an unnecessary trip ahead of my surgery, I reached out to my family by calling my sister Liliane Claude (Doc Dupiton's mother) to tell her about my wife inexplicable behavior and twisted priorities. And as I was hoping that my big sister would offer to have a talk with my wife, she proceeded to convince me to let her go, promising that she would take me to the surgery.
Well, what I did not know at the time, was that my sister and her daughters were deep into what was taking place around my surgery, and were the ones pushing Marline not to let her husband control her. Therefore my vision issues and a successful surgery were not their concerns.
So, I accepted Liliane's advice and her offer of support. But I did say that Marline would have to sign a power of attorney letter to transfer life-decision authority to Liliane or my daughter while I am under anesthesia.
But I was still hoping that as a wife, Marline would change her mind when faced with signing a letter relinquishing this kind of decision-making authority to Liliane simply to attend a wedding. However that hope had quickly dashed as she signed the letter without hesitation.
So I informed sister Liliane that I have the signed letter and that I'd be at her mercy or that of my daughter during and after the surgery. But what also bothered me at the time, was the fact that my daughter was not upset at my wife being on an unnecessary vacation while her father was having surgery.
Well, now I know that it was because Doc Dupiton and the Claudes had already brainwashed her into their ultra-feminist mentality and compromised her moral judgment. Something that also explains why she was the one delegated to come get the power of attorney letter from me.
But once my daughter told me that she was coming over, I saw that as a good opportunity to have a father/daughter talk about the other issues I was facing the Mith family following Joelle Mith-Joseph creation of the 'Assault on Tiffany" Big Lie.
So on the day she was to come over the house, I went to the supermarket and prepared a full dinner for a special time and conversation with my daughter. And when she arrived, the table was already set and dinner ready on the stove.
To make a long story short, once we finished dinner, she picked up the letter and said that she had to leave because a friend was waiting for her, uninterested to have a conversation.
So when I asked her about being with me during the surgery, instead of telling me that she'd take a couple days off from work to take care of dad, she gave me some nonsense about me taking the subway to the hospital, and that she'd come get me after work to take me home.
Hearing that, I said no more and waited for sister Liliane who's the first one with power of attorney to confirm that she's be filling in for Marline as promised. But when I never heard from her, I concluded that these women did not care about my surgery after pressuring me to let my wife go on that vacation.
So I found myself in jam. Because I could not ask a friend to be with me when everyone knows that I have a wife, a daughter, elder sister and a whole family. So my only option was to try getting an earlier surgery date from my doctor who already had a full calendar. But luckily, he had a cancellation and I was able to have the surgery before my wife's travel, and she was there for me.
THE BIG DISCOVERY OF A DUPITON SURGERY PLOT
Now, it was not long after the surgery that my family's behavior incriminated them in staging everything you read above. Because:
FIRST: After the surgery and till today, NOT ONE family member ever asked me how the surgery went.


SECONDS: A month or so after the surgery, I was hosting a movie premiere at Vault Cafe when I came face to face with Johanne Dupiton and her husband Guy who had attended the event. So the first thing I expected was to hear Johanne ask me about the surgery. Well, the question did come up and it was not from Johanne, but from her husband Guy who felt that he had to ask the question if his wife was not. So after replying to him that it went well, I still expected my niece to pick up on my response, at least from a doctor's professional curiosity.

But guess what? Doc Dupiton acted as if she did not hear her husband's question nor my reply as she quickly switched the conversation to the movie.
THE EXPLANATION IS SIMPLE: It is that after Doc Dupiton had willfully caused the vision damages that led to the surgery, the last thing she wanted to hear was that the surgery was a success.
WELL, THE WORST OF DOC DUPITON'S WAR ON MY VISION IS YET TO COME
THE DUPITON WAR ON VISION TAKES NEW FORMS
Now that we entered the 2015 year of infamy, Marline was also under pressure from her sister, daughter and her family who had boycotted her house and banned her husband from her family events. A pressure that reached critical level with Doc Dupiton Mind-controlling her into the FAKING-230BP murder plot, and reprogramming her as a Marline #2 who will run away if I was in a life-risking situation. A full story exposed in EPISODE-13 (The Dupiton Murder Plots).
All these Dupiton created issues around my surgery had brought me a high level of stress that probably affected my vision ahead of the surgery.
DOC DUPITON USES MY VISION DEGRADATION TO PUSH MARLINE INTO THE SINGLE-WIFE LIFESTYLE
Well, after the successful surgery, one side effect was a degradation of my night vision. So as a safety-minded person, I decided not to drive long distances at night.
But what I again did not know at the time, is that it was my decision to limit my night driving had added fuel to Doc Dupiton's plan to coerce my wife into a single-wife lifestyle, as she knew that I would not jump in my car in the middle of the night to go chasing after my wife at parties with Johanne & Company. Such single-wife outings included:
My wife secretly attending the 2015 Heal Haiti Gala with Johanne and Rachel.

My wife secretly going to an SOBs event with Rachel who used my VIP privileges.

Doc Dupiton executing the Thanksgiving kidnapping of my wife at my daughter's house.

My wife secretly going to Rachel's daughter graduation party at her house.

Even attending an early evening picnic with Johanne, and that I only learned about when someone text me this picture to show me what my wife was up to.

.
So the early attack on my vision worked well in the Mad Doc Master Plan during the marriage. But once she broke the marriage, her war on vision went on steroid targeting me for total blindness.
YEAR 2016: POST-MARRIAGE ATTACK ON MY VISION INTENSIFIES
Now, as we enter the post-marriage years with Doc Dupiton's war on my vision intensifying, I will be making references to previously published events, and you will be shocked to discover how other episodes are linked to the war on my vision.
CALL FOR A SECOND SURGERY
Following
the intense pressure I was under during the final months of the marriage, during a consultation with my doctor had noticed further losses of optical nerves and an early stage of Cataract. So he immediately concluded that a second eye surgery was needed to address the Cataract and make some correction to the first Glaucoma surgery.
At the time, I was staying at my sick sister Roselyne Balmir's house, and even though the family had turned its back on me after their break up of my marriage, I still notified them of this new surgery as not to give them the excuse that they did not know.
And just as I had expected, they ignored my notice of the upcoming surgery. So a good friend and his wife took me to the surgery, got me my medications afterward and took me back to my sister Roselyne's house, with my friend visiting me every day.
And just like they did after the first surgery, not one family member ever asked me how the second one went. Thus giving credence to my decision of keeping them informed before, during and after each surgery for the records.
Now, we've reached the point when Johanne is about to take her 'War on my vision' to the maximum cruelty level as it converges with her goal for my complete eradication and that of all 'Elie' unions
WAR ON VISION # 3: THE BLOCKED-PHONE TO CONTROL FALSE ARREST
As you may remember the false arrest from EPISODE-12 (Release of Skeletons), it was the case of Marline being fooled into the idiocy that I had blocked her phone to CONTROL HER when service was simply disconnected to my Sprint account over a missed a payment.
Now skipping all the details already published, the police showed up to my sister's house to arrest me. But the significance of that arrest is that it came just one week after the 2nd surgery and while still in recovery.
Then Doc Dupiton blocked the family from bringing the lousy $100 requested by the court, and continued to do so for 2 weeks forcing me to remain in detention all that time.
Now, as Doc Dupiton had caused the initial damage to my vision by forcing me to spend a month without eye medication, she was also fully aware that keeping me in detention for 2 weeks without eye medications would for sure cause additional damages to my vision. And to worsen the situation, that arrest came while I was still recovering from the surgery, thus causing me to miss my post-surgery consultation.
Again, since I had informed them in advance of my surgery day, they knew full well what they were doing. And it's a level of cruelty that they will have to answer to some day
The tragic consequence of this 2-weeks detention without medication came to me on my next vision consultation when the doctor confirmed what I had already suspected. That is, the vision in my right eye was practically gone and beyond saving, leaving me with one good left eye.
BUT DID THAT STOP THE MAD DOC? HELL NO!!
WAR ON VISION #4: THE EVICTION OUTRAGE CONSEQUENCES
Now, during the forced 2 weeks in detention, Doc Dupiton was hard at work assigning her next mission to my Balmir nephews. Because upon my release and return to my sister's house I found the locks changed, and it was only after the police informed them that they were executing an illegal lock out that I was able to go inside. Then I discovered that my room had been ransacked as they staged a drug frame. Because later that day, my nephew Eric Balmir Jr. came in and handed me an eviction notice claiming drug activities and vandalism.


At that point,
Informed him that when the family abandoned me in detention for weeks over a lousy $100, I had fallen sick there, and that when a blood test revealed a very high level of Potassium (Over 7 for the doctors), I was rushed me to Bellevue Medical center. In fact I reminded him of this picture that I had sent to the uncaring family while in the emergency room and while they were plotting their illegal lock out and my eviction.
Then his shocking reply I got from him was that the reason I got sick while in detention was not because of the hell the family was putting through, but because of my unclean lifestyle. So that tells you all you need to know about this family under the grips of Mad Doc Dupiton.
So months later, they got a court ordered eviction and forced me into a shelter in Manhattan, bringing me a high level of stress and anxiety. And as I was in a survival mode and searching for an apartment, my vision care lost its priority. And since I was away from my Doctor in Queens, I began to miss appointments, and at times running out of eye drops.
The result was additional unnoticed damage to my vision, courtesy of the evil in Doc Dupiton getting help from my Balmir nephews as my morally corrupted daughter was under the mind-control of Mad Doc Dupiton..
SO DID PUTTING ME IN A SHELTER WAS JOB DONE FOR THE MAD DOC? HELL NO!!
WAR ON VISION #5: DOC DUPITON'S "ASS IS GRASS" ARREST & DETENTION
While at the shelter, Doc Dupiton proceeded to drag Marline to a police station for another false arrest claiming that I threatened that "Her Ass will be Grass in the community".
Well, read it for yourself in her own handwritings, as "Evidence don't lie".

Well this is the case for which you heard Marline above claim under Johanne's Mind-Control, that she went to the police with Johanne believing that it was for her daughter r Tiffany to put me in jail, and not for Johanne's fear that her "Ass will be Grass"
In fact, I you should listen to her again to experience the Mad Doc Mind-Control Power.
Well, that arrest resulted with me spending a night detained at the police precinct waiting to appear in court the next day.
As a result, I was forced to spend 2 more days and one night under stress and without eye drops to cause additional damages to my vision.
Then to add insult to injury, when I returned to the shelter, I had lost my nice room for being AWOL overnight, and had to wait to be assigned a new one.
SO, DO YOU THINK THAT THE MAD DOC SADISTIC HUNGER TO INFLICT MISERY WAS FINALLY SATISFIED? HELL NO!!.
But the Rock is a survivor with a strong back. So let's go to the Mad Doc's next act of cruelty.
WAR ON VISION #6: MAD DOC "WALKING ON LINDEN" ARREST #3
Now, as the Dupiton "Ass is Grass" arrest was dismissed by the Queens DA with this letter to me,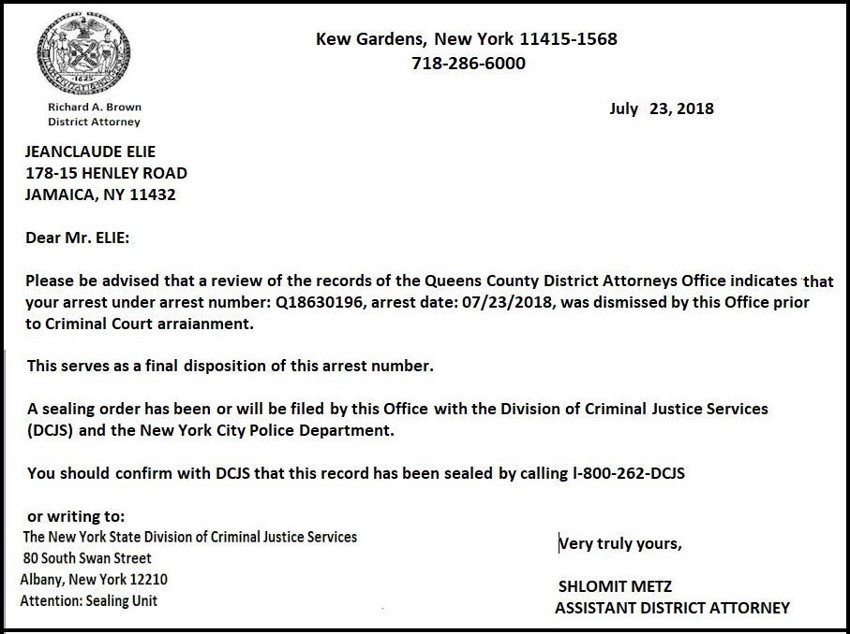 Doc Dupiton went to a Long Island family Court to re-file the same complaint above, and got a restraining order on me.
So one day, as I was walking from Brasserie Creole to a grocery store past Camkids Pediatrics, Doc Dupiton ran to the 105th police precinct claiming that I violated the Long Island order by going to her place of business.
Well, that brought me the Dupiton False Arrest #3, forcing me to repeat the cycle of one day & night detention at a police precinct, and one more day in Queens County court.
The result was 2 more days & one night under stress, without eye drops and more damages to my vision.
But what is also important to know, is that as I was going through these police and court escapades from the Manhattan shelter, I had not seen my eye doctor in months.
BUT YOU MUST THINK BY NOW THAT THE MAD DOC HAD FINALLY REACHED THE END ZONE. HELL NO!!!
WAR ON VISION #7: MAD DOC'S "CALLING HUSBAND EVERYDAY" ARREST #4
Finally, the shelter's housing unit found me a very nice apartment in Queens and I was back in the hoods.
Then I went
for a delayed consultation with my ophthalmologists who informed me of significant additional optical nerves damage in my only working eye. Therefore I required immediate surgery to redo the first Glaucoma surgery that was no longer effective.
As usual, I again informed the family of this upcoming 3rd surgery so that they are aware of the damages being caused by their continued cruel and inhumane prosecution of me. But they once more ignored my message which was fine by me.
Then as a friend who I met at the shelter came to visit me, he was quick to offer taking me to the 3rd surgery. Then my daughter's Godfather later drove to the City to pick us up and take me back to my apartment where I have a brother-like roommate who looked after me.
BUT DOC DUPITON JUST COULD NOT STOP WITH THE CRUELTIES. SHE WAS, SEEMINGLY UPSET AT HER INABILITY TO FINISH ME OFF AS I KEPT REPORTING TO THE COMMUNITY AND AS HER CASES KEPT GETTING DISMISSED IN COURT.
So as she was also losing the Long Island case with her last restraining order about to be dismissed, she ran to the Baldwin police station with the most creative and idiotic claim that I violated the order by "Calling her husband Every day".
Well that's when I became convinced that the Mad Doc had truly gone Mad. Because not only did I never call her husband, there was no restriction on him to prevent me from calling him every day if I wanted to.
However I only discovered that she had filed that complaint when I got a call from a detective asking me to report to the Baldwin police station to discuss a new complaint by my niece. Not knowing what it was about, I went there early in the morning, and found myself immediately handcuffed and put under Dupiton Arrest #4 on an absurd claim of "Calling her husband everyday"
But the worst part is that this arrest also came shortly after this 3rd eye surgery, causing me to repeat the cycle of a full day at a police station, one night sleeping on a concrete floor, and one day in court.
The result was 2 more days and one night under stress without eye drops after a 3rd surgery to cause more damages to my one working eye.
SO AS WE REACH TODAY, AND WITH DOC DUPITON HAVING THROWN EVERYTHING AGAINST MY VISION INCLUDING THE KITCHEN SINK, WHAT IS THE FINAL VERDICT?
THE FINAL VERDICT ON THE DUPITON WAR ON MY VISION
DELIVERED ON A RECENT CONSULTATION IN MAY 2021
During a most recent vision consultation weeks ago, I was given the next to final verdict which was:
While the eye pressure had stabilized, the damage to the optical nerves was advanced to the point that I have to come for consultation on a bi-weekly basis. Otherwise any increase in eye pressure could result in me waking up one day in total darkness.
UNLOCKING THE MYSTERY OF THE PACKAGE DELIVERED TO ME LAST WEEK
At the top of this report, I shared with you a message to the families in which I mentioned a curious package that I had received in the mail and that motivated me to write this EPISODE-14 on the Dupiton war on my vision, and promised to disclose the content of the package in this report.
SO, IT'S TIME TO OPEN THE BOX TO THE COMMUNITY
Well, when I opened it, all that was in there was this manual. And if you can't tell what it's all about, I could not tell either. That was until I.....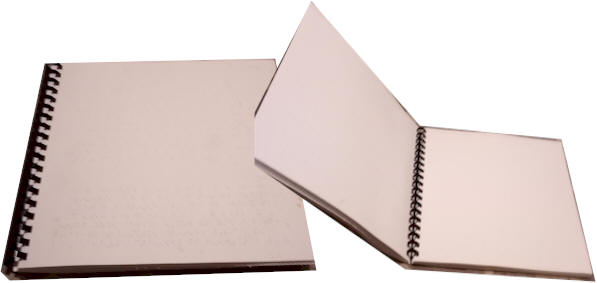 I ran my hands over it and felt it was covered with protruding dots. Then I realized that it was a book written in brail for the blinds.
WELL, WHY WAS IT SENT TO ME?
Does someone know something that I do not know yet?

Did someone send it to me 'Just in case'?

Did someone want to tell me "Better start learning how read?
All I know is that it was sent from
NY STATE OFFICE OF TEMPORARY & DISABILITY INSURANCE.
But since "God always works in Mysterious ways for me", I still believe that the Dupiton Evil will not overcome, and that I will not need this book.
BUT SHOULD I EVER NEED IT, I WILL BE SURE THAT THE WORLD KNOWS MY STORY BEFORE THEN, INCLUDING THE LEGACY OF DR. MARIE P. DUPITON.
THE LEGACY OF DR. MARIE P. DUPITON MD, AKA THE PSYCHOPATH MAD DOC.)
What you just experienced represents the cruel, and inhumane legacy of Doctor Marie Dupiton. A legacy of hate, jealousy, vindictiveness, greed, division, all the way to complete depraved indifference for life and campaigns of psychological warfare, brainwashing & mind-control of others, including my separated wife, daughter and nephews to turn them into her servitude as executors of her evil-motivated deeds. A legacy made more atrocious by the fact that her main target was her own uncle who innocently triggered her insanity by taking as his bride the love of his life at the time, Rose Marline Mith.
So I close with this question to the community that I served:
It is this question that I posed in the last EPISODE-13 on the Dupiton Attempted Murder Plots.
"Can Dr. Marie P. Dupiton, the perpetrator of these heinous acts, still earn the community's respect; Be welcomed in our social scene; Represent our organizations, and be trusted as our children physician if she is overshadowed by allegations of inhumane, unprofessional & criminal behaviors that she has NOT refuted. Or by claims of moral corruption & coercion of others into such behaviors which she has NOT denied?
Because as I am about to push the drama to local newspapers, professional licensing agencies, employers, and even law enforcement with potential consequences to others, I ask our professional, social and charitable organizations like H.O.W., Heal Haiti, AMHE, HNA, EmgHealth, Primevere, Etc., if this the person they want to represent their images or be receiving awards from them.
FINALLY, I SAY TO MARLINE, MY DAUGHTER, NEPHEWS AND OTHERS, IT IS TIME TO FREE YOURSELVES FROM THE DUPITON SPELL AND TO START SPEAKING THE TRUTH.
"AS ONLY THE TRUTH SHALL SET YOU FREE."

THAT'S IT, AND LET ME SAY GOOD BYE
WITH A LIGHT-HEARTED TRUE STORY
As I was doing my research for this report, I stumbled on the picture below that I did not even know I had. But to me, it's a picture with great significance depicting why we are here today. So let me have you look at it first, then tell you what to read into it, if you have not already.
All I will say now is that it was taken during the wedding of Johanne & Guy that took place at the same catering Hall that Marline and I got married in, and just months after our wedding.
.
At first look, it is obvious that there is no contest between the 2 Mrs.. But the bigger significance is in this story that I previously wrote in EPISODE-9 (New Year 2021 Message)
it is that Johanne's decision to marry Guy Theus months after my wedding and in the same catering hall were not coincidences, but jealousy-based reaction to outdo our wedding that was being referred to as 'The wedding of the century'.
So When Marline and I arrived at the Dupiton wedding, we felt like a return to our own wedding as the setting was an exact photocopy of ours. So much so, that Marline commented: "If she had planned to match our wedding, she failed miserably". Because if she thought that seating at a replica of our bridal table could make the Dupitons look better than the Elies in the above and below pictures. she did fail miserably.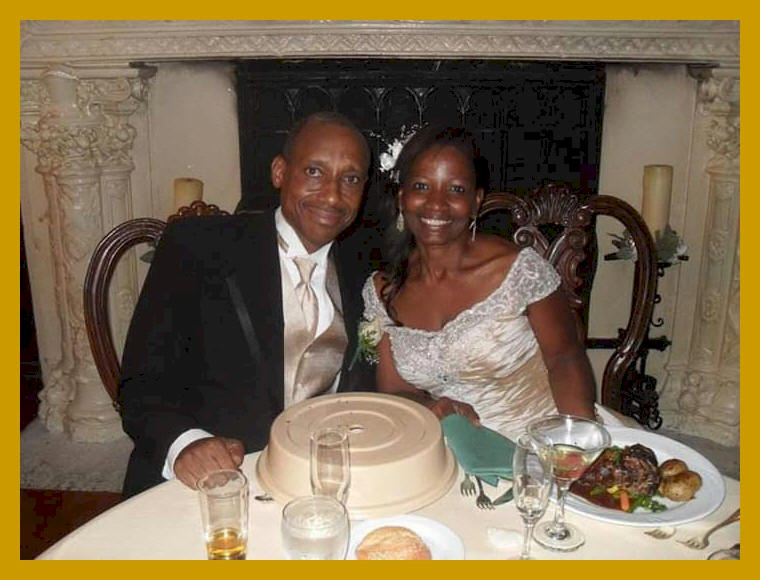 In the end, we do not have coincidences, but an accumulation of facts that clearly show why we are here today. Facts that are rooted in this quote of mine.
The perils of Jealousy from within family.
And the dangers of Blind family Trust.
Thank you for reading day, and until EPISODE-15 of the 'Rock's Horrific Saga' takes you to the next level.
Eng. Jean Claude Elie
"My mother did not raise an idiot for a son"
PLEASE CLICK BELOW TO READ EPISODE-13
THE DUPITON COERCION OF A WIFE INTO ATTEMPTED MURDER