A POWERFUL MESSAGE & REVELATIONS TO THE FAMILIES & COMMUNITY

As I often repeated to everyone involved in this saga, whatever Claudy says or does has a larger purpose. So was the case with the "Words of Wisdom" I've been sharing, as they were not exercises in futility. However, for the past 5 years I watched this family consumed in futile exercises with total loss of humanity and spirituality.
Now as the powerful revelations I am about to share use the religious Easter week as a backdrop, let me set the stage by picking up on my "History of life in the Balmir family home", and add some critical information on the history of the family's structure, its degradation, its impact on today and its relevance for tomorrow. Then the extreme revelations that follow will seem more plausible.
A HISTORY LESSON ON THE FAMILY STRUCTURE

As we all know, this family came to existence from its matriarch Anna-Rose Victor planting 3 seeds in the names of Liliane Mackenzie-Claude, Roselyne Mackenzie-Balmir and Jean Claude Elie who populated the 3 branches that were to carry forward her vision of a united family under God and through prayers, as reflected on this family tree I created in honor of her 10th anniversary in Heaven.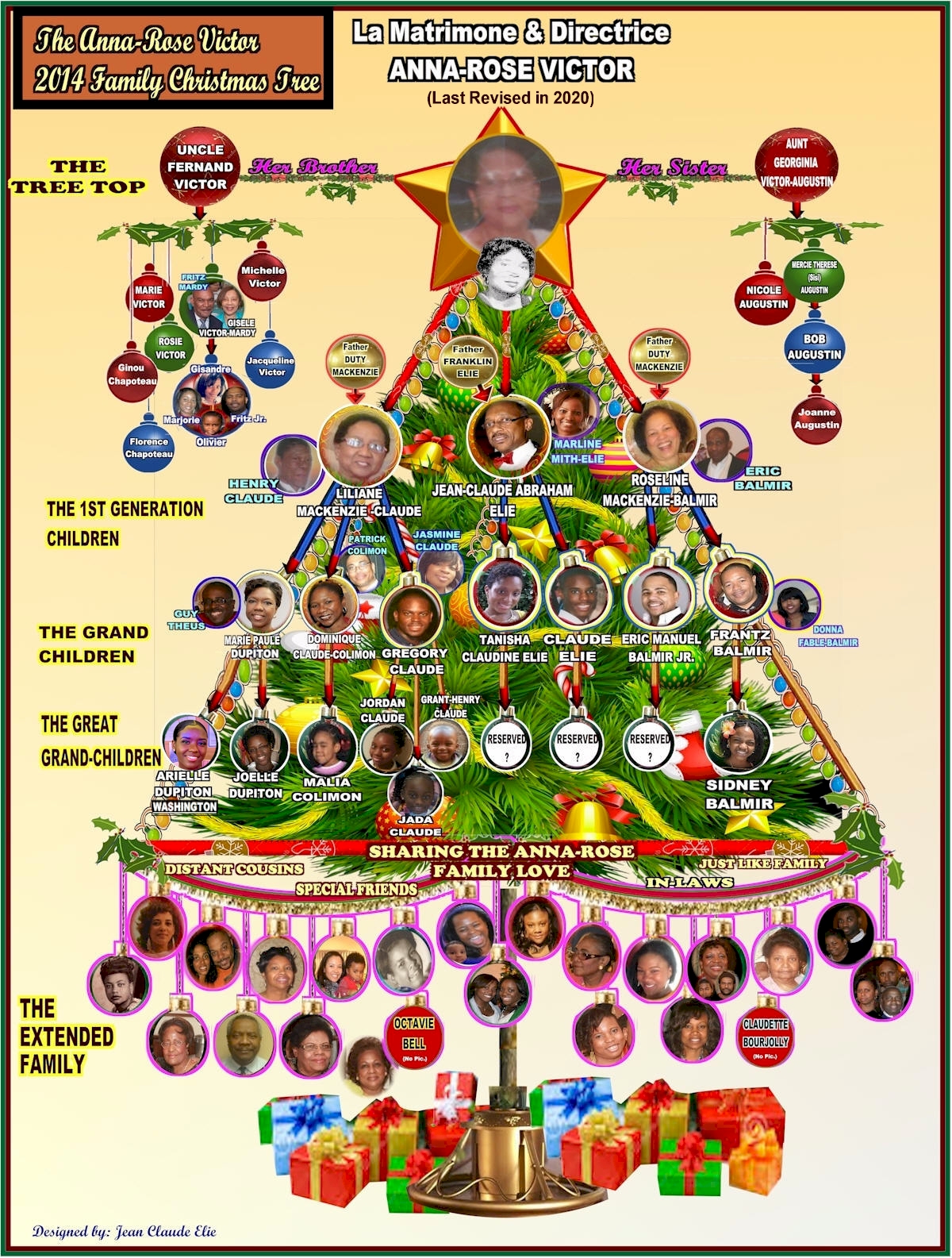 But once God had called her home, the family structure was reset with her first daughter & head of the Claude branch Liliane inheriting the status of family elder with the moral duty to maintain unity.

Then as the head of the Balmir branch Roselyne fell victim of Alzheimer with her husband Eric Sr. suffering the effect of a stroke, her elder son Eric Jr. (Ricky) became the decision maker for that Balmir branch.

Finally Jean-Claude remained the head of the Elie branch that he later expanded with the introduction of wife Marline Mith-Elie in 2011. Thus the new family structure was set.

THEN UNITY STARTED CRACK, AS SENIORITY GOT VIOLATED.
Unfortunately, the joyful addition of wife Marline Mith-Elie to the family triggered the Claude youngest daughter Johanne Claude-Dupiton to launch a jealousy-driven campaign of division against the Elie marital union.
At that first sign of danger to family unity, I followed protocol and reached out to the family elder Liliane Claude to handle the matter with her youngest daughter. But I would soon discover that Liliane's status of family elder was meaningless to her daughter Johanne.
. So still respecting protocol, I went down one step the Claude ladder to the first daughter Dominique Claude-Colimon who was also unwilling to tackle with her younger sister by claiming that she almost lost her sister over a failed financial investment in a Gym.
 
So with the total breakdown of the Claude branch structure, and with the next in-line of seniority Roselyne Balmir affected by Alzheimer, the role of family leadership defaulted to the elder male and only son Jean-Claude Elie.
So I took that responsibility at heart and immediately organized the first of 2 official family reunions at my home in honor of our late matriarch. That day, I gave a speech on the values she instilled in us, and then I distributed a glass-framed posters of the family tree above, and a poster of our matriarch to everyone to proudly display in their home. In the end, I succeeded in making peace with Johanne and kept the family united.
However, those reunions only halted Johanne's campaign of division as she viewed my leadership role as a roadblock to her accomplishing a power grab over the whole family. So she launched an anti-Jean Claude brainwashing campaign on my wife and daughter that converted them to her side, and ultimately led to the rupture of the marriage and my relationship with my daughter.
But after she completed the marriage break up, I was still not willing to give up on the family. So I reached out to the senior Balmir son Eric Balmir Jr., and requested that he arranges a family meeting. He is the same nephew who had sent me the message above praising my decision to 'celebrate our family values', while expressing his respect for the family 'chain of command structure'
Nephew Ricky gave me great hope for a positive outcome when he swore to me 3 times, "Uncle I am with you. I got your back". But not long after, he betrayed his words and just like Judas who swore to Christ 3 times before putting him on the cross on Easter weekend, nephew Ricky enlisted with the Claude women, and the next thing I knew he was my Judas stabbing my back.
Still, Claudy did not discourage and I kept trying to open communication with the Claude women to find out on what ruptured my marriage, my family and the relationship with my daughter. Then hope came back for family salvation when the family elder Liliane Claude, having realized the gravity of the situation, reappeared from her MIA status and sent a message calling for peace negotiation. A request that was quickly accepted by her elder daughter Dominique, my daughter Tanisha, and me as pictured below.
.
But all hopes faded as Johanne flexed her muscles with this reply to me, her mother and the whole family "No negotiation, No peace, I only know the Police" as shown here.
A threatening message that she followed with a campaign of cruelty to physically eliminate the pesky jean-Claude from the picture. But Thanks to God, Jean Claude survived.

SO, HERE WE ARE TODAY & WHERE ARE WE GOING
With no leadership in the Claude branch hijacked by Johanne; With no leadership in the Balmir branch that sold its soul to the Claudes; And with the family elder Liliane Claude again missing in action, the fate of the family is now left with Jean-Claude Elie to either rescue the family or dispose of the disgraced remnants to seal our matriarch legacy.

EASTER WEEK REVELATIONS, SEEMINGLY FROM ABOVE

As Easter weekend commemorates the crucifixion of Jesus and his rise from the dead, we recall how his family was shepherded by 2 spiritual leaders named Anna-Rose Victor & Roselyne Balmir who kept it united through prayers, as:

SO DID GOD SEND ME MESSENGER YEARS AGO?
To answer this powerful question, let me again recall a spiritual quote that always cited whenever I miraculously survived a challenging or threatening situation. I would say that:
"GOD WORKS IN MYSTERIOUS WAYS FOR ME".

So today I wonder if that was the case years ago when a Haitian 'Gran Moun' (Wise old woman) told me upon learning that my wife and daughter had simultaneously turned against me for no explainable reason. She said in Creole, so I am paraphrasing her.

"Jean Claude,… you should forgive your wife. Because if a family member can turn your daughter against you when a daughter is money in the bank to a father, then it would be 10 times easier to turn your wife against you. It takes an evil force to achieve this double hit. So somewhere, somehow, a demon entered your family".
At the time, I saw her comment simply as her personal opinion since only God could have prior knowledge about evil forces at work. However, with all that I've learned since then, her suspicion about evil infiltration seems more plausible. And that would qualify her as a messenger sent from above to give me the answer that I'd be searching for years to come.
Because, in addition to the rupturing my relationships with my wife & daughter, there were many other inexplicably ruptured family relationships. Such as:
- Rupture of the brother/sister union with my sister Roselyne Balmir.
- Rupture of uncle/nephews and uncle/nieces unions
- Rupture of a 3 decades friendly relationship with my daughter's mother.
- Rupture of relationships with my nephews in-law.
Even more mysterious is the fact that, as someone who never had one enemy in life, I suddenly collected a dozen of enemies overnight. And if you ask any of them to name ONE thing that I ever did to anyone, they immediately retreat behind a wall of silence.
But what's more inexplicable is that they are all family members who had loved, respected, and appreciated me. Then overnight, they transformed into personalities I no longer recognize, and into people speaking in profane languages I never heard in this family. And the fact that all this transformation took place upon the break up of my marriage Marline, which is purely a personal mater, makes it more inexplicable.
 
SO WHAT THEN IS THE EXPLANATION?
Initially, I had attributed each transformation to brainwashing or indoctrination. But while those were possible in individual case, that explanation cannot apply to mass indoctrination. Because even the most reputed cult leaders in history never had the power of overnight mass indoctrination. Therefore, this mass transformation of 2 generations of this family into unrecognizable creatures can only be executed with the kind of supernatural evil power mentioned by the Haitian 'Gran Moun'.

USING THE "COMMON DENOMINATOR" FORMULA TO IDENTIFY THE EVIL AMONG US.
Now, the term 'Common Denominator' is one that was created by my family, then taught to my wife Marline who used it on me during the marriage telling me: "If everyone is against you, it's because you are the Common Denominator".

Then after the marriage break up, my transformed nephew Ricky Balmir became the next one to use it by telling me: "In the break-up of 3 marriages & a few liaisons, you are the Common Denominator"
Now reflecting on those comments, I agree with them that I was the Common Denominator subjected to the acts of cruelties, the conspiracies, and the only person who is common to all the ruptured relationships. Therefore, I was a 'Victim Common Denominator".

So to identify the Evil force that infiltrated the family, I will also use the family's Common Denominator formula. And to accomplish this, I came up with a simple question that will instantly point to that evil force with 100% accuracy.
THE HUGE QUESTION
What's the name of the person who, if he or he did not exist when I married Marline, this whole drama would never have started, and without whom the 'Elie' unions and our family would still be intact today?

THE HUGE ANSWER:
The answer will be the person whose name appears in every single event or plot since this drama started.
And the only person who fits this condition is my niece Johanne Dupiton, aka Dr. Marie Dupiton. Therefore she is the Common Denominator' nickname the 'Mad Doc' possessing the Evil Power to perform mass transformation of 2 generations of the family, then put them under her control to execute Evil Deeds..

And there many real life, even inexplicable, and seemingly supernatural events I will now expose that give credibility to that answer.

And adding to that is the clear fact that, If there was NO Johanne Dupiton powered by Evil forces, there would have been NO marriage intrusion by my family - NO plots created - NO wife kidnapping - NO Faking-230BP risk to life - NO eviction - NO slogan of 0-FOR-3 in marriages – NO 'Control' husband phobia - NO Ex-wives club - NO single-wife who 'Fè sa'm vlé, lé'm vlé' - NO 'Yep, I only know the Police - NO drug, alcohol, elder abuser slanders - NO disrespect from my daughter - Nor 100 more NOs.
 
BUT MOST IMPORTANT: There would be NO transformation of 2 generations of family members into unrecognizable people. Therefore, all Elie unions and our whole family would be intact today.

A PARTIAL EXONERATION OF THE MITH FAMILY ON WHAT FOLLOWS:
Now before continuing with the consequential revelations with references to the words God & Evil, I want to state that there is absolutely no Mith family connection in this chapter involving possible Evil influence. Because, while that Family carries blame from Joelle's 2014 marriage intrusion, the marriage held strong for the next 2 years until Mad Doc Dupiton dropped the guillotine in 2016. Thus giving Johanne and the Claudes 100% ownership of what follows.

SIGNIFICANT REVELATIONS & THE EASTER WEEK CONNECTION

Now, I feel that there is great significance to the fact that the revelations of possible Evil influence came to me on this religious Easter week. A revelation that may explain some strange behavior I notice in my family relating to the use of the powerful word 'God".
WHY IS GOD MIA?
As anyone reading my writings could observe, the names 'God & Anna-Rose Victor' appear frequently in my publications. But what always baffled me, is that you will never find these names in any communication from this family, even when I tried to pull the word 'God' out of someone. But there was a couple of occasion when it was felt appropriate to use God's name in vain to send me threatening messages saying: "Send him to God" or that "God will take care of him" as if God was some kind of evil executioner.

A CLASH OF GOD vs. EVIL IN THE FAMILY
As the family seemed to be distancing itself from God, the ground became fertile for evil infiltration. And this is what I am going to expose using actual events that took place.
First: During my stay at my sister Roselyne Balmir's house, something inexplicable took place as she was inflicted with full blown Alzheimer.

One day she came to me in the kitchen, and shocked me by starting an actual very short conversation as if she had a moment of lucidity. And it went like this:
- HER: Claudy, are you OK?
- ME: Yes sis, I am fine.
- HER: Are you sure?
- ME: Yes sis I am just fine.
- HER: Are they treating you right?
- ME: Yea, everyone's good to me.
- HER: Moun you pa bon tandé. (People are no good you know)
- ME: I know. But don't worry about me.
- HER: Mwen pryé manman chak jou. (I pray mother each day)
Then once she told me about praying each day, she just walked back to her bedroom.
 
Well, I was so shocked at that exchange that I immediately told that story to her caretaker and to a family friend who visited her daily. In fact, I even told it to her son Ricky days later, but he unexpectedly ridiculed the idea. Now I know why he did, and will soon tell you.
Adding to this mystery, is the fact that this exchange with Roselyne took place during a time that our other sister Liliane Claude was coming over and starting arguments to make life difficult for me in the house. Therefore, could Liliane be the character in sister Roselyne's comment that "People are no good"?
But here is more. When sister Roselyne said "Veye moun yo (watch the people)", she must have been referencing to something that I had no clue of taking place at the time. that is: Unknowing to me, the Claudes were already coercing my nephews to evict me from the house. Thus explaining why nephew Ricky had reacted the way he did when I told him what his mother said. Because sometimes after that, he was the one to hand me an eviction notice. Then once that mission was accomplished, he sent everyone a text message referring to me as "A Homeless Fuck".

THE BIG REVELATION & SPIRITUAL CONNECTION:
I will first admit that I am not a very religious person going to church every Sunday, but still, I am someone who tries to live a righteous life, and who rarely believes in coincidences. And the following cases are not coincidences:
FIRST: In the case of sister Roselyne, it is clear that in her mental state, she did not know what she was saying in warming me about people being no good and for me to watch out for them. But the fact remains that her words reflected reality.
SECOND: Before that, we had the case of the Haitian 'Gran Moun' warning me about "Demon or evil force operating my family" Then later I found myself being prosecuted and subjected to acts of hate as if a demon was on my tail.
THIRD: When it comes to the fear of God, we have the case of members of my family being unable to mention the word God, even when I prompted them to do so. Something that I attributed to the fact that God & evil do not mix.
FOURTH: Then there is the case of my presence in the house when the word God was a daily mention between the my sister and I. Then come my sister telling me that "Mwen pryé manman chak jou. (I pray mother each day)", indicating when and from whom her inspiration for that conversation could have come from.
Therefore whatever evil influence was injected in her home. it did not like me raising conversations involving God & prayers. So I got evicted from the house as the word God & evil cannot co-exist.

IN THE END:
A truly religious person will conclude that those warnings words from sister Roselyne and from that Haitian 'Gran Moun' were not their own, but words miraculously fed to them as messengers from above.
IN SUMMARY: When you add to the above, the fact that I've been able to survive * overcome everything thrown at me including: eviction, false arrests, court cases, shelter life, risks to life, even the kitchen sink, then having these revelations come to me during Easter week, you understand why I always say that
"God works in mysterious way for me".

CLOSING WITH A WARNING & ADVICE TO THE FAMILY
MY WARNING: Now family, you may choose to label all these as coincidences or choose to call them BS as you always do when faced with the truth. So if you want to chance it by remaining on the path of evil deeds, remember this:
"YOUR ARM'S TO SHORT TO FIGHT WITH GOD"
MY ADVICE FOR EASTER: If you are thinking of entering God's house on Easter Sunday or anytime thereafter, I advise that you first go to confession. Because the worst thing you can do, is to enter his house with that evil force on your shoulders.

RECOMMENDED READING
VICTIMIZATION OF MY DAUGHTER THAT THE FAMILY REFUSE TO ANSWER

TO - BUT THEY WILL, AS A FATHER'S JOB IS NEVER DONE