The drama of Rachel Berthoumieux began in 2015, the year of horror at the Elie home when outside forces launched the most intensive assault on the couple's union of nearly 4 years young, purely out of women uncontrollable jealousy. A destructive assault originally scripted by these principal characters.
#1) Joelle Mith-Joseph (The Brainwasher)
As presented in on Track #1

#2) Dr. Marie P. Dupiton (The Mad Doc)
Presented in On Track #2

ENTERS


R#3) RACHEL BERTHOUMIEUX

Promoter & booking agent for Single-Wife Lifestyle
Rachel Berthoumieux got her fame by scripting the first hijacking of my wife that preceded Doc Dupiton's audacious Thanksgiving-2015 kidnapping of my wife as presented in Episode #2. It was 9 months earlier that my wife's single girlfriend Rachel Berthoumieux executed the more audacious Valentine Day Hijacking to Haiti.
But things would later go from audacity to arrogance when the two of tem would join forces to execute a 3rd, and even more complex "James Bond 007" type mission of a wife-hijacking under the eyes of an unsuspecting audience at a Heal Haiti Gala in October 2015.
So, during that dreaded 2015 year, there were at least 3 kidnapping/Robbery of my wife. Two of which you are about to relive in this new thriller Episode #4 of the RockMaster horror Saga", starting with Rachel's Valentine Day Hijacking
THE ROCK'S HORROR SAGA - EPISODE #4
Staring: Rachel Berthoumieux - Co-Star: Mad Doc Dupiton
BACKGROUND:
It all began in January 2015 when my wife told me about an invitation she received to a family wedding in Haiti, and of her desire to attend. Something that I saw as a great opportunity for her to get away on a relaxing little vacation with her family, and also give me a little time to myself.
But when I later realized that none of her brothers, sister, mother, uncle etc. were going, I found that very strange for a family wedding. Well, to make the story short, I discovered that she was not fully truthful with me, and that it was NOT her family's wedding, but the wedding of someone from her ex-husband's Charles family. Therefore, that invitation was just a formality to Marline as mother, since her Charles children were expected to attend this function by their father's family. Marline was not really expected to show up.
So I obviously changed my mind over her going for many reasons, beside the fact that she was not expected to attend,
FIRST: It was a Valentine day wedding when couples are supposed to celebrate their love together.

SECOND: I got scheduled for an eye surgery for that same week , when a wife is supposed to be by her husband's side.

THIRD: Marline was unemployed at the time with me solely responsible for all the house finances. So such an expense was no longer warranted for a non-family function.
However, at the time, Marline was already under pressure by the women instigators to prove that 'her husband does not control her'. Something that her sister Joelle had clearly told her in a Brainwashing letter from Episode #1, and quoting Joelle:
"Marline... JC cannot "push himself on us" and telling us he has control over you and would not let you go anywhere without him....

Then unknowing to me at the time, there was Doc Dupiton's undercover indoctrination of my wife into an Ultra-Feminist philosophy that says:
A real woman or wife must not allow her husband or any man to "CONTROL" her, tell her "WHAT TO DO", WHEN or WHERE TO DO IT.... Such woman under control, would be a disgrace to the female gender
Finally, there was her "People-Pleaser" personality weakness that she was diagnosed with months later when we attended the "Retrouvaille Retreat" for married couples.
So after some disagreements over this issue, I figured that this unnecessary trip was a settled matter. Specially after Marline and I confirmed our reservations to a Valentine's Day Gala by Kwizine Arts Catering for Feb. 14, 2015.
THEN ENTERS INTRUDER RACHEL BERTHOUMIEUX
Then days after confirming our Valentine gala reservation, I was using my wife's laptop when I noticed that it was logged-in to a 'Gmail' account that I never knew she had. And just as "God always works in mysterious ways for me", at that exact moment, a new email popped up, and it was from her friend Rachel Berthoumieux. who seemingly had a secret means of communication with my wife.
THEN I SAW A BOMB in THE SUBJECT LINE
Now, are you ready for this? The Subject line read: "JetBlue Airline Booking Confirmation". So I quickly hit the "Open" button. Now, as the truth man who does not speak what he can't prove, here is the 'Evidence that does not lie'.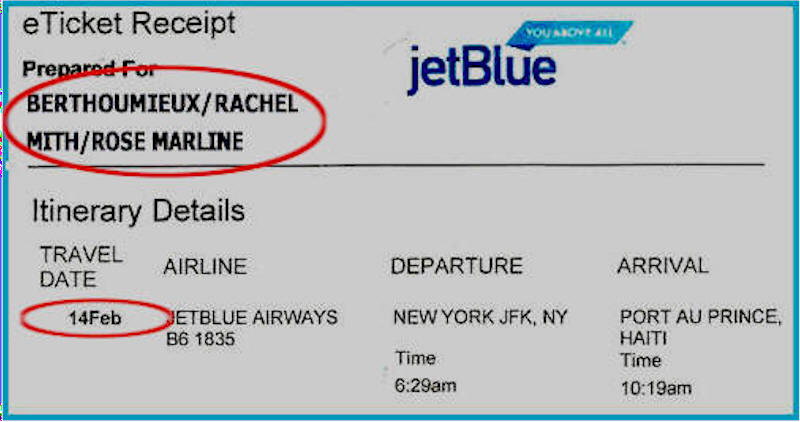 AN AIRLINE RESERVATION FOR RACHEL & MY WIFE FOR HAITI ON VALENTINE DAY. THE SAME DAY THAT WE HAD JUST CONFIRMED OUR VALENTINE'S DAY GALA RESERVATION.
CONFRONTING RACHEL
So in total dismay, I tried to reach Rachel to inquire as to what these tickets were about before talking to my wife. So I tried to contact her, but she kept ignoring my messages and calls. As I insisted, she finally replied with this blasting text message full of insults & threats;

Now, I immediately recognized her reply as a guilty reaction from a' Consciousness of guilt".
Because, why didn't she simply say that 'Marline had asked her to make the reservation for her". Instead, she went the ghetto route with ill-mannered words of "Police, BS, Disturbed, Will not tolerate, etc.".
In the end, she exposed herself as a woman with low character, class and education. So much so, that she could not see that in her attempt to insult Marline's husband, she actually showed maximum disrespect for Marline herself
Because I know that NOT ONE of you, men or women reading this story, would address your good friend's spouse with such disrespect on a simple inquiry. And let me remind you that Rachel is a woman who had pushed herself into being a second Maid of Honor at our weeding, when Marline already had Marline's true friend Cherely as our Maid of Honor.
But when Marline told me how Rachel was begging her to also be a maid of honor, I reluctantly accepted. So if you were a guest at our wedding, you now know why we had 2 Maids of honor, when all weddings always have one.
PEOPLE-PLEASER MARLINE DEGRADES HERSELF TO RACHEL
So when Marline heard that I had contacted Rachel about the secret Airline Reservation, and saw Rachel's angry message to me above, her 'People-Pleaser' personality took over with the fear of losing Rachel's friendship.
So rather than scolding Rachel for insulting her husband, Marline did the most self-degrading thing ever, by apologizing to Rachel in a disturbing letter that also reads like a love letter. So much so, that I had labeled that letter as 'Classified', and never to be released. But now, with a fully brainwashed Marline in denial telling me "You hated my family, friends and kids", the truth had to come out. So here is the declassified 'Evidence that does not lie" in Marline's letter to Rachel
WARNING: Please sit down with your seatbelts fastened for the shock you are about to receive
From: Marline Elie
To: Rachel Berthoumieux

Rachel,
You think I'm going to let JC break our friendship. He will be the one out of my life.

He is a sick man. As I told him, I'm giving him one more change. If he was a boyfriend he would have been out

I already told him MY FAMILY AND MY DEAREST FRIENDS COME BEFORE HIM. He begged me to marry him. ….. Then he started with Tiffany, then Joelle then you and anyone that is close to me.

He will never have the kind of friendship that we have. Anyway I just wanted you to know I miss you
I'm sorry for my stupid husband illness at you. and hope you can forgive me because I put you in his life and you do not deserve that.

He knows now that if he ever talk to you or any of my friends or family like that we are done.. Any way hope to see soon

Love you,
Marline.
Now, all this because I was inquiring about a secret airline reservation made for my wife, just as 100% of husbands and wives would have done.
.Obviously I was extremely upset at my wife for unfairly insulting me with Rachel instead of addressing my inquiry. Then degrading herself to Rachel with an apology letter that sounded like a love letter. But while I attributed her behavior to the chronic 'People-Pleaser' abnormality that gave her the fear of losing Rachel's friendship, I had questioned Rachel's reason for being receptive to a wife's expression of a love that put her above the husband.
MARLINE DOUBLES UP ON HUSBAND FOR RACHEL
Now with Rachel delighted by Marline's apology and her willingness to dump her husband for her, she decided that an apology from Marline was not enough. So for Marline to truly prove loyalty to her, she had to make Jean Claude apologize also. And if you won't believe what Marline did, let me have the 'Evidence that does not lie' tell you with this blasting message she sent me requesting that I apologize to Rachel.
PLEASE; Keep the seatbelts on.
From: Marline Elie
To: Jean Claude

JC.
You are finish with me. You mess with my sister, my daughter or any of my family and my friends you better lose my number. You will not tell me whom I can talk to or see. I will talk to and see whom I want.

You are sick get help. You don't apologize to Rachel, do not ever speak to me again. I mean it By the way, I told Rachel just like I told Joelle to sue your Ass for harassment.
I will find a man that will love me and all my family and friends.
Do not call me to bail you out or come to get you. Call your family.
Marline
Well, at least Marline still thought I had a family
Now that you are a believer, let me just show you how this incoherent letter was a reflection of the brainwashing she received from Joelle & Johanne in putting Marline in her current state of denial
FIRST: There is her reference to the "Police & arrest" teachings that were first introduced by Joelle with the "Assault & Punch Tiffany" fabrication that was covered in Episode #1(Mith Archives). Then reinforced by Johanne with her campaign of false police complaints that will be presented in the upcoming episodes of horror.

SECOND::, You have Marline saying "I will find a man...", which also comes from Joelle's brainwashing letter telling Marline: "... JC may feel good about getting an desirable woman that other men wanted".

THIRD: We have Marline's constant complaint about me 'not loving her family and dearest friends". First, I did not know that in taking her as a wife, I also took all her family and girlfriends as wives to love.
THEN RACHEL GOES TO NEXT LEVEL OF ARROGANCE
By this time, I had enough of this Rachel who thinks that she also controlled my wife on top of the obsessive-possessive sister Joelle.. So I decided to put an end to their secretly booked Haiti vacation by calling JetBlue and cancelling the reservations. That's when Rachel decided to prove to me that she truly had something stronger with my wife than I did.
Rachel proceeded to call the airline back, and rebook the reservation that I cancelled for my wife. So on Feb. 14, 2015 Valentine day, Rachel picked up my wife from home, and without saying good bye to me, Marline left the house, and headed to Haiti with booking agent Rachel Berthoumieux for vacation and a wedding with her ex-husband's family, leaving her baffled husband to have a lonely Valentine.
PLEASE NOTE: DO NOT CONFUSE THIS FEB. 2015 HAITI TRIP, WITH THE JAN. 2016 TRIP WITH HER CLUB THAT LED TO DOC DUPITON DROPPING THE GUILLOTINE ON THE MARRIAGE, AS COVERED IN EPISODE #3 (Dupiton Master Plan Part)
COMING BACK FROM THEIR SINGLES VACATION
Upon my wife's return, I welcomed her back with open arms, hoping that she had gotten this 'People-Pleaser' urge out of her system, having proven to big sister Joelle, Johanne and Rachel, that 'her husband cannot control her moves'.
Oh, I forgot to tell you that Rachel had also paid for my wife's airline reservations on her credit card. I don't know if she was reimbursed, but regardless, the arrogance of Rachel hijacking my wife on valentine's day after insulting me was extreme.
AFTER HER VICTORIOUS WIFE-HIJACKING, RACHEL FELT ON A ROLL.
Now to show you that Rachel's level of arrogance had no frontier, let me present you the 'Evidence that does not lie' with 7 real cases of Rachel continued imposition on my wife.
WARNING: For these 7 cases, you might want to grab some Valium and Aspirins to avert 7 heart attacks
CASE #1: THE 2015 HAITIAN ROUNDTABLE GALA
Later in that dreaded 2015 year, the Haitian Roundtable Organization was having its annual Recognition Award Gala in Manhattan. And since I was keeping an eye on Rachel, I later discovered that she had once more secretly invited my wife to go with her to the gala, and leave her husband JC in bed.
But this one scheme of Rachel turned out to be a little more challenging for my wife to pull off. Because she knew that hell would come to Jamaica Estates if she tried this public display of infidelity. So, she had to find an excuse to give to Rachel, because the expected normal wife response of "Sorry, but I can't go to such a gala without even telling my husband" could be viewed as her husband still controlling her moves. So she came up with this reply "Oh Rachel, I can't afford to go. I just spent $500 on busted water pipes".
FIRST: It's very true that $500 was spent on busted pipes, the dishonesty with that reply is that, the $500 came out of MY pockets, as part of the $100K I put into the house, including to save it from foreclosure for her.
SECOND: Her next big problem with Rachel's invitation was the $150 Min price tag to attend the gala. Because without her RockMaster husband by her side, there would be No VIP welcome for Marline showing up with some Rachel.
THIRD: The last option left for her would be to charge the admission on the RockMasters Business Master card that I gave her in her name to spend as she pleases with no questions asked.
But the problem with that one is that the Credit Card bill comes to me, and hell would surely come down on Jamaica Estates.
So that was one failed attempt by Rachel. So let's go to Case #2 of 7
CASE #2: RACHEL'S DAUGHTER GRADUATION
One night, my wife told me that she was going to her mother house, as she did each day taking care of her before bed. The only difference this time is that she never came back. So I kept calling & texting her with no answer. It was not until past midnight that she finally realized she had to answer. At which point she text me to say that 'she was at a party at Rachel's house for her daughter's graduation, where I was not welcomed.

Therefore to again prove to Rachel that 'her husband does not control her moves', she had to sneak out of the house like a teenager, and likewise give a big lie using her mother's name.
On top of that, it was a party where just about everyone knows me, and the question she'd be showered with upon arriving alone would be "Where is the Rock"?. Well, I have no clue what excuse she came up with, but as far as Marline was concerned, any excuse was safer than telling Rachel that "she could not come since her husband was not welcomed"
So Rachel won that one also. So let's go to Rachel Case #3 of 7, as each one gets better and better.
CASE #3: RACHEL'S SOBs SHOCKER
That was the day we had a full VIP invitation from the owner of SOBs to a special event. And If I remember well, it was an event in honor of President Michel Martelly. So, our table was waiting in the VIP Section, and our names at the door on the select VIP list.
But as we were getting ready to head to SOBs, psycho sister in-law Joelle Mith-Joseph had managed to trigger my wife into an argument with me. At which point, I got so fed up with my wife giving all these crazy women licenses to cause problem in our relationship, that I was no longer in the party mood. So I told Marline to forget about the party, and that I will call Jube, the manager in the morning to apologize for our no-show. So she got upset, and again headed to her mother's house, as I went to bed.
So the next day I called Jube at SOBS to excuse us for not showing up. But before I had a chance to do so....(PLEASE MAKE SURE YOUR SEATBELTS ARE STILL FASTENED). Jube said:
HEY ROCK!. SORRY YOU COULD NOT MAKE IT. BUT WE TOOK GOOD CARE OF YOUR WIFE & HER GIRLFRIEND RACHEL.
Wow! So when I thought that my wife was at her mother's house, it was just another lie. Because Intruder Rachel must have told her "Dump the sucker husband trying to control your moves, and let's go to SOBs", with Rachel also having the audacity to use MY VIP status for Free admission.
IMPORTANT NOTE REGARDING 'CONTROL' AND 'MOVE'
Now, you have often seen me use the term "Control my moves" to explain my wife's behaviors. But I just realized that you may think that its my own interpretation of her state of mind. THE TRUTH is that this term came from Marline herself. So for the 'Evidence that does not lie', here is Marline writing it to me words for words recently in 2019
Obviously, this is total child talk from a married woman in her 50s. And this recent message to me last year (2019) is solid proof that till today in 2020, she remains in full denial that her sister Joelle, my niece Doc Dupiton, her daughter Tiffany and this so-called girlfriend Rachel, are the main actors \who took advantage of her weaknesses and broke her down to self-destruct her own marriage.
So score one more goal for Rachel in the 'Volè madanm moun" Department. But you ain't seen noting yet. So let's go to case #4 of 7 as the plot thickens.
CASE 4: A NIGHT ON BROADWAY THAT WAS NOT TO BE
We are now in the 4th quarter of that dreaded 2015 year that started with the Rachel's Valentine day wife-hijacking . As for this case #4, it was on a nice Sunday afternoon at home when I saw a TV commercial for a new Gloria Estefan show on Broadway. So knowing that my wife is a fan of Gloria Estefan, I decided to surprise her with an evening on Broadway with show & a romantic dinner at a fancy Manhattan restaurant.

Now I go to excite her with my great plan, but she tells me that she could not go because she had a house to show. So I told her to reschedule the showing. But she said that the people were from out of town and would be leaving in the morning. So I was disappointed, but agreed to reschedule the romantic evening.
But what bothered me is that she did not ask for the showing times or the possibility of catching a later show. In addition, I was aware of a meeting taking place that afternoon by the Heal Haiti organization which Rachel and Doc Dupiton are members of. So for my peace of mind, I later took a ride by the residence of one of the organization's executives. And to my disbelief, guess what I saw? My wife's car parked in the area, attending a Heal Haiti meeting with Rachel, that was more important than a romantic night on Broadway with her husband. Thus bringing to me the realization that these words to Rachel from months before reflected her reality:
"Rachel... I already told him my family and my dearest friends come before him.... he will never have the kind of friendship that we have... Anyway I just wanted you to know I miss you ... hope you can forgive me etc. etc.
Therefore, a meeting with Rachel's organization where her "People-Pleaser & Professional Helper" skills were needed by Rachel, had priority over a night on Broadway with her husband.
AN IMPORTANT DISCLAIMER: LET ME CLEARY STATE ON BEHALF OF THE ORGANIZATION THAT NONE OF ITS MEMBERS, WITH THE EXCEPTION OF RACHEL & JOHANNE DUPITON, HAD A CLUE OF WHAT WAS GOING ON THAT DAY. AND EVEN LESS, OF WHAT WOULD FOLLOW A WEEK LATER IN THE NEXT CASE #5
So, let's take it to the next level with case #5 of 7.
CASE #5: THE BIG PLOT & PROMISES MADE AT THE HEAL HAITI GALA
In this example, we find organization staff members Rachel Berthoumieux and Dr. Marie Dupiton joining forces to pull off the biggest wife-hijacking job so far, with the bait of a membership promise.
It was October 2015, and my wife and I were scheduled to attend the premiere of a movie produced and directed by a niece in-law of mine. The whole family was going, and RockMasters was provided with 2 backstage VIP tickets for having promoted the movie.
So, as it was nearly time to head over, I got dressed and waited for my wife to return from an errand. Except that time was passing and she was not returning. So I called and text her with no response. Finally, I got the idea of calling my niece Johanne Dupiton, who I knew went to the movie showing, to explain why we were late.
AN UNEXPECTED CALL THAT MADE THE DOC DROP A BOMB
Now, in answering my call, Doc Dupiton had no choice but to come clean with the truth, and our conversation went something like this:
Me to Doc
Jojo, are you at the movie premiere. I'm home & can't find Marline
Doc Dupiton
Oh, Oh. she is here at the Heal Haiti gala
Me in shock
What is she doing there? I'm waiting to go to the movie premiere in Brooklyn
Doc Dupiton
She's here because that's her club that she's a member of
Me in shock
No she isn't. She was just helping with a journal
Doc Dupiton
(with arrogance)
Well she is. AND IF YOU DID NOT KNOW, NOW YOU KNOW
And as proof that my wife was again hijacked by Rachel and Johanne, the 'Evidence that does not lie' was provided by Facebook. So here is the trio of Rachel, Doc Dupiton with her sister Dominique, surrounding my wife at the gala,
Picture taken while dumb husband JC was left stranded at home with 2 VIP tickets in hands for a movie premiere with his wife. Well, at least this time my 'People-Pleaser' wife did not have to worry about the admission price tag. Her services as 'Professional Helper' took care of that.
Then as we look at this 2nd picture, we see the puppet husbands of Guy Dupiton and Patrick Colimon, seated with their wives, quietly watching them hijack my wife. And neither of them was able to say that this was not right, or at least be man enough to send me a message warning me of what was going on.
But then, I remembered Marline telling me before, and I quote:
"Guy can't say a word in that house afraid that Johanne will kick his ass out.
But ironically, Marline was the one who Doc Dupiton made kick her husband's ass out" while the Doc held on to her Guy. Thus explaining why he had to be a Monkey No-See, Monkey No-Speak for that night
BUT IN THE END: The real sad tragedy of that evening, was Marline's inability to realize that, while the instigators of Johanne, Joelle and Dominique were respectably seated with their husbands, she was the only 'Mrs.' in the house seated with a single girl Rachel rather than her respected husband Jean-Claude Elie. Then having to lie again each time she was asked for her husband. All this uncharacteristic and self-degrading behavior just to please Rachel, Joelle and Johanne, is what makes this story so sad.
BUT LET'S NOT FORGET 'THE BIG MEMBERSHIP PROMISE OF THE NIGHT':
Now, you should remember the ridiculous promise of membership in a fictitious 'Ex-wives Club' that Doc Dupiton had made to Marline in exchange for dumping her husband. It is the promise that Marline had confirmed in this text message to Johanne.:

Then came the promise from Rachel and Doc Dupiton for membership in the Heal Haiti organization in exchange for Dumping her husband. And while the evidence of this promise is circumstantial, it is as good to me as Marline written confirmation of the ex-wives club to Johanne.
In the Heal Haiti membership promise, the evidence was provided by Doc Dupiton herself during my phone call to her looking for my wife's whereabouts. In fact, it was her arrogance that caused her to stupidly reveal to me that Marline was a member of the club. And when I questioned her on that, Doc Dupiton replied with an arrogant tone of victory telling me:
"WELL SHE IS. AND IF YOU DID NOT KNOW, NOW YOU DO"
Basically admitting and claiming "MISSION ACCOMPLISHED'. And this is the same victorious arrogance she would have 1 month later after executing the 'Thanksgiving Kidnapping of my wife. A mission she completed by telling me:
"YOUR WIFE WAS NOT ASKED NOR TOLD ANYTHING
(Details of which can be read by clicking below)
So Rachel won again by teaming with the Mad Doc to score a huge goal. But the biggest one is still coming in Case #6 of 7
CASE #6: NEW YEAR'S EVE SHOCKER
Now before I present this most consequential case #6 that took place on the last day of this dreaded 2015 year, let me summarize where we stood on that day.
.The year of 2015 was one of maneuvering a roller coaster marriage around the obstacles constantly being thrown in our path, that always targeted Marline as shown in the previous 5 cases.
However, with each a low point that we'd reach, I'd be even more determined not to give up and exerted quiet patience until Marline would rebound from the trigger. Basically, I was dealing wit 2 personalities.
FIRST: The personality that caused Marline to write the 2 crazy messages above to Rachel and I, while she behaved in manners detrimental to the marriage.
SECOND: The personality that, after rebounding from a trigger, would write me positive messages, like the 3 samples below, where she'd even be apologetic for her words and actions toward me. Messages that often followed one of the above Rachel triggered cases during the 2nd half of 2015.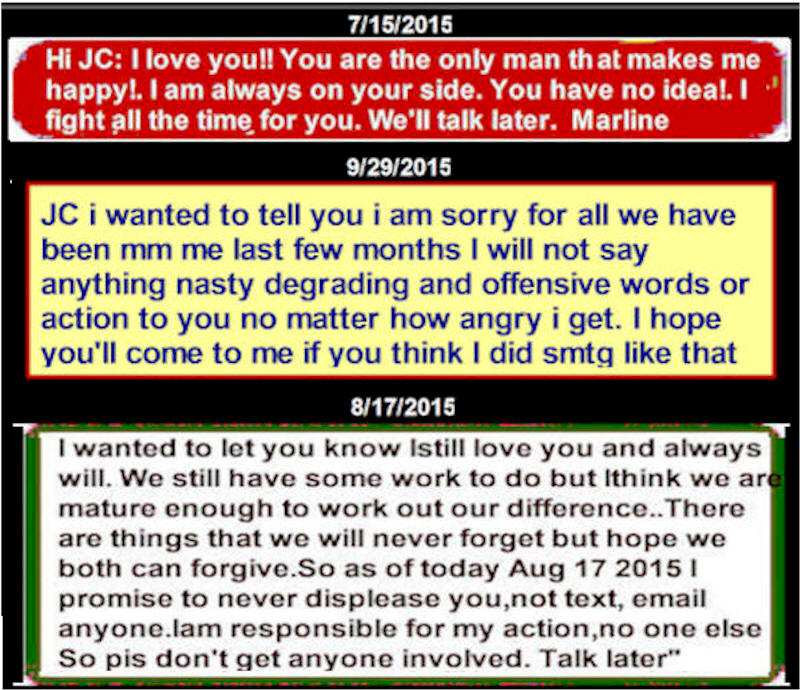 Now this case #6 will help you see how those 2 personalities coexisted in conflict as she would flip from one to the other in minutes upon getting triggered by Rachel. For that, let's go to the last day of the year.
COMES DECEMBER 31, 2015
A month after attending a successful religious marriage retreat that was spoiled by Doc Dupiton's 'Thanksgiving kidnapping that triggered my wife's destructive personality, she managed to make the final rebound of 2015 by sending me this heart-warming and hope-filled resolution for 2016.
So with a renewed commitment for 2016, we decided to celebrate the new beginning at Mirelle's Restaurant with the group Enpresyon. But I had no clue that Rachel B. would also be there waiting to be the spoiler one more time.
RACHEL'S EXPLOSION OF RUDENESS
.Arriving at Mirelle's, Marline and I were directed to our table next to the stage where many of our acquaintances and the event promoters were seated. And to my surprise, so was Rachel whose seating at our table was not coincidental, but requested. However, after having received the above resolution from my wife hours before, I no longer felt that Rachel was a threat in triggering my wife.
So, as I went around the table to shake everyone's hands, I came upon Rachel. And as any reader here who was at our table can remember, I did what any well-raised and educated person would do in a social setting. I reached out to shake her hands & say Happy New Year.
Well, the rude Rachel first ignored me. So thinking that she may have not been looking, I reached out a 2nd time, then a 3rd time. At which point the ill-mannered Rachel made a sudden angry gesture toward me yelling "STAY AWAY FROM ME". It was an ugly public display of what Haitians refer to as 'Vyé Moun', or 'Machan pwason'.
\Well, being the gentleman who will not allow anyone to drag me down into their swamp, I simply smiled and took my seat at the table.
Then came Marline acting as if she did not see Rachel public disrespect of her husband. So she momentarily switched to the triggered 'People-Pleaser' personality, and went to chit-chat with Rachel, as if to say to her, "I don't have a problem with you".
But while I was more embarrassed for my wife getting no respect from the fake girlfriend, Marline soon reverted back to the positive personality who sent me the New Year resolution above, and we had a great time as Rachel became irrelevant at the table.
Then comes the next day January 1st, 2016, we welcomed my family to our home for my 2nd family reunion. One that I organized as the constant peace maker to recover my family from Doc Dupiton's Thanksgiving kidnapping of my wife. So as far as I was concerned, the issues with my family were behind me, and Marline's New year resolution meant that 2016 would be a different year.
BUT HOLD ON AS THE RACHEL TRIGGER IS STILL ACTIVE.
So, a day later, since Marline never mentioned the New Year's Eve incident with Rachel, I wondering if she actually saw it. So I asked her this simple and safe question:
"Darling, did you see what Rachel did on New Year's eve, and how she yelled at me in front of everyone?
Well, this is when I realized that the simple mention of the name Rachel was a trigger. While I expected her to say 'No she did not', whether true or false, what I got was totally out of this universe. I watched her demeanor suddenly change as she turned to me with these exact words that are engraved in my memory for ever.
"Sé pa rélé pou'l té rélé sou ou sèlman. Sé kraché pou'l té kraché nan figi'w"
(Translation: She should have simply yelled at you, she should have SPIT in your face)
Now however shocking and mentally abnormal was that reaction, it revealed a much bigger problem. Because I knew that Marline did not really wish for Rachel to have publicly spit in my face in her presence during a New Year's Gala at Mirelle's restaurant. The big revelation again is that the simple mention of the name 'Rachel' is a powerful trigger to make her switch personality. However, the name 'Rachel' was not the only trigger that I confronted. But before revealing the other triggers, let me take you to the climax with the final Rachel Case #7. One where the magnitude of the psychological problem that these triggers inflicted on Marline will become as clear as spring water.
CASE # 7: THE BIG BLUFF - TESTING MY WIFE WITH A STAGED INFIDELITY..
Now, once I got over the shock of the 'Rachel spitting on my face' comment, I decided to test the power of the Rachel Trigger by staging a test that I called 'THE BIG BLUFF'.
So one day while in bed with my wife, I told her that I had a confession to make about the Rachel she thinks is such a good trusted friend. (PLEASE REMEMBER THAT THIS WAS A BLUFF).
So I put on my Hollywood hat, and started my Academy Award performance by saying:
Marline, I have a confession to make to you. Your friend Rachel had made many passes at me which I avoided. She first came on to me on the dance floor at the xxx party. So much so that I had to step back from her. Not just because she is your friend, but because I'm a dedicated husband who will never cheat on you. But with all the drama going on with her, I figured that it's best that I come clean with you before she gives you the reverse of the story to get back at me..
Then I waited to see if the result of the bluff from her reaction. Now, at this point, I was expecting one of these reactions, after which, I would tell her that it was just a test,
REACTION 1: That she'd be shocked, confused and start asking tons of questions.
REACTION 2: That she'd pick up the phone to call Rachel, at which point I would end the test.
REACTION 3: That she'd jump off the bed, head for her car to go to Rachel.
REACTION #4: For this one, I ask the readers to think of how you would react in that situation with your spouses.
Well, what I got from Marline did not fit any of the above. Her reaction was immediate, instinctive and totally unexpected. Because without taking one second to reflect on what she just heard, Marline looked at me and delivered this reply:
Oh! I know what happened. You are the one who went after her. She didn't want anything to do with you and kicked your ass. I am sure that's what happened.
So in shock, I asked, "Don't you care"?. To which she replied "I don't believe you". So I said "You don't believe me without even checking?". At which point, I was more hurt that my wife would not care if her girlfriend came on to me. In fact she seemed more annoyed at me confessing it to her. At this point I decided not to tell her the truth to see how long she would go with it.

But seemingly, my confession only triggered her into a denial mode, fearing that if I am telling the truth, it could jeopardize her friendship with Rachel. So I decided to take the bluff to the next level with BIG BLUFF #2.

BIG BLUFF #2
So I raised the stakes by telling her,
"Well then, I will make a full confession and you can kick me out if you want. Because Rachel and I did get intimate the first time, and when I realized it was a big mistake, I immediately put an end to it, and rejected her future advances as I first told you".
Then to make it sound more realistic, I added a fictional date, location where it happened, and even described her undergarments.
At this point, I made sure to stay a safe distance away, ready to yell that "IT'S NOT TRUE" before her laptop came flying at me.
But guess what? She just kept working on her laptop ignoring me. So I decided to put all my cards on the table, and pulled the 'HIGH RISK BLUFF #3'
HIGH RISK BLUFF #3:
So in trying to find the limit of the Rachel Trigger power that would put my wife in such a high state of denial, I decided to raise the stakes to the critical level. So I said to her:
"OK lets erase all doubts right now. Pick up the phone and call Rachel in my presence. But before telling her what I said, ask her if she has a small tattoo on her right butt. Now if she says yes, then you figure out how I know."
Obviously I do not know anything about any tattoo, and was ready stop her the minute she'd pick up the phone.
But guess what? As much as I pushed her to call, she would not do it. Because such convincing evidence that I had an affair with Rachel would end the friendship that she described in her letter above as:.
"... You think I'm going to let JC break our friendship. He will be the one out of my life.... He will never have the kind of friendship that we have.
THE POWER OF THE RACHEL TRIGGER
According to the result f my BIG BLUFF tests, the controlling power of the Rachel Trigger on Marline is so enormous and abnormal, that a 'Ménage a trois' would be preferable over the loss of the friendship.
Now, as I stated in Case #6 above, while the focus today is the Rachel trigger, there were other triggers impacting my wife. But before I identify the other significant triggers, let me jump 3 years ahead as Rachel tries one last hurrah.
PESKY RACHEL MAKE A RESURGENCE 3 YEARS LATER
Now here I was in 2018, and 2 years after discovering the undercover operation of Mad Doc Dupiton who drove the last nail in marriage demise, my focus was in getting her to face accountability for her actions. But the always stubborn and intransigent Mad Doc chose to start a campaign of terror to destroy me rather than admit to her cruel sins.
So to increase the pressure on her, I decided to take my story public on father's day 2018. A story at the time that was purely focused on the actions of my family.
My first publication was via email to a small group of acquaintances, and text message to my phone contacts, that included a Rachel Berthoumieux.
But upon receiving my text, Rachel saw it as an opportunity to become infamous once more. Because, while I did not expect any reply, and received any from anyone, suddenly a single reply was delivered to all the group members coming from Pesky Rachel, dated Aug. 15 , 2018, 10:11PM.
So as the evidence man, let me present Pesky Rachel in the 'Evidence that does not lie".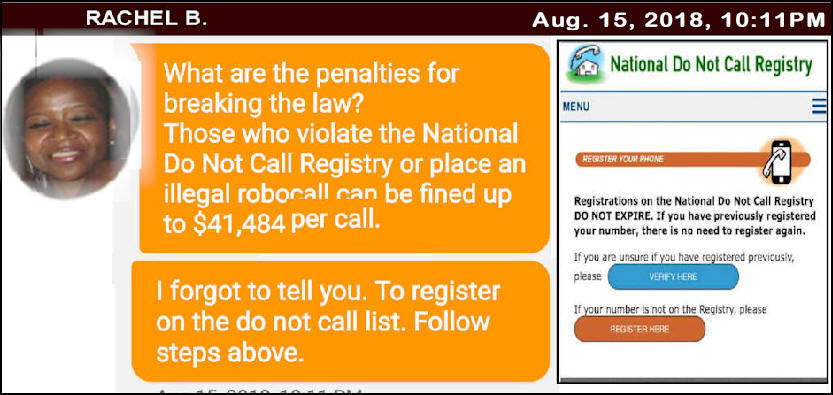 So if Rachel is wondering why she is under a global spotlight today, it is because the pest that she is, has refused to fly away.
With that said, let go v\back to identifying the other triggers of my wife's second personality,
IDENTIFYING THE TRIGGERS TO MARLINE'S 2ND PERSONALITY
Now, as previously mentioned, Rachel was just one of Marline's triggers, and only 3rd on the priority list below. So when Marline uses the 3 keywords of family, friends and kids" in blaming me for the marriage demise, she is subconsciously suppressing the names of the 3 people she knows triggered 100% of all the arguments in our marriage, and ultimately caused its demise. The instigators associated with each of these keywords are:
| | |
| --- | --- |
| KEYWORDS | ASSOCIATED TRIGGERS |
| FAMILY: | Associated with trigger JOELLE MITH-JOSEPH |
| FRIENDS: | Associated with trigger RACHEL BERTHOUMIEUX |
| CHILDREN | Associated with trigger TIFFANY CHARLES |
THE 4TH TRIGGER: However, there is a 4th and extremely powerful trigger that did not make this list because she operated undercover, and was only discovered after the break up. She is the Mastermind Dr. Marie Dupiton whose mission as a post-marriage trigger, was to prevent any possible reconciliation of the marriage.
But as you just witnessed the outrageous acts that we were subjected to by the 'Friends trigger' Rachel, there are similar detrimental activities associated with the other 'triggers of Doc Dupiton and Joelle Mith-Joseph, as exposed in Episodes #1, #2 and #3.
MY HOPES & ADVICE TO MARLINE
With these culprits having now been fully exposed, and the whole truth known by all, it is time for Marline to accept the fact that the demise of her marriage was the result of an intense assault that was initiated by the following individuals in order of priority
#1) JOELLE MITH JOSEPH: Master Brainwasher and the one who ignited the initial fuse with her "Assault & Punch tiffany" lie of January 2014

#2) DR. MARIE P. DUPITON: The Mad Doc undercover agent who dropped the guillotine that beheaded the Elie union in Jan. 2016. Then ran a campaign of terror to prevent any possible reconciliation

#3) RACHEL BERTHOUMIEUX: The girlfriend enabler, promoter and booking agent for single-wife lifestyle.

#4) TIFFANY CHARLES: Adult daughter who never made the transition from spoiled child to adulthood. As such became a tool of Joelle and Doc Dupiton in the execution of their schemes'
CLOSING WITH A MEMORY RECALL TO MARLINE
ON THE VALUES & CONSEQUENCES OF ONE'S WORDS
So Marline,
Let me close by refreshing your memory of the real person you were by using your own words, and why you need to bounce back one more time from the triggered personality keeping you in denial.
IN 2014, YOUR SISTER WROTE TO YOU:
"Jean Claude must feel in heaven for feeling he has succeeded in alienating you from our family so that he can have "better control over you ..."
YOU DID NOT BUY IT, AND PUSHED BACK WITH THESE STATEMENTS
#1) As far as me alienating my family,.. my husband is not welcomed in my family. When any of us have spouse issues we try to help not alienate.
Thus accusing your family of being the alienators.
#2) As the bible said, a woman will leave her family and go with her husband. When we marry we become one.
Thus acknowledging that upon marriage, a husband takes priority over family and definitively over friends.
#3) When people write about someone you have to expect the person to write you back. .. I say, if you can dish it you should be able to take it. JC is not going to let anyone walk all over him.
Thus accusing your family of being the insulters, and vindicating me.
BUT ONCE TRIGGERED BY SOMEONE, YOU FLIPPED YOUR WORDS TO WRITE:
To Rachel: "I told him that my family, and my dearest friends come before him..."

To me: "You mess with my sister, my daughter or any of my family and my friends you better lose my number."
So what happened to your words blaming your family as the alienators and insulters?. And most important, what happened to your quote from the bible that "A woman will leave her family and go with her husband?".
Well Marline, I would take the words of the Bible anytime over those of Joelle, Johanne, Rachel and other instigators.
THE VALUES OF ONE'S WORDS:
What defines someone's character and credibility is your word. Always mean what you say, say what you mean, and do what you say. However, while your changing words above do not reflect that credibility, the catastrophic reversal of your written promise below to your family was the biggest contributor to the marriage demise.
You must remember this most powerful statement of commitment to the marriage that you had made to your family:
I am married, I love my husband, We have fun together. , So If you do not want us in your home or your events, just say so. We do not want to be where we are not wanted.
BUT WHAT HAPPENED ONE WEEK LATER?: Your controlling sister Joelle who has complete disrespect for your words, was having a party at her house. So she invited you alone to come over to help her, and to be a servant to her guests. Then your 'People-Pleaser & Professional Helper" personality got triggered. So you left me home and just went, as your words above became empty words, causing you to lose all credibility. Specially when you repeated the same act over and over with all your family functions throughout 2015, as I quietly stayed home to maintain the peace.
THE BOTTOM LINE MARLINE:
If you stood your ground when you said " If you do not want us in your home or your event, we do not want to be where we are not wanted", you would have gained respect, your family would have ultimately come to you, and unity would reside today in all our families.
But the fact that your words are empty words is the reason that your 4 years of accusing me of breaking the marriage with the words 'Control, Family, Friends and Kids" have remained empty accusations, and led to your permanent anger and life in denial.
Just imagine me telling you, or any husband out there telling his wife that: t "My hangout guy friends come before you. And if you don't love my buddies, I will find another wife who does
This sounds so ridiculous and absurd that I feel ashamed just by writing it. But I wrote it so that it sinks in with you, and for all the wives out there to understand the absurdities I had to manage.
SO MARLINE, YOUR PROBLEM IS NOT ME, AND WAS NEVER ME. YOUR PROBLEM IS THE BETRAYAL OF YOUR WORDS AND COMMITMENT THAT BROUGHT US JOELLE, RACHEL, JOHANNE, DOMINIQUE, DONNA, ETC.
And now, here you come throwing in this unknown mystery character of Punk-Al who I am about to show the mistake of sticking his nose in my business & for disrespecting someone he does not know. That will come next in a special report
INCLOSING: This is why I have repeatedly suggested that you speak with a professional to help you deal with your internal conflicts, insecurity and chronic 'People-Pleaser' personality. An advice I again repeat today because I care for you as the person I knew and married. And if those people you sacrificed your marriage and happiness for truly care for you, they will encourage you to do so.
However, do not use the services of psychotherapist Joelle Mith-Joseph. Because she is the one who had gone into hiding for weeks, when the marriage counselor we were consulting with wanted to talk to her on your behalf.
SO TIME TO END THE LIFE OF DENIAL - COME TO THE REAL WORLD OF TRUTH, AND YOU WILL FIND PEACE.
Now I reserve my closing comments to the main character of this Episode #4 , Miss Rachel Berthoumieux.
MY LAST WORDS & ADVICE TO RACHEL
So I close this Episode #4 with these words of wisdom, and advice to Rachel Berthoumieux
'Life is a school we wake up in each day". So I hope that this experience in my classroom of life as taught you these 4 life lessons
Lesson #1: The role of a maid of honor is to provide positive support to the couple, not to become the wife's booking agent in promoting a 'Single-wife' lifestyle.

Lesson #2: A true girlfriend with character, does not insult and disrespect her friend's husband. As the greater disrespect in your case went to Marline, and not to me.

Lesson #3: Choose your adversaries carefully, and never pick on someone more educated, and 100x smatter than you could ever be.

Lesson #4: Never inject yourself in someone's marriage to create division. Because it creates the 'Boomerang Effect', which you got a dose of, as represented in the artwork below,.

So if you learned these 4 lessons as my good student in the 'School of Life', you will not repeat the same mistakes.. As your associates Mad Doc Dupiton and Psycho Joelle Mith-Joseph have learned the hard way.
SO RACHEL, I CLOSE YOUR EPISODE WITH MY LATEST ARTWORK
It does not say that you are a Machan'n pwason. It only reflects your ugly behavior at the New Year's Eve Gala of Dec. 31, 2015 at Mirelle's restaurant..
This artwork also confirms that your friend Marline was right in saying "JC is not going to let anyone walk all over him". But that is just what you tried to do by corrupting my wife, hijacking her, then insulting me for good measure
. THEREFORE YOU GOT TO PAY THE PRICE.
1) SPECIAL REPORT: A guy named Al, who I baptized as Punk-Al
2) EPISODE #5: Mad Doc Dupiton campaign of terror begins

PLEASE CATCH OUR FACEBOOK PAGE

The RockMaster Horrific Saga
And keep up with all new developments