Let me begin my closing summary with a famous slogan frequently quoted by leaders up to the president of United States whenever things go drastically wrong under their watch. It says:
"THE BUCK STOPS HERE, AT THE TOP"
A slogan that also applies to husbands and fathers as leaders in their homes and marriages. And in this Elie-Dupiton households disaster, the BUCK stops at the feet of husbands Jean Claude Elie and Guy Dupiton.
So to show commitment to responsibilities in this family disaster, I will take the "Elie" pledge of responsibility, then see if Guy Dupiton will show the courage to take the "Dupiton' pledge as a way to redeem himself after reading this closing summary.
HUSBANDS PLEDGE OF RESPONSIBILITY
I, Jean Claude Elie, husband in the "Elie" marriage, take responsibility for my failure in adequately shielding my home and marriage from becoming the stage for this disaster with serious consequences on myself, my wife, daughter, and our entire family. As such, I am committed to fully understand what went wrong to get accountability from the culprits and whatever justice is called for.
I, Guy Theus-Dupiton, husband in the "Dupiton" marriage & home, take responsibility for... (To be completed by Guy Theus-Dupiton) ...
Now, there are some basic personality traits required to be a leader who takes responsibility. But in the psychology of family and marriages, there are 2 words that I believe are at the foundation. They are "Respect & Values-Boundary"
"RESPECT" & Personal VALUES-BOUNDARY
RESPECT: No one will debate that no good relationship can exist without respect, especially in marriages where it's the basic foundation. And that is the reason I can categorically state that this drama linking the Elie marriage to the Dupiton & Mith families was ignited by disrespect, exploded in disrespect and kept alive through disrespect.
However, Respect in a family or marriage starts with self-respect. But the challenge with that is:
RESPECT IS EARNED, & NEVER GRANTED OR BOUGHT
VALUES-BOUNDARY: Boundaries are limitations we set on the values that define our personality and integrity. We all have values that are enclosed within boundaries that range from weak to tight. So someone with strong personality/integrity will never cross those boundaries. For example, if you believe in "Thou shall not steal", you will never cross that boundary, but a weak person could be influenced to do so.
HOW BROKEN BOUNDARIES & LACK OF RESPECT CREATED THIS CATASTROPHE
Now, while all the characters in this saga have personal Values-Boundaries", this article is limited to Guy Theus-Dupiton whose total collapse of the "Respect Boundary" was the main contributor in the perpetuation of this saga.
But as I've always expressed my pride at never betraying my integrity & personality, I will use myself as an example to show what I mean with two "Value Boundaries" that everyone can agree I never crossed.
JC'S TRUTH BOUNDARY:
This is a Truth-Boundary that I never crossed to enter the kingdom of lies & falsehoods. Thus the reason that I refer to myself as the Truth-Man" and frequently promote Truth with Quotes like these:
"Only the TRUTH shall set you Free"
"TRUTH will always remain undeniably TRUE "
"You can run from the TRUTH, but sooner or later it will catch you in a dead end street..
And the real proof of me never crossing that boundary is in the fact that not one person, even those I've accused of lying, ever pointed to one lie I gave in my years of writing.
JC'S DECENCY BOUNDARY:
This boundary is airtight for me. Because, while I've been bombarded with an assault of profanities ranging from Asshole, Fuck, to Dog shit, everyone is a witness to the fact that I have never used profanities on anyone, nor ever responded in kind to the ones I received.
GUY'S PRIORITIES & FRINGE BENEFITS THAT TOOK PRECEDENCE OVER VALUES
The problem for Guy is that he has "priorities & fringe benefits" in the marriage that take precedence over all Values & Boundaries that would conflict with his wife's wishes and demands. So since such conflicts with his wife would disrupt his priorities and fringe benefits, he allowed himself to be squeezed into the 'Psychology of irrelevancy".
DEFINING GUY'S PRINCIPAL PRIORITY & FRINGE BENEFIT BENEFITS
As for defining his priorities, I can only name those that I know from direct statements by his wife, comments made by others and from his behaviors. And these two priorities are also the most common in other cases of husbands who accept to live in irrelevancy with a disrespectful wife. And in the case of Guy Dupiton #2, they are:
The guarantee of a secure roof" over his head

The Financial Security of being the husband of a Medical Doctor.
Two examples of husbands with 'Values' that take precedence over fringe benefits
FIRST: After his wife caused the rupture my marriage and , drove me through hell and into a shelter, I said to Guy: "I'd rather be in a shelter 100 times with my integrity , than be in your shoes as a 'Just-Shut-Up' husband stuck between a disrespectful wife and a mother in-law".
SECOND: I reminded him of the Original J. H. Dupiton who, upon seeing signs of being pushed into a 'Just-Shut-Up' husband, took his wife Johanne to a cruise and upon returning handed her the house keys and said: "Darling, I love you, but can no longer live in this house after your mother Liliane came from Haiti to live with us"
Then he walked away with his head high ands integrity intact.
Ironically, this last one reveals that the 'Elie' marriage was not the first to fall victim to the Claude women, but that of Johanne Dupiton herself at the hands of her own mother.
THE DAMAGING OUTCOME OF GUY DUPITON'S "PSYCHOLOGY OF IRRELEVANCY"
So, as Guy decided to be an irrelevant husband from day one, Johanne was able to launch her full-scale assault on my marriage and a psychological warfare on my wife that succeeded in breaching her 'Values-Boundaries'. At that point, Dr. Dupiton injected her 'Ultra-feminist doctrine of women superiority, the phobia of a 'Controlling" husband, the 'Just-Shut-Up' husband idiocy, and the Single-Wife lifestyle of "Mwen fè sa'm vlé, lè'm vlé. Soti lè'm vlé, rantré lè'm vlé' (I do what I want, Go out & come home when I want).
In the end, as Johanne's destructive instructions brainwashed into my wife clashed with my impenetrable 'Values-Boundaries', they created major disturbances in the marriage causing it to finally crash.
WIFE DISRESPECT & HUMILIATION IS THE PRICE FOR GUY'S FRINGE BENEFITS:
Since Guy Dupiton did not seem to have any boundaries around his values, he never earned the respect of his wife who imposed herself as supreme ruler & decision maker in their home & marriage, even imposing her own boundaries on his freedom and individuality.. So let's review some actual cases of flagrant wife disrespect and insults toward her husband
WIFE DISRESPECT #1: GAG ORDER ON FREEDOM OF SPEECH
One of Johanne's greatest display of disrespect was in limiting her husband's 'Freedom of speech' guaranteed under the Constitution, as she controlled who he could talk to and what he could talk about. Something that is visibly evident by the fact that no one can quote one sentence from him throughout this whole saga. And here is a perfect example of her gag order.
It involved his wife shamefully misusing his name in creating a Big Lie to generate my false arrest. She even committed perjury by testifying to the lie on the witness stand, claiming: "He (my uncle) calls my husband every day", when Guy and I had not spoken in years. But when Guy was asked to refute her lie in his name, he could not do it as he was under his wife's Gag Order.
A lie that was captured in the court transcript that I had requested as evidence. So here is Dr. Dupiton giving her Big Lie on the witness stand, and refuted by the judge. As I said, "Evidence Don't Lie":

(NOTE: Ms. Birk is my lawyer & Mr. Glass is Dr. Dupiton's lawyer)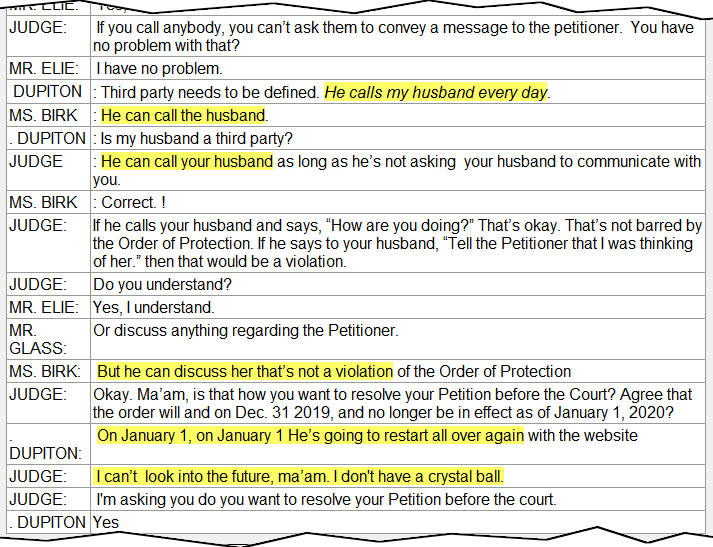 But even thought the judge ruled that there was no restriction on Guy and I communicating, the Just-Shut-Up husband Guy would not disown the lie, or even be sorry for his wife misuse of his name to get me wrongfully arrested. Thus showing No Respect for his name and integrity as a man.
WIFE DISRESPECT #2: MRS. DUPITON BECOMES MRS. THEUS ONLY FOR A FINANCIAL SCHEME.
Now, as I've shown Guy's wife lack of respect for his Theus name that she rejected, she did find good use for it when she identified herself as Dr. Marie Paule Theus n a financial schemes and lawsuit against RockMasters Entertainment claiming "Slandering & Libeling" for publishing my story that is 100% factual.
But as 'Evidence Don't Lie', here is the header of the court filing that shows the plaintiff as Dr. Marie Paule Theus, as Dr. Dupiton conveniently becomes an a/k/a



So, as Doc Dupiton thought she could put a Gag Order on my freedom to speech as she did with her husband, that lawsuit was Dead on Arrival.

So in the end we see a Guy Dupiton who, after allowing his wife to use his first name in a Big Lie to get me arrested, allowed her to use his family name in a crooked scheme for money. Thus once more showing that he has No Respect for his name and integrity as a man.
Now let's go from "Wife Disrespect" to cases of Wife Humiliation"
WIFE HUMILIATION #1: GUY DUPITON'S GARBAGE MAN ASSIGNMENT
About 2 or 3 times a week, Mrs. Dupiton would delegate her husband Guy Dupiton to Midnight Garbage Man Duty to publicly rampage through Camkids trash separating recycles at the corner of Linden Blvd and 225 Street. Such a humiliating job that late hours visitors to my office would ask me: "Isn't that the doctor's husband in the garbage? Is the Doc so cheap that she'd use her husband for that dirty job rather than pay a poor soul who could use a little change?".
Thus leaving me embarrassed for poor Guy.
WIFE HUMILIATION-2: GUY DUPITON DEMEANED BY HIS WIFE WITH PEOPLE
Now, as Dr.. Dupiton is aware of her husband's fringe benefits in the marriage, like the guarantee of a secure roof" over his head, she projected him as a husband who is dependent of her, which resulted in people making demeaning comments about him, like this one by my wife Marline Elie, and I quote: "Guy can't open his mouth in this house afraid that Johanne will kick his ass out"
Then there is this comment that was made by Mrs. Dupiton herself telling someone: "I made the sucker husband sell the house that he owned with his sister who wanted to use it for a daycare business".
To which I add: "... and his money was invested into Camkids
BUT HERE IS THE WORST HUMILIATION THAT I SAVED FOR LAST:
Now, if Guy doesn't think that the above disrespects were bad enough, then I got a last one so humiliating that I debated with myself about including it in this Newsletter. But then I remembered someone telling me: "Jean Claude, don't you know that nice guys always finish last, and being nice is what got you in this mess?".
So I concluded that If Guy did not care about allowing his wife to hurt me, then why should I care about hurting his feelings with the truth?"
Well, here is the most denigrating comment his wife made to people, including myself and my wife about his inability to perform the one husband job she expected him to be good at. Mrs. Dupiton's said to ME:
"Guy can't even get it up, and he refuses to take Viagra because that will make him less of a man. Anyway I don't care, because I have to get up early for the office"
CLOSING WITH THESE WORDS TO GUY DUPITON:
"So Guy: When this Newsletter is publicly released, if it causes the breakup of your marriage to Dr. Dupiton, and she kicks your ass out of the house, then I will borrow this famous line from your wife and tell you:
I DID IT, AND IF YOU DON'T LIKE IT, THAT'S JUST TOO BAD"
Because the marriages of the Marriage-Breakers are not exempt from their own medicine. As what goes around, comes around.
STAY TUNED FOR EDITION #2 OF THE NEWSLETTER