Let me open this global presentation of Episode #6 by saying to everyone that what you are about to read is very explosive and extremely revealing in many ways, even very good for some. In a simple nutshell, I am about to enlighten you with the presentation of undisputable facts that lead to the delivery of a 10-Counts verdict of the script writers & executioners of this 2-Families catastrophic outrage. One that was built on a foundation of jealousy & greed over a simple marriage. You will learn:
How the Balmir & Elie branches of our family were used by the Claude branch as executioners for its Master Plan for Family Supremacy.

How this 2-families drama could have been easily avoided if it was not for its male executioners, blindly pledging loyalty to prove themselves to the self-imposed women rulers of the families.

THEN THE VERDICTS: An extremely revealing comparison of the level of responsibility between the Mith family and my family, closing with the delivery of a climaxing 10-counts verdict that puts guilt where it belongs, but most importantly, exonerates many from guilt.
First, I will show you how the Claudes Master Plan for supremacy called for the Balmir & Elie branches to self-destruct, thus leaving the Claude branch as the only intact & undivided one to reign supreme over the 2 splintered branches. A plan that used my marriage to Marline Mith-Elie as its launching pad. So let me start by directly addressing members the Balmir branch, then the Elie branch, closing with the most revealing and surprising verdicts.

THE BALMIR BRANCH of Eric Jr. & Frantz as executioners

TO: Ricky, Fanfan Balmir,
The effort to break down your Balmir branch toward Claude supremacy started over a decade ago with my elder sister Liliane Claude falsely accusing your parents Eric & Roselyne Balmir of contributing to the death of my mother/your grandmother. Before that, she tried to cause disturbances in their marriage by accusing your now late father of improper physical sexual advances toward her.

And while these 2 claims had always bothered me, you the Balmir sons who should have been offended the most, never seemed to care. In fact, after the death of your grandmother in 2005, followed by your mother falling victim to Alzheimer, you allowed the Claudes to take control of the home, with Liliane Claude making your weak father morally dependent on her. So as you two showed little attention to your elderly sick parents, the Claude women quietly took control of the Balmir home.
Then upon my arrival there following the Claudes break up of my marriage to Marline, I began to notice that certain things were not right in the home. And as I uncovered evidences of the Claudes prior conspiracies against my marriage and I started to question my sister Liliane, they saw me as a problem to get rid of. So I immediately told you both not to get involved in my marriage disputes with my sister, as it did not concern the Balmirs.
Then you Ricky, who had previously \ informed me that the Claude women were trouble, and Fanfan who I took under my wings to give a career in engineering, totally ignored my request and let yourselves be brainwashed against me, then delegated to execute my removal from the house.
So before I knew it, the Balmir family house of good deeds, suddenly became a hell house with harassing police visits, lockouts, claims of drug activity, elder abuse, Etc., leveled upon me. It all culminated into my court ordered eviction under the eyes of a City Marshal with nephew Ricky blocking me from saying good bye to my sick sister Roselyne. So I quietly exited the house to the sound of 'Salopar' behind me.
Then with the recent 2020 death of your father, and with the Claudes ashamed to face me, they instructed you guys to commit the immoral act of preventing me from attending his funeral. And as if that was not bad enough, you instructed the caretakers of my widowed sick sister not to let me visit her. Now while they ignored that order and I visited with her for the first time in 2 years since the shameful eviction, I can't find words strong enough to describe the level of inhumanity and immorally of those actions.
IN CONCLUSION:
The 2 of you became executioners of your own Balmir branch by bringing it disgrace & shame. And in executing my eviction, you ruptured the Balmir/Elie family connection, leaving the Claudes with sole supremacy over a disgraced Balmir branch & home. All because you ignored my request not to get involved.

THE ELIE BRANCH with Tanisha Elie as executioner.

To Tanisha Elie,

In my 6 decades alive, I've witnessed cases of families causing the demise of a marriage. But what no one has ever heard of, is anyone able to break a perfect & trouble free father/daughter relationship. And not only was this impossible feat achieved by your Claude aunt and cousins, they made you accomplice in their plot to ruin your father's marriage & life. And to secure your participation, they also coerced your mother Paulette to join the anti-marriage plot under the pretext of getting her revenge for our divorce of over 30 years ago.
With that accomplished, they proceeded to poison your mind against me, and brainwashed you into believing that your lifelong father was a crazy man who was never in your life. Then indoctrinated you into their feminist anti-men philosophy with the same idiotic 'Control' phobia they also sold to my wife Marline.
So with them having done a good job on your head to make you forget how you were raised and the values of the great united family you grew up in, they transformed you into a willing executioner of their dirty jobs, committing acts such as frivolous call the police and a DA, delegated to the Balmir house to participate in my lock out, abandoning your father in the streets and into a shelter while living comfortably alone in your 3 bedroom house, even declining to accompany me to surgery, and lots more. Then you became their bullhorn for slanders of mental problems, drug use, elder abuse, and hateful statements that 'you'd let me rot in jail', and even telling me that "Marline does not want to be with you".
Then to top it all, after a concerned citizen finally coordinated our happy reconciliation this year, instead of the family celebrating the great news, it contributed in making the reconciliation fall apart just weeks after. And the list of your achievements as executioner goes on.
But till today you have not been able to say ONE thing I did to you, or ONE thing I did not do for you as father. Because it all started with my marriage to Marline, and Johanne Dupiton enlisting you into their anti-marriage conspiracies after your indoctrination in their ultra-feminist anti-men philosophy. One that leaves you looking at 40, still single in search of a non-existent husband who will not 'Control you', so you can live a single-wife lifestyle.
CONCLUSION:
Without your enlistment as an executioner for the Claudes, the Elie branch of Jean-Claude, Tanisha and Marline Elie would not have been dismantled, including spoiling the 3 decades of cordial relationship with your mother, the first Mrs. Elie. That is how far back the Claudes went in using you as executioner in dismantling anything Elie in their plan for control & supremacy.
THE ELIE BRANCH with Marline Mith-Elie as executioner.

TO: Separated Mrs. Marline Mith-Elie,

Let me explain to you how the Claude women subconsciously turned you into an executioner for their Master Plan and delegated you for self-execution of your Elie marital union toward supremacy.
When your sister Joelle Mith-Joseph started to create disturbances in our marriage, and with Johanne Dupiton observing the 'People-Pleaser' weakness in your personality, the Claude women saw an opportunity to infiltrate the Elie marriage. Then they made the calculation that, if they could also coerce my single and much younger daughter Tanisha to get involved in the anti-marriage plot, they would kill 2 Elie birds with one stone by simultaneously killing the Elie marital union and the Elie father/daughter union. .
So soon after your sister Joelle's ignited the fuse of division, my niece Johanne injected herself as undercover agent, disguised as your confident and supporter. However, a supporter who will agree with every complaint you make about your husband right or wrong & specially wrong, and who will never say that you, your family, children or girlfriend ever did anything wrong in life. In other words, she was your yes-woman who will agree that your husband is the only sinner on the planet, a door-kicking crazy man who did not like your children and who could actually assault your adult daughter as Joelle fabricated. But however crazy and idiotic all this sounds, YOU BOUGHT IT ALL.
Then she indoctrinated you into the Claude feminist mentality with idiocies such as the infamous 'Control' phobia, the single-wife lifestyle, and the 'Fè sa'm vlé, lè'm vlé. Soti lè'm vlé, rantre lè'm vlé' nonsense that is sure to break 100% of marriages. BUT YOU BOUGHT THOSE TOO.
Then came the absurdity of a promised membership into an ex-wives club with my first wife. And guess what? YOU BOUGHT THAT ONE TOO.
Then there was Johanne's obsessive jealousy that resurfaced when we started to hold my family reunions at our more upscale Jamaica Estates residence. She immediately saw that as a challenge to her monopoly on hosting our family functions at her average Baldwin residence. So in a flip into insanity, she started to sell you the most ridiculous and impossible idiocy ever heard of. That is, " I WANTED TO STEAL YOUR HOUSE". While everyone knows that there is no such thing, YOU BOUGHT THAT TOO.

Then you confirmed the purchase by sending me this message: "Oh, you wanted to steal my house that I worked so hard for". But failed to Thank me for saving it from foreclosure for YOU and your children, and had invested some $100k in it for YOU that you still enjoy.
So with your purchase pattern, I would not have been surprised to find the Brooklyn Bridge parked in our driveway with a purchase receipt signed by Mad Doc Dupiton.
Now, let me make this clear. In no way am I saying you were stupid, no more than saying that my daughter is stupid. Because there is no such thing as a stupid Elie, and I do not marry stupid people. In actually, the fact that you are an intelligent woman is what makes it mystifying that a Johanne who's decade younger than you, could pull such blindfolds over your eyes. But in identifying the problem, I also have the explanation for it.
This is all the result of a Joelle/Johanne double-brainwashing knock-out punches being landed over and over for more than a year. It is the same Mad Doc brainwashing power that also turned my daughter & nephews into executioners of their own branches of the family. But the problem that remains today is all of you still refuse to get up from the canvas and back on your feet, afraid that the Mad Doc punches will keep coming.
CONCLUSION:
As Mrs. Elie, the Claudes only viewed you a tool to dismantle the Elie marital union that had become an integral branch of the family. And since I would be out of the picture with the double rupture of the Elie marriage & Elie father/daughter bond, they could turn you & Tanisha into Claude converts to claim supremacy over.
As to the2 of you be3coming Claude converts: You clearly confirmed that in this audacious text message you sent me after the break up, telling that you and my daughter were now the wrong ladies in my life that I do not 'Control' .


That was followed by you taking the role of lawyer for Doc Dupiton constantly defending her against me.
And as to her supremacy over you two:
That was put to work last year 2019, and exposed by a police detective of the 105th precinct informing me that, when Johanne came to the police station to file a false report on me, she dragged my wife along as back up to lie on a deposition. And even more troubling is my belief that Johanne had also dragged my daughter to that police station. Because, as many times as I asked if that was the case, I could not get an answer. So if it's not a 'NO', it must be a sickening 'YES'. Thus proving that this new empire that the Claudes planned to rule over, is an Evil Empire that I am committed to take down from the top publicly.
And even before that, I felt ashamed when people who had attended a party at Johanne's house not long after the break up, told me how baffled they were seeing my wife there acting as a maid and a servant for Johanne's guests. They thought that was so humiliating knowing what Johanne had done to us.
Still Marline, here are the big irony and mystery in all this. Here we have Johanne feeling in control pulling your and Tanisha's strings, making you do all her dirty deeds, being a servant at her party, and selling you bridges. Then I am the one being accused of "Controlling" you with you telling me that I tried to "Control" you, and that's why the marriage broke. Now, how the heck can these 2 "Controls" add up?
Well I'll tell you and Tanisha Elie how you make 2 things that do not add-up actually add-up. Because this is what's called a 'Paradox' You do that the same way you add apples and oranges, or make a square peg fit in a round hole. IT ADDS UP TO JOHANNE/JOELLE BRAINWASHING & MENTAL PROGRAMMING.

BEFORE THE VERDICTS , COMES THE FACTS-CHECK ON THE MITH FAMILY vs. MY FAMILY
Having addressed the executioners on the consequences of that role, let's get to the climaxing part of delivering the most revealing and surprising verdicts that will guide their future decisions.

Now, before I go into delivering my honest and very fair verdicts on each family's level of responsibility, let's do some serious fact-checks on both families in the manners of CNN.
FACT #1: Proven that Joelle Mith-Joseph ignited the fuse that started it all by exploding an incident involving my wire's daughter that took place in the privacy of our home
FACT #2: Proven that Johanne Dupiton of the Claude branch of our family wrote the Master Plan for division and supremacy.
FACT #3: Concluded that the Mith men felt that they were acting on their sister/niece best interest, coerced into believing that her husband was abusive. So in the end, they acted as family standing up for family, right or wrong.
FACT #4: Concluded that my family's men, and the rest of the family knowingly acted against the interest of an uncle/brother/father who they knew did nothing to his wife or anyone. So to them, it was Family standing against Family to hurt Family, right or wrong.
FACT #5: Concluded that the men of both families acted with total disregard for the truth, influenced by the controlling woman of their family. But while the actions of the Mith men for Joelle were benign and annoying at most, the actions of this family's executioners were cruel, immoral, and destructive.
FACT #6: Concluded that as the marriage spanned nearly 5 years (2011-2016) the period of disturbances by the Mith family did not start till the 3rd year with Joelle lighting of the fuse in Jan. 2014. It ended with the marriage break up in Jan. 2016. THUS GIVING THE MITH FAMILY A DISTURBANCE PERIOD OF 2 YEARS.
FACT #7: Concluded that the period of disturbances by my family started soon after the marriage with Joanne Dupiton early intrusion into my wife in 2012. It went past the marriage into a post-marriage period of horror that introduced the executioners above, and continued till 2020. THUS GIVING MY FAMILY A DISTURBANCE PERIOD OF 8 YEARS, 4 TIMES THAT OF THE MITH.
Now, to get to the verdicts, it is essential that you have a good understanding of what transpired during the 2 years period that is attributed to the Mith family as shown in fact check #6 above. The details on how I handled that 2-years period were never presented before, but now they are central in establishing blame or exonerating from blame. It is information that can be confirmed as accurate by Marline, her brothers and uncle.

THE PERIOD OF JAN. 2014 TO JAN. 2016
Once the fuse of disturbances was lit in Jan. 2014, It led to a conflict between the Mith family and I that was manifested solely through a series of unpleasant email exchanges with Joelle and her brother Richard. While the exchanges with Richard were few and short lived, the ones with Joelle lasted longer as she showed great disrespect toward me and my position as Marline's husband, while trying to impose authority in our lives and decisions made in our home.

Then she got the family to impose a general boycott of our home and to ban me from their family functions, which led to Joelle ejecting Marline and I from a restaurant during a birthday celebration for her mother.
HOW DID I HANDLE THOSE RESTRICTIONS?
Since these ban and boycott were meant to pressure Marline to bring the marriage to an end, instead of fighting them, I decided to use quiet patience with the expectation that time would be the cure, and that at some point they would either negotiate or simply let the restrictions expire.
As to my dealing with being banned from their functions:
I never once objected to staying home while Marline went alone. But seeing how that bothered her, I would say to her that "It's OK, you have to go to your family". But I always felt that it was cruel punishment on her, especially when she wrote to them saying "My husband is not welcomed in my family, how do you think that makes me feel?"
As to my dealing with their boycott of our home:
I would still send them personal invitations to functions in our home, knowing full well that Joelle would prevent anyone from attending, which she did. As proof, here is the first of such invitation dated Dec. 30, 2014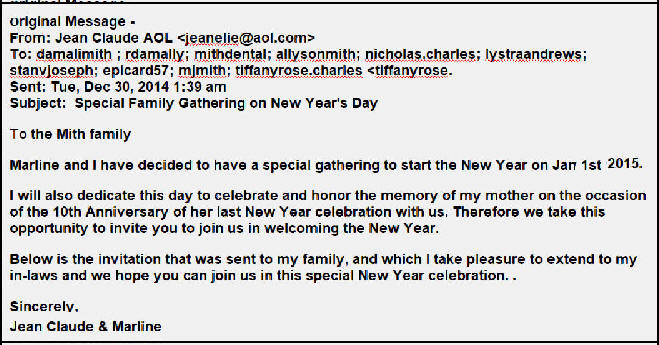 This went on for nearly 2 years to the point it became so routine that staying home became free time for me as things stayed quiet between me and the family.
Then came, the one factor I did not count on to spoil my plan:
It was none other than my niece Johanne Dupiton the Mad Doc launching a most intensive undercover pressure assault on Marline for her to prove that, as a strong woman, she will not allow her husband to control her, and that she can do what she wants, go out alone & come home when she wants. With that came girlfriend Rachel Berthoumieux to help facilitate a 'Single-wife' lifestyle by secretly attending events like the Heal Haiti gala, SOBs party, graduation at Rachel's house, even a Thanksgiving function at my daughter's house where she was kidnapped by Doc Dupiton to show who's in charge of Marline. Other things included convincing her that I did not like her children, family & friends, and teaching her to call police on husband, Etc. Etc.
What's more important is that all these intrusions were concentrated just in the final 3 months from Oct. –Dec 2015. Then the guillotine was dropped on Jan. 2016 at a time when Marline's daughter, who had also boycotted our home, lost her Manhattan apartment. So Marline was given the ultimatum of "Your daughter or husband in the house. Not both". So HUSBAND LOST.
In the end, what the Mith ban and boycott could not accomplish in 2 years, Johanne Dupiton accomplished it in 3 months, cancelling my plan of patience.
THE VERDICTS: ON MITH vs. MY FAMILY:
o based on the above and information previously presented, the levels of responsibility or non-responsibility by the different individuals or group, or family has been fairly determined with the following 10 counts without bias toward any family.
THE DEFENDANTS
MY FAMILY

MITH FAMILY

Main Def.
Claude Branch
Balmir/Elie Executioners

Main Def

Men Accomplices
- THE VERDICTS
COUNT 1 - FELONY CHARGE OF:
GIVING THE FATAL BLOW TO MARRIAGE & TO OUR FAMILY .
| | |
| --- | --- |
| Joelle Mith-Joseph as Mith leader: | NOT GUILTY |
| Marie Dupiton, as Claude leader: | GUILTY |
| Claude Family branch as a whole: | GUILTY |
| Mith Men acting as accomplices: | NOT GUILTY |
| My family's active Executioners: | NOT GUILTY |
COUNT 2 - FELONY CHARGE OF:
MASTERMINDING THE CONSPIRACIES & PLOTS TO KILL MARRIAGE
| | |
| --- | --- |
| Joelle Mith-Joseph as Mith leader: | GUILTY |
| Marie Dupiton, as Claude leader: | GUILTY |
| Claude Family branch as a whole: | GUILTY |
| Mith Men acting as accomplices: | NOT GUILTY |
| My family's active Executioners: | NOT GUILTY |
COUNT 3 - FELONY CHARGE OF:
DEPRAVED INDIFFERENCE TO LIFE & VISION IN ATTEMPTS TO CAUSE HARM
| | |
| --- | --- |
| Joelle Mith-Joseph as Mith leader: | NOT GUILTY |
| Marie Dupiton, as Claude leader: | GUILTY |
| Claude Family branch as a whole: | GUILTY |
| Mith Men acting as accomplices: | NOT GUILTY |
| My family's active Executioners: | NOT GUILTY |
COUNT 4 - FELONY CHARGE OF:
BRAINWASHING & COERCION OF OTHERS TO COMMIT CRUEL ACTS
| | |
| --- | --- |
| Joelle Mith-Joseph as Mith leader: | GUILTY |
| Marie Dupiton, as Claude leader: | GUILTY |
| Claude Family branch as a whole: | GUILTY |
| Mith Men acting as accomplices: | NOT GUILTY |
| My family's active Executioners: | NOT GUILTY |
COUNT 5 - FELONY CHARGE OF:
PLOTTING ILLEGAL FALSE ARREST, BASELESS COURT ACTIONS & PERJURY.
| | |
| --- | --- |
| Joelle Mith-Joseph as Mith leader: | GUILTY |
| Marie Dupiton, as Claude leader: | GUILTY |
| Claude Family branch as a whole: | NOT GUILTY |
| Mith Men acting as accomplices: | NOT GUILTY |
| My family's active Executioners: | GUILTY |
COUNT 6 - FELONY CHARGE OF:
WILLFUL PROFESSIONAL MISCONDUCT & MEDICAL NEGLIGENCE
| | |
| --- | --- |
| Joelle Mith-Joseph as Mith leader: | GUILTY |
| Marie Dupiton, as Claude leader: | GUILTY |
| Claude Family branch as a whole: | NOT GUILTY |
| Mith Men acting as accomplices: | NOT GUILTY |
| My family's active Executioners: | NOT GUILTY |
COUNT 7 - FELONY CHARGE OF:
CHARACTER ASSASSINATION, LIBELING & SLANDERING
| | |
| --- | --- |
| Joelle Mith-Joseph as Mith leader: | GUILTY |
| Marie Dupiton, as Claude leader: | GUILTY |
| Claude Family branch as a whole: | NOT GUILTY |
| Mith Men acting as accomplices: | NOT GUILTY |
| My family's active Executioners: | GUILTY |
COUNT 8 - MISDEMEANOR CHARGE OF:
SHOWING POOR JUDGMENT IN GETTING COERCED TO ACT ON FALSE INFORMATION
| | |
| --- | --- |
| Joelle Mith-Joseph as Mith leader: | Not Applicable |
| Marie Dupiton, as Claude leader: | Not Applicable |
| Claude Family branch as a whole: | Not Applicable |
| Mith Men acting as accomplices: | GUILTY |
| My family's active Executioners: | GUILTY |
COUNT 9 - MISDEMEANOR CHARGE OF:
WILLFUL PROMOTION OF LIES & FALSEHOODS WITH DISREGARD FOR TRUTH
| | |
| --- | --- |
| Joelle Mith-Joseph as Mith leader: | GUILTY |
| Marie Dupiton, as Claude leader: | GUILTY |
| Claude Family branch as a whole: | GUILTY |
| Mith Men acting as accomplices: | GUILTY |
| My family's active Executioners: | GUILTY |
COUNT 10 - FELONY CHARGE OF:
RESPONSIBLE FOR DOWNFALL OF FAMILY & FOR ELIE FATHER/DAUGHTER DIVISION
| | |
| --- | --- |
| Joelle Mith-Joseph as Mith leader: | NOT GUILTY |
| Marie Dupiton, as Claude leader: | GUILTY |
| Claude Family branch as a whole: | GUILTY |
| Mith Men acting as accomplices: | NOT GUILTY |
| My family's active Executioners: | GUILTY |
SUMMARY OF GUILTY VERDICTS
MITH FAMILY TOTAL COUNT = 6 (5 Felonies & 1 Misdemeanor)
MY FAMILY'S TOTAL COUNT = 19, (15 Felonies, 4 Misdemeanors)

CONCLUSION. The facts are in. the numbers have spoken, and here will be no more denial that:
With the Mith family guilty on 6 counts over a 2 years period , and my family guilty of a whooping 19 counts over an extended 8 years period tell a big story. It is that, while the Mith opened the door of opportunities in those 2 years, my family loaded the 19 weapons over a long 8 years and pulled the triggers 4 times.
- Once to dismantle, then kill the Elie marital union out of jealousy, greed & hate..
- Once to dismantle our family & kill the Elie father/daughter union.
- Once to ruin my life & put my physical existence & vision at risk.
- Once to disrupt the RockMasters Business serving the community or over 15 years.
WITH THIS UNBIASED VERDICT, MY HOPE IS:
That everyone and all members of both families will be convinced that I have no bias against anyone, nor shown preference toward anyone, family, and even my daughter. That my only bias is for the truth and the facts.

That the Mith family, will agree that my judgment of them was fair, and that my exoneration of the men on all, but 1 count of using poor judgment, shows that there is no personal animosity on my part.

That Marline will finally find the courage to rise past the lies & falsehoods she's been programmed with, like this broken record she's been playing to me for 4 years singing" "The marriage broke because you hated my family, kids and friends, and tried to control me". So with the truth presented in the 10 counts verdict above, she can now discard that record and free herself with the truth
Because, as I told everyone 100 times, and as reflected in the Michelle Obama video message to them below, ONLY THE TRUTH SHALL SET YOU FREE.

CLOSING WITH REMARK THOSE I STARTED WITH
So nephews and daughter,
I hope that the 3 you are now convinced that in your role as executioners for the Claude branch, our family has been reduced to a damaged Balmir branch with its name stained, a shattered Elie branch with 3 non-speaking Elie, and leaving the Claude branch of instigators as the only one undivided, feeling that it has achieved supremacy. But a supremacy over a collapsed empire is no supremacy at all. And my "Global Nuclear Campaign" will insure the social chastising of those who scripted the dismantling of the great family of Anna-Rose Victor, to the point that even a minor social gathering of the remnant of these branches would be an outrage. Specially if held at the Dupiton's Baldwin headquarters where all the conspiracies were scripted during parties of family treason. Furthermore:
It was also your failure to support any of the peace initiatives that I proposed, and your inaction in allowing Johanne to block them that subsequently led to the launch of the Global campaign.

Then as family juniors, there was your decision to ignore my request as your elder, not to get involved in my dispute with my elder sister. Instead, you chose to become executioners of the family's downfall.
MOST DAMAGING was our family's betrayal of the basic principle of "Family standing for Family', and choosing 'Family standing with outsiders against Family". So while the Mith stood for "Family First", unfortunately while discarding the truth, their family is still in one piece, while ours is shattered in pieces.
So as the executioners, you will forever carry the cross of responsibility, unless you redeem yourselves and find the courage of decency to stand up and do right, rather than permanently hiding behind that wall of silence guilt.
As for me, I am free, at peace and with a clear conscience of having lived a clean life, never hurt anyone and tried to bring the family to the peace table. But again quoting this Marline line as I often do: "JC is an educated man who is always there to help everyone, but will not let anyone walk all over him".

Thus the reason that, as the son of a mother who also helped many during her lifetime and raised me to be a man of truth and integrity, I will not stand inept to family members who have walked all over her legacy and memory.
THE UNANSWERED QUESTIONS THAT CAN'T BE LEFT UNANSWERED
And in this widely damaging disaster created by families to ruin the life of a family member without explanation or justification, there remain questions that cannot be left unanswered. Questions that I had offered to resolve peacefully and privately, but were blocked by Doc Dupiton.
Questions About the mental corruption & moral deformation of my daughter; About my life brought to the edge of disaster and loss of vision in one eye through medical misconduct; About the troubling 6AM phone calls no one will talk about; About the humiliation from a wife I had put on a pedestal, suddenly kicking me out like a bag of trash, then giving silence instead of explanations. Then introducing a faceless Punk-Al character claiming control over her, her house, and my properties he dares claiming he got rid of; About my family's total loss of morality, humanity and conscience in believing that causing my physical disappearance or elimination, would bring them peace & closure, but instead brought on the "Global Nuclear" campaign for truth, answers and accountability. Etc., Etc..
So it is time for you nephews & daughter to bring back some respect to your grandchildren generation and for Marline to wake up from being a denier of truth, by rising from your roles of executioners for Johanne, to one that addresses these mysteries that cannot be left unanswered. Equally important, is for you to regain your lost ability to feel empathy for the plight of others. The kind of empathy expressed by Michelle Obama in this video I had put together with the 4 of you in mind. Because, while you all acted as converted haters, I as a father, uncle and husband, can never be your hater, as my position on hate is as follow:
PEOPLE WILL HATE YOU
BUT YOUR HATERS CAN NEVER WIN
UNLESS YOU HATE THEM BACK
THEN YOU LOSE
AND I CLOSE BY SAYING TO THE FAMILIES & READERS
While I may have taken the role of jury in delivering the verdicts in this 2-familiees catastrophe, it is our community of readers who will be the judge assigning your sentences based on your willingness to accept your responsibilities, and to let your conscience guide your actions going forward.
AND FOR THAT, I LEAVE YOU WITH MICHELLE OBAMA'S POSITIVE MESSAGE TO THE FAMILIES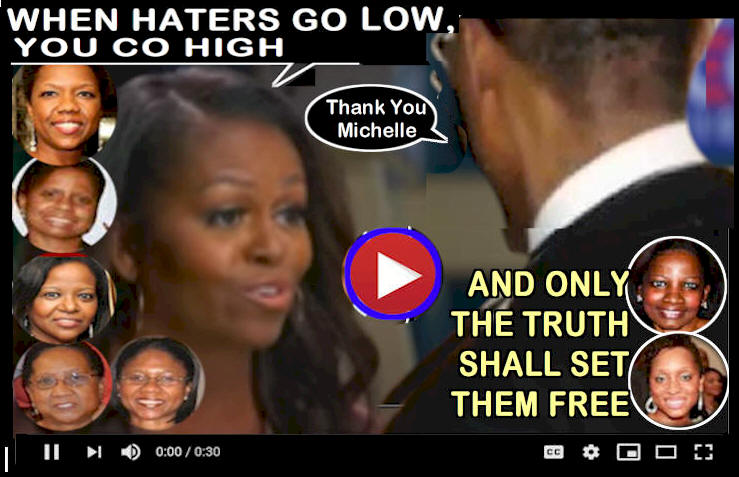 COMING NEXT IN BLOCKBUSTER EPISODE #7 - THE TOP VERDICT #11
First time release of a newspaper article on Dr. Dupiton acts of
ATTEMPTED HOMICIDE VIA CRIMINAL MEDICAL BEHAVIOR
& CAUSING RIGHT EYE BLINDNESS VIA MEDICAL NEGLIGENCE