TIME TO SHOW THE ACE CARD IN MY POCKET SINCE 2018
Now Families,
This is not a routine message, but one to give you a preview of the biggest bomb that will hit the Haitian community to establish Doc Dupiton as the scheming money greedy person she always was. A bomb that is the Ace Card I had in my back pocket since 2018, and that was provided to me by the Doc herself.

This will also be a perfect example of what I mean in saying that "There are greater significances to my word" as I kept telling both families to read my writings.

THE HUGE 'ACE CARD' IN MY BACK POCKET
It was in 2018 that I was served with a 20-pages lawsuit filed in NY STATE SUPREME COURT by Dr. Marie Theus/Dupiton and Guy Theus against RockMasters Entertainment & Jean Claude Elie seeking money award for daring to tell my story. It was a lawsuit so atrocious that I did not respond to it at the time, waiting for Johanne's next move while planning my major counterstrike.

AS THE FIRST ONES TO VIEW THIS DOCUMENT, YOU WILL READ JOHANNE:
State that she had evicted me & Marline from the office/apartment, when it was Marline who had informed her of our decision to move.

She will confirm the FAKING-230BP attempt on my life published in EPISODE-13, and my accusation of her "Attack on my vision & going hiding from pharmacist" as detailed in EPISODE-14.

You will see her bring up the names of organizations like Primvere, Heal Haiti, HOW, EmgHealth, Association of Ouanaminthais, 1804 Achievers, etc.. in this greedy attempt to get money from RockMasters Entertainment for her attack on me, my marriage, life, family etc.

She referred to RockMasters Entertainment as an "Alter-Ego of Mr. Elie" rather than a successful business that served the Haitian Community for decades, while she boasts about Camkids Pediatrics. Thus proving her obsessive jealousy to destroy everything & every relationship linked to the name 'Elie'

For the first time she used the name of Dr. Theus and gave honor to her husband's real name of Guy Theus. The same Guy who long ago claimed: "I don't get involved in family issues", is also a plaintiff in this lawsuit of greed.

She claimed that all my accusations were false, that my goal was hurt her and that I had damaged her Camkids business.
So much that you have to read for yourselves this Supreme Court filing that actually backs up everything I published afterward.
BUT WHAT YOU WILL NOT SEE ARE:
Any mention of the 4 wrongful arrests she staged, and that were thrown out of court.
Any answer to my questions of why she made me enemy targeted for elimination upon my separation with my wife, or about the moral corruption of my daughter.
She did not mention the 'Ex-wives club', her promise of a KARMA revenge to my first wife Paulette, nor her texting me to "Get out of my marital home".
No mention of her blocking all peace initiatives with the message "NO PEACE, I ONLY KNOW THE POLICE.."
No mention of her dragging Marline & my daughter to a police station to get a wrongful arrest.
And the list goes on.
Now the reason that that I had held this document in my back pocket and never published it was because I wanted to first publish information and evidences that would fully discredit the claims in that lawsuit.

Now that I had launched the "Global Nuclear Campaign" using the full RockMasters email database and Social Media with the most recent Episodes of the Release of Skeletons, the Victimization of my daughter', the Evil infiltration of the family, the Murder Plots and finally the Attacks on my visions, the time has come release that infamous 20-pages Supreme Court Lawsuit.
BUT FIRST: AN UPDATE ON MY LAST VISIT WITH VISION SPECIALISTS.
Now, if you read EPISODE-14 of the Dupiton War on my Vision, you are familiar with that cruel episode. The week after, I went for a consultation with the vision specialist, then sent a message to my family to update them on the result. So I am sharing that message with you below.
UPDATE: VISION SPECIALIST VISIT:
JUNE 2021
Dear families,
I just went for my visit with the eye specialists working to save my vision as explained in the last episode. While there, I took the snapshots below while in the consultation room waiting for the specialists as additional evidence to that Episode-14.
BUT LET ME MAKE IT CLEAR
I am not sharing these pictures because I expect anyone to care, as you've proven for years that you don't. I share them because of what I said to you this week which is: "THERE IS ALWAYS GREATER SIGNIFICANCE TO MY WORDS OR ACTIONS"

It is the same reason that I tell you to read. But I ;personally do not care if you do since my reports are never written for you. They are always addressed to the community. But if you want a clue as to why I advise you to read, do a Google search for the meaning of the legal term "CONSCIOUSNESS OF GUILT" that is often used in criminal and civil litigations.
But for now I want you to focus on the significance of sending you the pictures below as they are connected to my advice to Marline and Tanisha to read Episode 13 & 14.
AS TO THE OUTCOME OF MY CONSULTATION:
It showed that everything remained stable. But in a couple of weeks I must return for a special test I never heard before. One that is done by only one doctor and involves some brain probes. While that sounds gross, I hear it's like an EKG.
,
Jean Claude
"Who is always here to help everyone, but will not let anyone walk all over him"
NOW THE DUPITON vs. ROCKMASTERS ENTERTAINMENT
SUPREME COURT LAWSUIT
Here is the Supreme Court filing that I've been keeping in my back pocket. I am now ready to release it having already published the facts and evidences to discredit all of Doc Dupiton's claims.

SO READ, AS MORE SHOCKS FOLLOW:
Now, you may ask "What happened to this lawsuit since it was filed in 2018?"
Well, it was filed while the Dupiton's "Ass is Grass" case was in trial in Mineola Court. But seemingly, after Doc Dupiton lost that case and subsequently lost the "Walking on Linden Blvd." case, then lost the "Calling my husband everyday" case, she realized that if she could not win one case in local courts, her chances of winning in Supreme court against a Jean-Claude Elie who does not take deals and fights to the end for justice was not that good. So having wasted a ton of money in legal fees, the Doc chose to cut her losses.
However, Jean Claude Elie does not see it that way. Because after putting me through hell, splitting me from my wife, daughter, nephews, cutting me off from my sick sister Roselyne Balmir, and having attempted to collect money from my RockMasters business that she already damaged, I will use her lawsuit and turn it around against her.
Because it is interesting to see the way that she bragged about Camkids and referred to herself as a prominent figure involved with charitable work, while referring to my RockMasters Business that has served the community and organizations for 2 decades as "An Alter-Ego of Mr. Elie". And one that she must also destroy. Therefore, as she aimed to destroy RockMasters, I will have no sympathy for Camkids Pediatrics.

Specially since this drama that she created was never a RockMasters Marketing issue. It was a family issue that exploded after she dismantled my marriage with the family making me enemy, Then she followed with blocking my requests for family meetings to address the issues and get answers to 5 simple questions with no retaliation. Instead, she sent me the following messages
"I KNOW THE POLICE, THAT'S ALL I KNOW. YEP, ONLY THE POLICE. I WILL ANSWER YOUR 5 QUESTIONS IN COURT."
Therefore I will give her the opportunity to answer those 5 questions in court in what may be a multi-million dollar Malpractice lawsuit for her attack on my vision, the loss of an eye, my current fight to save my remaining vision, her FAKING-230BP diagnosis to my wife blocking her from taking me to the ER to put my life at risk, etc. In the end, it will be a high price for her to pay in order to learn not to mess with people's life, and that Greed, Jealousy and hate do not pay.
Now, the jealousy that Johanne extends to the success of RockMasters, my standing in the community and the VIP treatment received by Mr. & Mrs. RockMasters is the same the jealousy carried by my wife's sister Joelle Mith Joseph who wrote to my wife:
"Marline, I know there is a "grandiose feeling" of having "RockMasters" as your husband as you parade in the Haitian community, and likewise Jean Claude may feel good about getting an desirable woman like you that other men wanted..."
However Joelle's jealousy was not destructive or based on hate as that of Doc Dupiton who was further motivated by greed as reflected in her 2018 lawsuit.
In fact, it was a jealousy that my naive wife did not realize when she commented to me one day:
"Whenever Johanne invites us to her organizations parties, like her H.O.W. fundraisings and boat rides. But when we invite her to our events for Primevere and RockMasters anniversary Galas, she never shows up"
To which I told Marline:
"It's the jealousy and selfishness in thinking that she is superior, thus will not support anything that she sees as competition"
But in fact, there is one event that she attended, and it was the "RockMasters Anniversary and Award gala" held at Brasserie Creole with Miami All Stars and System band when an achievement award was presented to Dada Jacaman the creator of Shleu-Shleu.

I mention this one because I have one picture that reflects the face of jealousy. Now I did not even realize that she had attended that event until I stumbled on this picture of her and her husband sitting quietly while everyone was joyful, laughing, dancing and socializing. So here is the picture of the Dupiton couple not looking excited about being at successful RockMasters Gala with jealousy spitting out of her ears.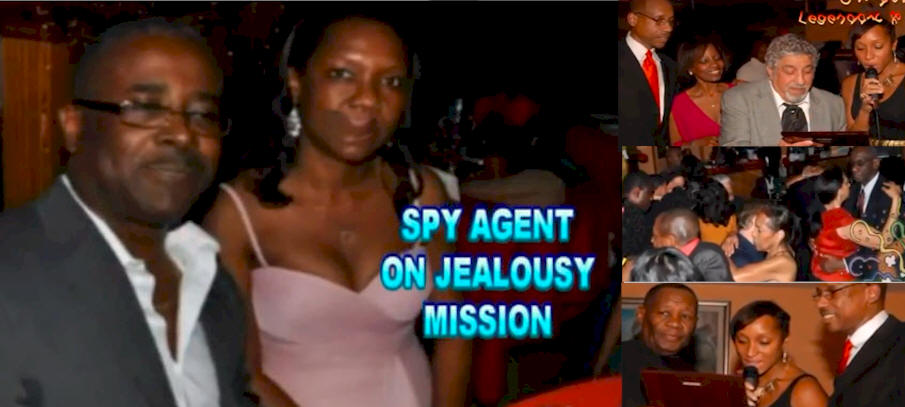 Like they say, a picture is worth a thousand words
And as for her claiming that I called her names to stain her reputations, I present you this parade of disparaging messages that the lunatic Mad Doc Dupiton sent me in one day as she deliverer her court documents.
NOW, AS TO HER COMPLAINT THAT I CALLED HER A MAD DOC:
The Mad Doc name is not meant as an insult, but an accurate representation of her MD title reflecting her performance as a physician. Because any doctor who remotely diagnoses a 230BP reading as Faking, a High Blood pressure, then who hides from a pharmacist for weeks to avoid refilling a critical prescription, and who claims that the treatment for someone with mental issues is to get him arrested as she wrote in her own handwriting in the 'Ass is Grass" complaint shown below, this doctor can only be a Mad Doc.



SO IF THE TITLE OF MAD DOC HURTS THE DOC, IT'S ONLY BECAUSE THE TRUTH HURTS.
NOW COMES THE SECOND DOSE OF FIREWORKS FROM 2013
MOST POWERFUL EVIDENCE OF DOC DUPITON'S CONSUMING JEALOUSY & GREED
This one relates to the statement in her Supreme Court filing about evicting us from the office/apartment in 2013. The complaint stated:
"... When Elie refused (to move), Plaintiff was left with no option but to have Elie served with a notice of eviction on or about October 3, 2013".
Now it is true that she served us a notice of eviction, but it was only after my wife had informed her of our intention to leave. And that statement skipped the full story of the jealousy & greed behind it .
But luckily, I am someone who keeps records and I have the full story \ already written in my reply letter to her attorney. However, it was a meaningless eviction notice as Marline had informed her that we were moving days before. So it was purely a vindictive move by this Mad Doc who must always have the last word.
Well, it's all in the letter below that will blow your mind. And what should strike you the most is that, not only does it backs up everything that I published till now, I could have changed the date from 2013 to 2021 and you would not know the difference.
PLEASE READ AND BE SHOCKED TO SEE THAT THE MAD DOC OF 2021 WAS THE MAD DOC OF 2013
Jean Claude Elie,
Engineer, MS, ME, C.E.O
RockMasters Marketing Services
17815 Henley Rd., Jamaica Estates, NY 11432
---

Mr. Joseph A. Ledwidge, P.C.
Attorneys at Law
170-26 Cedarcroft Rd.
Jamaica Estates, NY 11432
RESPONSE TO YOUR NOTICE TO TENANT
ON TERMINATION OF TENANCY AND
INTENTION TO RECOVER POSSESSION DATED SEPT. 24, 2013
Dear Mr. Ledwidge,
This letter is to inform you of upcoming legal actions against your client and my landlord Dr. Marie Dupiton (AKA Marie Paule Claude-Theus), her husband Mr. Guy Theus and the business they own, Camkids Pediatrics and rental properties located at 117-02 225 Street, Cambria Heights NY 11411.
May I also add that Dr. Dupiton, the landlord who has subjected me and my business to all the tribulations listed below, in her continuous chase of the mighty dollar, and against whom I am forced to bring this legal action, is sadly my own niece and daughter of my oldest sister and granddaughter of my late mother. That said, let's continue.
This action will be taken for the purpose of requesting financial compensation and punitive damages arising from the unethical, illegal and unscrupulous activities of the people/business named above. These activities resulted in defrauding me, my business and causing mental stress upon my person and my family over the past few years. However this action will focus on behavior and incidents started around April of this year, which culminated in the termination of tenancy/eviction letter left outside my business without any explanation or justification.
This action involves the office space that my wife and I rented to run our business, and occupied only for the months of July, August and September, at which time we were forced out. This case has a much longer historical background that I will not go into now, since it is not the purpose of this letter. The main elements that I intend to prove and for which I have physical evidences of, and requesting financial compensation for are:
For more than 8 years, I had rented the full 2nd floor apartment from Dr. Dupiton & Co. for which I always paid my rent. On many occasions over the years, I had issues with this landlord as she kept infringing upon my home and personal property, but each time was able to handle it.

Since I had gotten married and no longer needed the full apartment as my residence, my wife and I agreed to turn over most of the apartment to Dr. Dupiton and we were negotiating the rental of a single office room for our business on the same floor.

Dr. Dupiton was demanding exaggerated fees and unreasonable conditions for the rental of the room. When she wasn't getting what she wanted fast enough, Ms. Dupiton illegally entered my private property in my absence and gave access to construction workers who proceeded to demolish my apartment and possessions so she could expand Camkids Pediatrics. Imagine my shock when I opened the door to my apt and found it in ruin (Pictures Below).

Obviously I immediately instructed the trespassers to vacate the premises. Upon hearing that, Ms. Dupiton returned to my apartment in rage and started cursing and yelling at me in front of the construction workers, who are my witness to her actions. In her rage she picked up cellular phone threatening to call 911 on me. With my driver's license in hand, I told her that I welcome her calling the cops on me while I am facing 3 trespassers in my home committing a felony, destroying my home and properties. At which point the construction workers apologized and ask me for a few minutes to clean up and pick up their tools. I then locked myself into a room to avoid any confrontations the angry Dr. Dupiton until they all left. Thus leaving me with an apartment in shamble and not usable for living or conducting business. - The following pictures make the case .


Being that Dr. Dupiton is family, my wife still tried to find a reasonable conclusion. So days later, my wife negotiated a deal for rental the one room office (Red in picture below) with access to common lunch and public bathroom area (Green) for visitors, office personnel and bedroom tenant. Also to be included in the rental were security camera, individual door bells (none ever provided), cable, and internet for $600/month.

My old bedroom (Pink) on was being rented as a residential space to Miss XXXXX. All other areas were supposedly classified as commercial zone.


For 2 months, my customers, visitors and I were openly using the common kitchen/bath area. Then under the pretence visual privacy from visitors, a door was later installed between my office and the common area. Being that this door was to be kept unlocked, everyone still had full access to the common area. So it was not an issue.

That continued until one evening when I found the access door locked and was unable to use the toilet. At which point I texted Ms. XXXXXX to tell her that someone had accidently locked the access door from her side and to please check on that for me.

It is then that all Dr. Dupiton' trash started to rise to the surface. Miss XXXXXX told me that the kitchen/bathroom area (That I was sending strangers to for 2 months) is in her private residence. She gave Dr. Dupiton the ok for me only to occasionally use the bathroom during the day; because Dr. Dupiton had asked her to, being that I'm also a distant family of XXXXXX . She had no idea that my rental arrangement with Dr. Dupiton included the full use of the area for my business activities. I had no knowledge of this arrangement and that Natalie actually leased the whole area as her private residence. (Please read below the Full transcript of our text conversation)

Further conversation with Ms XXXXXX , revealed that her residential lease with our landlord Dr. Dupiton & co, was NOT just for the room, or the room and kitchen/bath area in question, BUT her lease included the full Pink, Green & Red areas in the picture. So basically, I was renting an office space and conducting business in her apartment and paying $XXX rent to Dr. Dupiton. A form of double dipping that I still cannot understand.

When I contacted Dr. Dupiton & Co. to clarify the situation with the common bath/kitchen area, she realized that she was caught red handed and went on a negative bullying campaign to get me out of the place. Only 2 months after I moved my business there.

Days go by and she never once replied to my inquiry to clear the confusion with the common area. When my wife Marline tried to get an explanation from her, Dr. Dupiton tried to get into my personal life by telling my wife that "I was bringing women and all kind of weird people to my office". That she's telling that to my wife to protect her marriage. Her hope was that my wife, upon hearing about other women, would get into a jealous rage and force me to vacate the place. Unfortunately, that backfired on her when my wife told her:
"Johanne, I didn't come here to discuss my husband, don't worry about my husband. I know all the people he sees in this type business he is in. I am here to clarify our office rental agreement and the issue that just surfaced with the bathroom being inside someone's private residence".

Completely at a loss now, and seeing all her illegalities being exposed. She got her lawyer to rush me the eviction notice. Not knowing that my wife and I had already decided to get the hell out of this place. The worst thing is that, this eviction notice was never delivered to me, but delivered to my neighbor and was left in the hallway for public viewing in order to add insult to injury. In fact, all the occupants of the building had seen it and I was the last one to see the embarrassing eviction notice.
In conclusion, this is the short version of this drama which has many more twists and unscrupulous activities by my landlord Dr. Dupiton, Mr. Guy Theus and Camkids Pediatric. However, I will only use the tons of additional evidences in my possession if a resolution is not settled here causing me to turn the complete matter to my lawyer. Bringing this case and all the evidences to the courts will be very detrimental to Camkids Pediatrics, her position as a landlord etc, since involvements by the building department, the bank holding the mortgage, health Dept. Etc will be necessary. This is the reason that I am giving them the opportunity to settle the matter now and out of courts.
Date December 16, 2013


So as you can see, as far back as 2013, I had fully informed my family that Doc Dupiton was going to be trouble in the future. And here are in 2021, and my warning came to reality in the most destructive way that I never imagined.
CLOSING WITH WORDS TO MARLINE, MY DAUGHTER, NEPHEWS & MITH FAMILY:
You have all read Johanne make a ton of false statements and denying everything in spite of all the evidences provided. But whatever she denies, you all know the truth while hiding behind her wall of silence.
So when I counteract her lawsuit with facts and evidences in the form of text messages, audios, video, your own written words etc., it will be at a time and place where you can't no longer protect her with silence as her wall of silence will crumble. So:
Will you commit perjury by lying for her?
Will Tanisha and Marline lie about the FAKING-230BP and the frantic 6AM Dead or Alive phone calls?
Will Ricky refuse to clear up the mystery of the Big Red Aspirins?
Will Marline deny knowledge of the pharmacist calls to the house about the Doctor who went hiding from him?
Will the family deny making me enemy simultaneously with the marriage break up?
Will people deny having been dragged to a police station by Johanne?
Will Ricky lie about who told him to hide Marline's emails in the "Blocked-Phone to Control" false arrest plot?
Etc., Etc.
THIS ACE CARD THAT WAS ALWAYS IN MY BACK POCKET IS THE REASON I ASKED YOU ALL TO BE TRUTHFUL & BRING CLOSURE SO I WOULD NOT HAVE TO USE THAT CARD. THEREFORE, BY REFUSING TO DO SO, YOU WILL END UP AS THE ONES TAKING DOWN DR. MARIE DUPITON AND CAMKIDS PEDIATRICS.
THAT WAS THE 4TH OF JULY HOLIDAYS FIREWORKS
STAY TUNED FOR THE NEXT DRAMATIC EPISODE-16
But my biggest mystery remains how Johanne was able to put so many people under her controlling spell?. From her mother to my wife, to my daughter and nephews

And seemingly, there is also a 'control' situation with Joelle and the Mith family, especially with her control over her sister Marline.
A DOUBLE CONTROL WALLS ADDING TO THE COMPLEXITY OF THIS PUZZLE