AN EVIL DEEPER THAN JEALOUSY
CRUELTIES FROM SOMETHING GREATER THAN HATE
Sunday, June 2, 2019


Dear Extended Family, Friends & Community,

First, I hope that you had a great your Memorial weekend, as I unfortunately return here with another more troubling episode of this real life, and tragic Family Soap Opera.

And the shameful credit goes to the tragedy mastermind, Dr Marie P. Dupiton of Camkids Pediatrics, who with a stubborn intransigence refuses to address the catastrophe that evolved and exploded from her scripted marriage conspiracy. Instead, she chose to escalate the situation by blocking any attempted resolution in favor of ill-conceived police & court actions. Therefore, I am left with no choice but to publicly expose additional inhumane acts of cruelties on her part until she faces her guilt, and take accountability for her sins. So today, I am taking the information sharing to a higher level by going to a place I never expected to reach in this campaign for truth and survival.

This is a publication about atrocious motives & inhumane behaviors that will raise many eyebrows and questions that will require answers. Because any respectable individual, business or organization associating itself with this family, will be forced to reassess its social or professional association with its members, specially with my niece Dr. Marie P. Dupiton.

These inhumane family acts of cruelties supervised by Dr. Dupiton, evolved from the day my Marline unexpectedly forced me out of the marital home in a shameful manner. But I never lingered over that aspect of our separation in my writings because I came to realize that she was under such extreme pressure to get rid of her husband, that she had reached the breaking point after more than 2 years of resisting.

Now, let me be clear on this. I am not making excuses for her, nor diminishing the gravity of her action. But with me being a person of facts and logic, I always try to determine what drives people into uncharacteristic behaviors before passing judgment. So in the end, I concluded that she was a victimized person, who succumbed under extreme pressure from multiple sides. Therefore, I avoided making her behavior under pressure the target of my writings, and focused on targeting the conspiracies masterminds, and investigating root causes, as I am about to do here about "Forces Greater than Hate".

But most important, while I was able to attribute Marline's uncharacteristic behavior to certain factors, I was unable to find any attribute to apply to my family's persistent and increasingly inhumane behaviors. Thus leading us to the scenario I am about to present. A scenario for which even the attribute of 'Hate' would be an understatement.

Before I start, let me also say this:
If anyone still had reservations about my decision to go semi-public, as I am still holding back on full public release, this report on inhumane cruelties will convince you that without this public exposure to keep the antagonists in check, knowing that whatever they do I will publish, who knows where I'd be today, or if I'd be here today.

So I must say "Thank You" to the community of readers for your subtle presence as a silent check on the cruelty of a family renegade syndicate under the leadership of Dr. Dupiton. Someone who still can't understand that you don't mess with a man's marriage, wife, daughter, business, even life, then not expect to be held accountable for these actions. And that her MD title that went from Medial Doctor to Mad Doc, is not a license for dictatorship.

So Thank You again, and with that let me present you the facts and activities that can only be attributed to "An evil deeper than jealousy, and cruelties from something greater than hate"

THE SCENARIO

THE EVICTION, ABANDONMENT & KICKING BUTTS SCOREBOARD
For this scenario, I decided to add a touch of humor with the facts and statistics presented in a fictitious game scoreboard.
So, let's compare the cruelty score between my family under Doc Dupiton, compared to my wife A score measured by the number evictions, abandonment's and kicking my butts out. For that, we have the following:

TEAM MARLINE ELIE
A team of one, with 1 cruelty point scored from the way she kicked my butts out in the day she broke the marriage.

TEAM DUPITON- RENEGADES
A team of Family Renegades coached by Doc Dupiton with a diverse record of scoring points on every element of the cruelty spectrum, as strategize by its coach.
So let's go to the play by play scoring by players of Team Dupiton
Doc Dupiton's marriage conspiracy, and strategist for Marline Kicking husband Butts out. (She gets 1 point for assist.)

After a good friend and his wife took me to their home, the Doc's sister Dominique wished that they too kicked me out by sending me a message saying: "I hope that your hosts will not be the next one you blame after they KICK YOU OUT". (She scores 1 cruelty point)

After moving to my sick sister Roselyne's house, sister Liliane yelled at me "Map fe yo fout ou deyo ici a tou (I am going to get you out of here also. (Scoring 1 Cruelty point)
And when I told her that I may be able to return home, she again yelled at me "You cannot go back to that house without a signed paper from Marline (Point #2)

Abandoned into detention for days by refusing to bring a lousy $100 requested by the court from their "Blocked phone to control" framed arrest (1 more point for the coach)
Then my daughter said: "I will not go to some dirty jail to get you. I will do no such thing:. For that she gets (1 point for assist)

While still living at home, Doc Dupiton sends me a scare tactic text saying "Claudy, get out of THAT HOUSE. Marline is sending the police to arrest you". A total lie (1 more point earned)

Attempted illegal eviction by locking me out from my sister Roselyne's house in freezing winter weather. (1 cruelty point for the coach)
Then my nephew Frantz & my daughter came to execute the lock out at my sister's house (1 point for each)

Coercing my nephews into a court ordered eviction by suspiciously switching their parents house deed to them (1 point)
Then my nephews who took me to housing court (Each gets 1 point)
So that makes a total of 16 cruelty points from team Dupiton on actions against my living freedom. Oh No! I almost forgot the big original eviction sin of Doc Dupiton:
This one should be worth 10 points by itself for smashing the "Doc's Vindictiveness Scale".
Here is the play-by-play of this score.
Soon after Marline and I got married, and still renting the office/apartment above Camkids, Doc Dupiton got frustrated that my newlywed wife rejected her early advances and lashed out with an act of revenge proving how far back she was the dangerous loose canon of today. .

1) GIRLS IN MY OFFICE CRUEL LIE:
One day, Johanne became grossly creative with the activities in the busy RockMasters office above Camkids. So when she told my new wife, and I am paraphrasing what Marline told me happened,
"Oh Marline, I am going to tell you something to help your marriage. Your husband is bringing girls to the office". (Referring to ladies coming to get party tickets).

Well Marline who was aware of all the traffic in the office shut down Johanne, telling her "I Did not come here to talk about my husband". Which to the Doc is a slap in the face

#2) THEN THE SINGLE PARTY INVITATION
Then Johanne became more daring by sending my wife a single's invitation that excluded me for a party at her house. Obviously early attempt at ownership of my wife. But Marline, still herself, was baffled by the invitation, showed it to me and did not bother to reply. But I did launch one the many early complaints I I've talked about to her sister Dominique about the trouble Johanne was starting on my first year of marriage. But I got this jealousy loaded reply from niece Dominique saying: "Didn't you say that Marline and you are one? So if Marline is invited, so are you"

Now before I show you the huge cruelty point that Mad Doc scored, please notice how the Claude sisters were already feeling ownership of my wife, even telling me that she is the one who get to bring me to my own family events. Then there is her glaring expression of jealousy by throwing back to my face the fact that I had said "my wife and I are one."

SO HERE IS JOHANNE VINDICTIVE REACTION AGAINST MARLINE (Which Marline seems to forget)
Doc Dupiton ran to her hr lawyer and had him send us the first EVICTION LETTER BELOW

A vindictive act because she could not get to my wife. But her perseverance paid off 3 years later. (So more cruelty point)
So Let's take a look at the final score on the Cruelty Scoreboard to see who's the real problem.
THE CRUELTY SCORE BOARD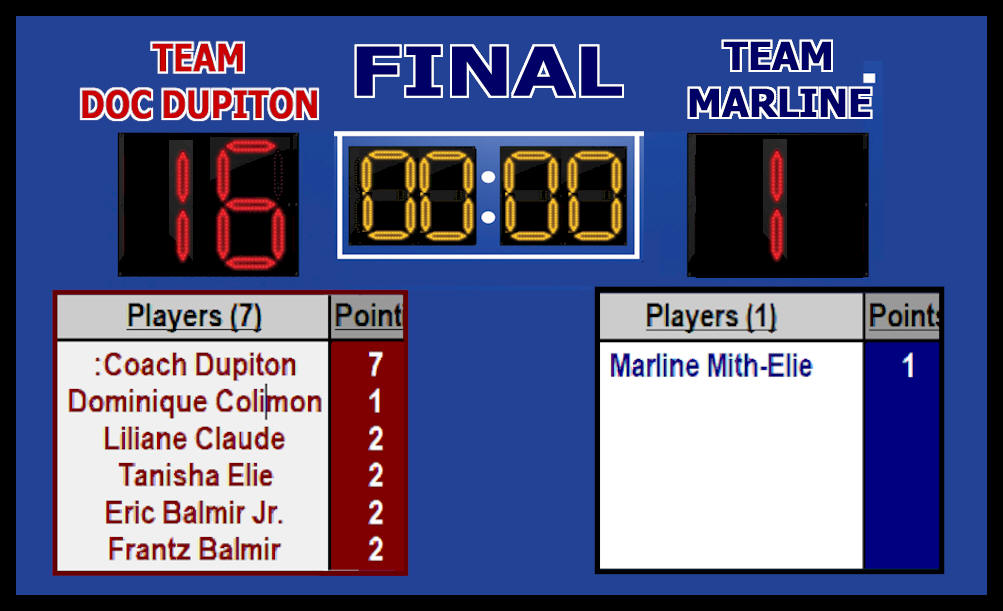 So when it comes to cruelty, this family beats my wife by a lopsided score of 16 to 1, in an unbalanced match up of 7 against one. Proving once more how Doc Dupiton and my family renegades are responsible for this catastrophe, the marriage break up, my daughter manipulation, my wife's brainwashing, our family breakdown
THE FACTS ARE THE FACTS
This graphic represents the type of scientific facts that Johanne Dupiton is obsessed with blocking me from publishing. So she imposed a reading ban and a speaking gag order on everyone. And now she is running to police & courts trying to shut me down. But that ain't going to happen in the good old Democratic USA, where freedom of speech & of the press are guaranteed under the constitution. Specially when what I am publishing is 100% the truth.
Now, in desperation she is resorting to police scare tactics by creating another one of her crazy slogans which she sent to me saying
So her 10x smarter uncle replies:
"I KNOW HOW TO WRITE DARN WELL. THAT'S ALL I KNOW. - YEP, DUMMY!"
NOW LET'S DO SOME OF THE TRUE INTELLIGENT LOGIC THAT THE DOC HATES
Before Marline had scored her point upon breaking the marriage, she used to give me suggestions on where I would go live if we ever broke up. Allusions that you probably heard in recording saying the following::
"Go to Liliane. Go to Johanne. Go to your family."
"I already told your family & I will tell them again"

Basically those recorded statements reconfirmed that my family was part of the plan to force me from my home. But these statements also work in her favor, as they prove that she expected me to go stay with Liliane, Johanne or other member of my family with its 5 houses and 2 apartment buildings. She did not know that their plan was to force me into the streets. But good man Jean-Claude with a good heart has good friends who would never allow that to happen. So Jean-Claude was never once in the streets.
NOW LET'S ANALYZE & QUESTION THE FAMILY'S INHUMANE BEHAVIORS
For that, let me directly address the family about these 6 questions on inhumane, immoral and abnormal acts of evictions, lock-outs and abandonment of a family member that they will have to address for this family to cleanses itself in front of society, and for Dr. Marie Dupiton to be again viewed as a viable member of this community, socially and professionally.
QUESTION #1 TO MY FAMILY
Regarding my midnight distress call to you upon exiting my home, I stated clearly that I had no wallet, no money and no car. Thus unable to even take a cab or subway. So by ignoring me.
In fact, here is a screenshot of the actual distress message, and who I sent it to in the family on Jan. 26, 2016 around midnight.

:
So by ignoring my SOS call. what the heck did you expect to happen to me? Sleep on a sidewalk? Live & die in the streets?
THE COMMUNITY WANTS TO HEAR THE JUSTIFICATION.
QUESTION #2:
Now, going into my framed arrest on your "Blocked-Phone-to-control" plot. When the judge only asked for $100 bond, she was making it easy for me to go home to return on the court date. But what she did not know, is that my dear niece Doc Dupiton would block delivery of that $100 for a week. Thus forcing me to stay detained in a dormitory. So with this other act of inhumane cruelty comes this question:
Can you explain the heartless justification for refusing to bring the lousy $100 & forcing my detention in a act of extreme cruelty?
THAT'S WHAT THE COMMUNITY OF FAMILIES WANT TO KNOW.

QUESTION #3:
Then on the day I came back and found myself locked out , I could see my nephew Frantz, and to my disbelief, my daughter inside my sick sister's house telling me "Go away, you are not allowed inside". WOW, WOW!
So, as it was freezing outside with only a sweater on, what did you expect to happen to me if I just walked away to nowhere? To go freeze to death in some street corner?.
THAT'S WHAT THE COMMUNITY WANTS TO UNDERSTAND?

QUESTION #4: (A Big Multi-parts one)
On the same day above, you took my daughter and delegated her to my sister's residence for the purpose of locking out her father in freezing weather with nowhere to go. Then never offered to take him to her 3 bedrooms house. A mind blowing act that will leave all fathers and daughters reading this in shock & asking:
A) Was that her initiation to prove herself worth of being an anti-men Renegade capablle of extreme cruelty?
B) Was that to solidify the Dupiton scripted separation from her father?
C) Was it to condemn her to a life of eternal guilt if something was to happen her father in the streets?
D) How come she did not take him to her house where she lives alone. And how come no one told her to?
WELL FOR THESE ANSWERS, THE COMMUNITY WANTS TO HEAR FROM THE FAMILY ELDER LILIANE CLAUDE WHO TOLERATED SUCH INHUMANE BEHAVIORS.
QUESTION #5:
Then my nephews were pushed into making their sick old father unknowingly sign the house deed to them for the sole purpose of executing my legal eviction, which they succeeded. That was followed with a series of celebration messages with the Doc breaking 2 years of silence in a group text message inquiring about the success of the eviction with the mission commander, nephew Ricky. Here are screenshots of the exchange. BTW: You get to see this because ofDoc Dupiton's mistake in not realizing that I was also in the text group.
Here is the Doc aking the mission commander

And the commander to reply


Without having to show again the rest of the vulgar celebration messages, let's just ask this question.
Was that celebration a premature belief that you had finally eliminated me for good physically since I run on batteries, and never to be heard from again, Dead or Alive?
Obviously a gross strategic miscalculation as I am in your face constantly, and will continue to be until all the answers are given. And specially on the cultist indoctrination that my daughter was subjected to.
AND NOW WE HAVE A TOTALLY SHOCKED COMMUNITY, WONDERING ABOUT DOC DUPITON'S SANITY & TRUSTWORTHINESS AS HEARTLESS PHYSICIAN.
QUESTION #6:
Then going back to this question that I've asked many times when Doc Dupiton tried to trick me into self-evicting myself from my home with a real cheap shot. Obviously taking me for a big idiot, but instead made an idiot of herself with this scare-tactic police text she sent me when my wife and I were at peace.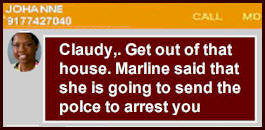 Which raises the following question:
For the Doc to attempt such an idiotic cheap shot hoping for my self-eviction, she must have been hit with an overwhelming rush of the "Jamaica Estates" house jealousy? Or what else could it have been?
SAME THING THE COMMUNITY IS ASKING
WHAT'S DEEPER THAN JEALOUSY
AND STRONGER THAN HATE
To start with, no human being with a minimum heart and conscience would work so hard and with so much determination for years, trying to inflict pain and misery on another human, even trying to push him to the streets in freezing weather. It is even humanly unimaginable when the target is a senior citizen, a brother, an uncle and a father whose own daughter was coerced into participating with the blessings of the family elder Liliane Claude.
Yes, there was jealousy involved, and yes there was hate involved.
The jealousy that triggered the conspiracies of division that fractured a marriage, a father/daughter relationship and split the whole family apart.
The hate that drove all the unjustified cruelties and inhumane behaviors by members of this family against one of its own who never did anything, but good toward his family.
Therefore, it is impossble fr this level of unjustified inhumane behavior to be attributed simply to the word 'hate'. So we are dealing with something bigger and more terrifying than 'hate' alone. Because a true hater has some reason to hate someone else, even if it's a twisted reason. He knows what he hates, and everyone can figure why he hates.
But here we have a renegades army spreading hate under General Dupiton with the atrocious acts listed above, and they are unable to give one reason, or one explanation, or even create one bad excuse to justify these actions. Even me, their target, has been trying for 3 years to get answers for the harshness of this prosecution where they even put my life at great risk.
SO IT TAKES SOMETHING GREATER THAN HATE:
And here is a simple logic to make that point:
In the normal world of civilized people, any family with a dog that they could no longer keep, no longer liked, or even no longer wanted, would either give it to the ASPCA, a friend, or at worst, leave the dog somewhere they know another person will quickly come to its rescue and care of it
What any human with the minimum heart or conscience would not do, is take the family dog and throw it out in freezing weather in the middle of nowhere to guarantee he wont come back. Then say to doggie "Go fetch for yourself to survive or die out of our sight."
THAT WOULD BE EXTREMELY CRUEL & INHUMANE. RIGHT?
You bet it would. But this is exactly what our Doctor Marie P. Dupiton tried to do to her uncle, and continues to attempt today with her devious fabricated court cases and police complaints, erroneously dreaming that she can send him o jail or life. How sick!
A FINAL & IMPORTANT OBSERVATION ON CRUELTY
Now, while today I focused on the aspects of cruelty that relates to eviction, abandonment, lock out and kicking butts to the streets, let's not forget that these are only small part of the wide cruelty spectrum. For example here are just 2 unrelated acts of extreme professional cruelties that that question her fitness as a physician,. Two disturbing acts that Doc Dupiton has still not explained. And it is time she does.
FAKING 230BP DIAGNOSIS: The day that I could have lost my life due to Doc Dupiton purposely giving my wife a false medical, if not criminal diagnosis. As I asked my wife to urgently take me to the ER feeling dizzy with a 230BP reading, Doc Dupiton told her on the phone not to, claiming that I was "Faking" the 230 shown on the BP monitor, which I took a picture of at 217/136
.
Ain't she lucky that I don't have her "Police Obsession", and would never call police on family. Cause this would not be fake complaint, but big time stuff. So all I can is:

Don't push your luck & my good heart, as even docile dogs can bite.

HIDING FROM PHARMACIST: Then there was her evil act that impacted my vision when a Walgreen Pharmacist called me to say that he could nor refill the Glaucoma eye drop Rx that Doc. Dupiton had previously written, because she's been hiding from him for 2 weeks and ignoring his calls
SO AS I SAID, HER CRUELTY SPECTRUM, WHICH INCLUDES WHAT SHE DID TO MY DAUGHTER, IS WIDE AND DEEP. SO WE JUST TOUCHED ON IT ABOVE.
CONCLUSION
For my closing comment, let me go back to the dog owner story
Let's assume now that the dog owner was a real cruel person who actually followed the Dupiton playbook, and dumped the dog in freezing weather in the middle of nowhere. Well he still would score better than my family, as, when asked why he did that, he'd be able to say:"Because he could no longer keep it, no longer wanted it, or no longer able to control the dog etc.'
So while his actions were cruel, he could give his reasons for doing what he did. But here we have the Dupiton/Claudes who committed 10 times worse atrocities against a human being, and have been unable to give one reason. WHY?
IT'S BECAUSE THEY ARE DRIVEN BY SOMETHING UNSPEAKABLE THAT IS GREATER THAN HATE. AND THE ONLY POSSIBILITY I CAN THINK OF, IS FROM WHAT THAT WISE OLD HAITIAN WOMAN (GRAN MOUN) TOLD ME ONCE.
"THAT ONLY THE DEMON CAN GIVE THE KIND OF DESTRUCTIVE POWER TO SIMULTANEOUSLY RUPTURE A MARRIAGE, A FATHER/DAUGHTER RELATIONSHIP, DIVIDE A COMPLETE FAMILY, AND BE ABLE TO DO IT WITH A COMPLETE VOID OF HEART, EMOTION, CONSCIENCE, AND WITH A DEPRAVED INDIFFERENCE FOR LIFE."
SO IT IS UNDERSTANDABLE WHY THEY CAN'T JUSTIFY THEIR ACTIONS, AS HE SOURCE OF THEIR MOTIVATION IS AN 'UNSPEAKABLE ONE'.
BUT SPEAK, THEY WILL!
- THERE YOU HAVE IT -

NEXT REPORTS COMING
(Corrections: June, Not Jan.)
(JAN 6) JUNE 6, 2019: Criminal court on the Doc's complaint that I dared walk on Linden Blv.
(JAN. 10) JUNE 10, 2019: Westbury Court trial - Doc Dupiton returns to the stand to be grilled
FOR CONFIRMATION OF DEMONIC INHUMANITY WITHIN FAMILY
LET ME RE-INTRODUCE YOU TO
THE FAMILY-OF-TODAY & THE ONE THAT USED-TO-BE
MEET MY FAMILIES
Below, is a special version of a very revealing message I prepared for Mother's Month of May to highlight the dramatic transformation of our late mother's Family-That-Used-To-Be, into the shameful Family-of-Today under the Claudes/Dupiton destructive banner as exemplified by the inhumane behaviors above

SO AS CLOSE MOTHER'S MONTH
Let me present you this Special Version of
MEET MY FAMILIES
The one of Today & the one that Used-to-BE
THE FAMILY OF TODAY
So, let me present my current Renegades Family
THE WOMEN OF THE FAMILY OF TODAY
Representing the Top Squad of Doc Dupiton's Women Renegade Army

LILIANE CLAUDE

My oldest sister & 1st child of Anna-Rose Victor


DOMINIQUE -COLIMON

My Niece & her 1st Granddaughter of our Matriarch

MARIE P. DUPITON

My Niece & & 2nd Granddaughter of our Matriarch

TANISHA C. ELIE

My Daughter & last Granddaughter of our Matriarch

THEN THE JAMAICAN WOMEN CONNECTION

DONNA BALMIR

The Prima Donna Wife of nephew Frantz Balmir

PAULETTE REID

My 1st wife - Enlisted by the Doc for her ex-wives club

: ABOVE IS THE 6-WOMEN RENEGADES ARMY AGAINST JEAN-CLAUDE ELIE

THEN COMES THE MALE SQUAD OF MUSCLE MEN

ERIC M. BALMIR Jr

My Nephew. and 1st Grandson of our Matriarch

FRANTZ BALMIR

My Nephew, and 2nd Grandson of our Matriarch

GUY THEUS-DUPITON

Husband of the Doc & Flag Bearer with her ex-husband name

So we now have a Lopsided Attack of 9 on 1

THEN THE MAJOR TRADE - JEAN-CLAUDE TRADED OUT FOR WIFE MARLINE

MARLINE MITH-ELIE

My separated wife brought in a my replacement
with promise of Ex-wife club with my first wife

So we now have a whooping imbalance of 10 on 1

THEN GEN. DUPITON CALLS FOR FIRE POWER FROM NYPD

NYPD

Queens & Nassau NYPD called in. But they do not bite-
YOU JUST MET THE MEMBERS OF TODAY'S FAMILY
A Renegades Army under General Dupiton
Who was at war with me, and I only knew after I lost the war
Below is its logo representing a Pyramid of Division

FAMILY THAT USED-TO-BE
NOW PRESENTING THE FAMILY OUR MATRIARCH LEFT BEHIND
NOVEMBER 2010
As our Matriarch was already in heaven and her family still intact, It was soon after Marline & I reunited that Marline invited my family over her house for Thanksgiving. That was the day I asked her in marriage with my complete family & her family as surprised witnesses
THIS PICTURE CATCHES THE HISTORIC MOMENT OF 2 FAMILIES READY TO BOND THROUGH MARRIAGE

ON
JANUARY 1, 2015
HONORING OUR MATRIARCH ON THE 10TH ANNIVERSARY OF HER PASSING
----
A Celebration planned by Marline & I, during which I made a presentation on our matriarch legacy & the values she left her family with. Below is her Christmas Family Tree I spent weeks designing & presented to each family member as a framed poster.

I SO MEET THE LARGE FAMILY THAT-USED-TO-BE
With the "Anna-Rose" Christmas Family Tree designed by her son Jean-Claude
REPRESENTING THE LEGACY HE IS DEFENDING

THEN THAT CELEBRATION DAY WAS SEALED IN TIME WITH
THIS GROUP PICTURE OF THE FAMILY THAT-USED-TO-BE

1 YEAR LATER -
JANUARY 1, 2016
Seeing signs of danger to the family from Doc Dupiton following her kidnapping of my wife, I organized the 2nd family reunion on Jan. 1 2016 to pull the family back
A MOMENT ALSO SEALED IN HISTORY BY THIS GROUP PICTURE

But 3 weeks later on Jan 26, 2016, Doc Dupiton's conspiracy bomb dropped without any prior warning, and the great family that Used-To-Be, was no longer to be
SO THE FAMILY THAT USED-TO-BE VANISHED
REPLACED BY THE INHUMANE FAMILY OF TODAY,
So, we are now faced with niece Marie Dupiton's biggest accomplishment as the mastermind of a series of conspiracies that drove the family that used-to-be into a one committing, atrocities, inhumanities and cruelties against one of its own.
And a special congratulation to her for her successes in dividing Husband from Wife, Father from Daughter, Brother from Sister, Nephews/Nieces from Uncle. ,Even managed a 2nd division between Ex-husband (me) from First-wife after 30 years of peaceful separation raising a daughter.
All these confirm my suspicion on top from what that wise Haitian "Gran Moun" told me, it takes something much greater than hate to accomplish all these. IT TAKES DEMONIC POWER.

So, for all her demonic achievements, the name ":Dr. Marie P. Dupiton, aka Mad Doc" will be permanently engraved into the Halls Of Shame.
And to our elder sister Liliane Claude, the final word and challenge are reserved for you at the end
A NEW REVEALING OBSERVATION
As I repeated more than once, my in-laws are not subjects in my current family drama, but there come times when a reminder that there were also sins from the other side, is called for. So the following observation is made as a follow up to a message recently received from Marline's younger brother, For that, I need to bring your attention back to the 2015 & 2016 group pictures above, then ask if you can tell what's missing?
Well, the answer is obvious. You don't see any member of Marline's family at her own parties, even though they received the invitations. But the RSVP was a decline from her sister Joelle speaking for her whole family, just as Johanne now speaks for everyone else in mine. But what was suspicious to me back then, was the fact that not one member of my family made mention of the glaring absence of any of my wife's family members. Why?
Well, the reason is simple. The year was 2015 when the final assault on the marriage was in progress, and maximum pressure being imposed on my wife. So the decline from her sister, and my family not noticing the glaring absence of her family indicates that some coordination took place in the 'J' team of Johanne & Joelle during the final months. So while Marline had her Joelle, I had my Johanne. In fact, both are seen together in the picture below just months after the break up and in celebration mode.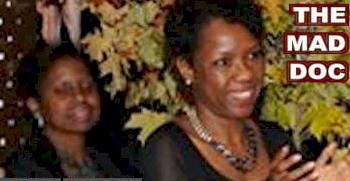 . A picture is worth 1,000 words
CLOSING WITH A MOST POWERFUL TRUTH
THAT EVERYONE KNOWS, CAN'T DENY, BUT WON'T ADMIT

THE UNDISPUTABLE FACT:
It is fact that all the Claudes, Balmirs, Elie, Dupiton etc. know that if this family's strong women leaders of the past, our matriarch and sister Roselyne were still in charge, the Claudes would have been powerless in dividing a marriage, a father/daughter relationship & in bringing the family to its knees.
BECAUSE IF MOM & ROSELYNE WERE PRESENT THESE COULD NOT HAPPEN
Johanne Dupiton could never dream of the conspiracy that ruined a marriage & disgraced her family.

My daughter Tanisha could never be been coerced into a conspiracy against her own father.

My wife Marline could never show up at family functions alone in their presence.

Johanne & Liliane could never dream of attempting their Thanksgiving kidnapping of my wife.

The words Police, Arrest Court would never find their way in the vocabulary of this family .

The home where our matriarch took her last breath, could have never become a house of eviction.

Roselyne's son Frantz, who uncle Claudy took from a dead-end bank teller job to a lifetime engineering career, could never evict his benefactor.

Hell would freeze before the Claudes would push Marline to single-wife parties and secret vacations.

Johanne's sick idea of an ex-wives club for Marline to join my first wife would never be conceived.

My daughter Tanisha would never dare disrespect her father in any way or form..
The Claudes deranged loose-wife rule of "Mwen fѐ sa'm vlé, lѐ'm vlé. Mwen soti lѐ'm vlé. Mwen rantré lѐ'm vle could have never been taught to my wife.

And so on, and so on, and so on.....
Now, even Marline Mith-Elie will agree to these truths, and that sister Roselyne, who was a marriage advocate and counselor at her Sacred Heart Parish, would have been a source of positive support for our strong marriage that would have been intact today.
But sadly, the Claudes rampage of division also managed to claim my relationship with sister Roselyne as its victims by coercing her sons into executing the most evil, shameful, and disgracing eviction ever seen in a Haitian family.
(Me & sick Sister Roselyne before the Claudes scripted eviction
THE WAY I Made HER SMILE ALSO CAUSED JEALOUSY

AND IF THESE 2 LADIES WERE IN CHARGE:
The Demon could have never entered the family, as it would've found a cross at each entrance. And the Dupiton/Claude Vindictiveness, Hate, Jealousy, Selfishness, Silence & revenge, would substituted for Compassion, Love, happiness, Sharing, Communication and forgiveness. Therefore the 'Family that 'Used-To-Be' would not be disgraced into the 'Renegades family of today' .
SO I CLOSE MOTHERS MONTH WITH
WITH THESE CRITICAL QUESTION TO A MOTHER
AND FAMILY ELDER, LILIANE MACKENZIE-CLAUDE
Dear Sister Liliane

As you are the first of 3 children, and the family elder, let me remind you of the following facts about our mother, your sister and your brother
Our Mother sacrificed a lifetime building her family all alone - BUT IS NOW GONE

Sister Roselyne who immigrated the family, was a source of strength, support and discipline. BUT IS NOW INCAPACITATED

Your brother Claudy has been publicly fighting for 3 years for the family's soul, our mother's legacy, his daughter's sanity, and demanding respects for his wife/ex-wife. TODAY HIS FIGHT CONTINUES RELENTLESSLY
SO HERE ARE MY QUESTIONS TO YOU ON 'MOTHERS MONTH''
As the elder and inheritor of the matriarch title
1- WHERE HAVE YOU BEEN?
2- WHAT HAVE YOU DONE?
3- WHAT ARE YOU NOW DOING?
4- HOW COULD ALL THIS HAPPEN UNDER YOUR WATCH?
~~~~~~
QUESTIONS WAITING FOR ANSWERS BY THIS LADY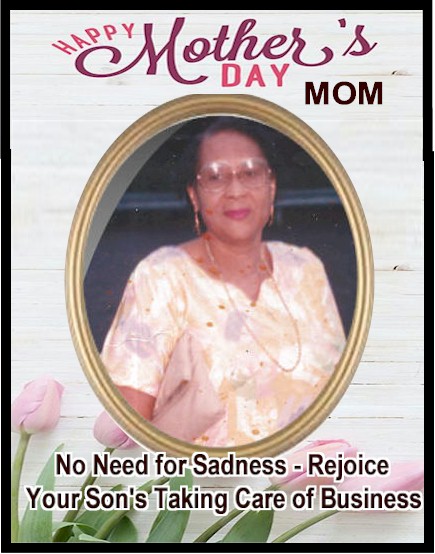 Jean Claude Elie
This lady's only son, truth teller and her equalizer