THRILLER EPISODE #8
DR. MARIE P. DUPITON
IS RENAMED 'THE MAD DOC'?
In this presentation, I will fully explain why renaming Dr. Marie Dupiton the Mad Doc is not an insult, but a true definition of her character, and to do so graphically with a poster representing her actions and words. One that reveals a much greater level of culpability than initially thought. A poster in which the Mith family will see proof of Doc Dupiton's extreme negative influence on Marline, and my family will see clear evidence that Dr. Dupiton was 100% responsible for the victimization of my daughter and for the behaviors of my nephews that led to the downfall of our family.
There are at least 10 definite revelations or lessons that popped out from the words & images in the poster. But before I reveal those lessons, let me first unveil my latest 'Picasso' artwork titled "Why is Dr. Dupiton MD, renamed Mad Doc". Maybe you can pick up some of the lessons on your own.
MY LATEST & MOST REVEALING ARTWORK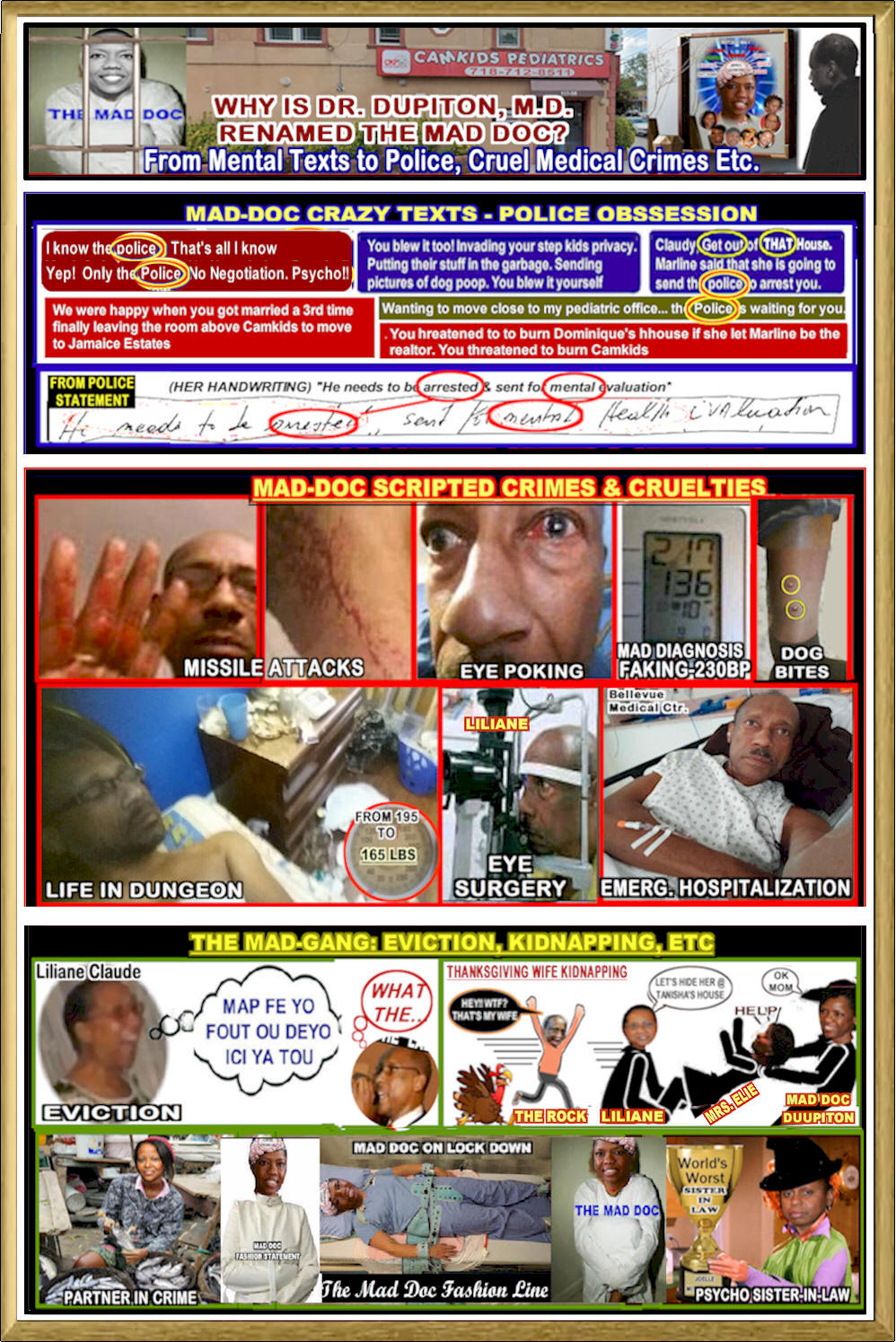 NOW THE 10 LESSONS TO LEARN TO LEARN FROM THE POSTER:
The shocking pictures in the poster represent the consequences of some the cruel acts that were either directly executed by the Mad Doc, or attributed to people who she mentally manipulated like my wife. More details on the background of these troubling pictures were given in the prior Episode #7 publication.
But as to the volume of incoherent texts partially shown in the poster, let's go to Lesson #1 for that.
LESSON #1:
Now, these text messages were ALL delivered to me along with a Westbury court petition that she was allowed to serve me via text message since she did not know my physical address. But before that day, Doc Dupiton was the ONLY PERSON who had never written or spoken one word to me since this saga began some 4 years ago, and has not sent me any more communication since that day. So the question you will ask is how was this drama able to evolve all this time if the top boss never spoke a word?. Well, this what this Lesson #1 answers below.
Once Doc Dupiton text me the legal document as directed by the court, a feeling of premature victory engulfed her. So she felt the urge to follow up with a parade of personal messages to unload her inner vindictive feelings on me. But since people filled with hate do not use their brains, she did not realize that she actually incriminated herself with a full confession of her intrusions into the Marriage, talking about Marline's children, her house, our personal marital affairs etc., including exposing some of the nonsense that she had brainwashed into my wife and others.
LESSON #2: Now, this lesson gives explains how this drama was kept alive with the Doc reaming silent. It is because from day 1, she had delegated people like my nephews, daughter, Marline, etc. to do the nasty writing and to be the executioners of her dirty jobs, as was fully detailed in Episode #6: The Verdicts.
So Lesson #2 teaches those who blindly acted for Doc. Dupiton that they were used as her tools and scapegoats to keep her hands clean. In the end, they were made executioners of the family's downfall. So I hope they learn from this lesson.
LESSON #3: This one takes us to her constant use of the word police. Now, from the very first generation of this family centuries ago, the word police, or the idea of using police against a family member to resolve family issues or marital disputes is something so taboo that it never once came to mind, and I am sure the same is true in any normal family. But here comes Johanne Dupiton and the grandchildren generation breaking that perfect record.
So Lesson #3 taught us that, as Johanne Dupiton was dumping a truckload of "police" messages on me in just one day, she had also incriminated herself as the creator of the police phobia that engulfed the family.
LESSON #4: Soon after, Doc Dupiton successfully brainwashed the police phobia into my nephews & daughter, they suddenly started to use the police for the first time in their lives in the most immoral ways against a family member.
LESSON #5: Now, my wife's sister Joelle Mith had made just 1 police call in initiating this saga. However, there were some 6 baseless police involvements credited to my family or Marline, including the major discovery that Doc Dupiton had dragged Marline, and possibly my daughter, to a police station with a ridiculous complain that I told her that "her ass is grass is grass". Now since that statement is not part of the poster, here it is in her own handwriting.


However, it was such a ridiculous complaint that the Queens DA had rejected it on the spot. A rightful decision by the fact that till today no grass has grown on the Mad Doc's ass.
So the new teaching from this lesson is that it was Doc Dupiton, and not Joelle Mith, who had indoctrinated my wife into the police mentality.
LESSON #6: Doc Dupiton further confirmed her insanity by writhing the idiocy that I would fly to Florida to burn down her sister's house, then fly back to NY to burn down Camkids. But even more insane is her thinking that I'd be stupid enough to give advanced notice of my criminal plans with the belief that the police and fire marshals of NY & Florida would give me the go ahead for these interstates arson jobs.
But even more troubling was the day when my nephew Frantz Balmir later came to me and repeated this idiotic arson tale to my face, sounding like he really believed it..
So Lesson #6 reveals that Doc Dupiton's insanity is not only extremely delusional, but the mental damages she inflicted on others who believe her and act upon her absurdities is serious and dangerous.
LESSON #7: Here we have evidence of the Mad Doc extreme delusion in saying that the police would be waiting for me if I tried to move in the Camkids neighborhood. A delusion that Cambria Heights, NY is no longer part of a Free America, but is an independent Camkids City ruled by dictator Mad Doc .
Now, this is the kind of stuff that no one can make up, even in Hollywood. But Lesson #7 just showed us that an insane Mad Doc can, to the point of creating her own delusional Camkids city .
LESSON #8: Then there is her obsession with my 3 marriages, which is another mental disorder that she spread as everyone started to sing in chorus "YOU ARE 0-FOR-3 IN WIVES". So with the routine 3-marriages becoming a death sentence, I guess that if the 2-times married Marline,& Mad Doc got married a 3rd time, they'd be sent to jail and the electric chair.
But the baffling question on the Mad Doc new law of "3-mariges and you are out", is "How come my wife's brother Richard Mith who is now married 3 times, is still alive?.
Well this Lesson #8 hopefully taught my family & Marline, that if you repeat after a Mad Doc you will say stupid things, and if you follow a Mad Doc, you will do cruel things as shown by the pictures in the poster. And the same goes for the Mith family with their psycho Joelle Mith- Joseph. In the end, this lesson shows what happens to people who do not use their own God-given brain.
LESSON #9: The Mad Doc's Jamaica Estates consuming jealousy was also featured big time in the poster with her claiming that I had moved from a room above Camkids (which was actually a full 3-bedrooms office/apartment), to Jamaica Estates. Not simply moved to my wife's house since Jamaica Estates is Beverly Hills to her compared to her Baldwin. LI residence.. Thus explaining how she screwed Marline's head into sending me this idiotic message about stealing a house:

LESSON #10: MY FAVORITE ONE: It appears that In medical school, Doc Dupiton was taught that the treatment for people diagnosed with mental health issues is to call the police to arrest them. Because that is what she requested in that handwritten police complaint, diagnosing me of having mental issue.


So Lesson #10 tells all parents that, if your child is determined to be kind of slow during a consultation at Camkids pediatrics, the Mad Doc will get your child arrested. Would you take this chance as a parent? I doubt it very much.
Well, as they say, a picture is worth a thousand words, but my poster speaks a million.
CONCLUSION & ADVICE:
There are many more lessons to be learned from that poster, but the principal conclusion to be reached is that Dr. Marie Dupiton of Camkids Pediatrics is a lunatic, delusional and dangerous Mad Doc unfit to be given recognition in our community.
A DETERMINATION THAT WILL REMAIN IN EFFECT UNTIL SHE ACKNOWLEDGES HER WRONGS ADDRESSES THE PAIN SHE INFLICTED ON SO MANY INCLUDING THE VICTIMIZATION OF MY DAUGHTER, THEN COMMIT HERSELF TO REAL PROFESSIONAL COUNSELING AND PSYCHOLOGICAL REHABILITATION FOR PHYSICIANS.
That is an honest advice from an uncle who she targeted out of pure jealousy over his marriage, wife, home and joyful life. An uncle who does not return Hate with Hate, nor an Eye for the Eye she took from me. But aside from hose forgiving qualities, I am also the man who my used-to-be good wife Marline had Described to her family as follow in a letter with these words that I often quote:
".. I married JC because I love him. He is a good man , a caring husband, giving, and lots of fun. HE IS ALWAYS THERE TO HELP EVERYONE, BUT HE IS NOT GOING TO LET EVERYONE WALKS ALL OVER HIM.
And while Doc Dupiton may have manipulated Marline change her tune, THE LAST LINE REMAINS TRUE. Because, as I also told Doc Dupiton more than once, "Messing with a man's marriage & wife is one thing, but when you also mess with his daughter, you've crossed the red line. Specially with an uncle who's 100X smarter than you could ever be."
So by trying to not only walk all over me, but to stump all over me, Doc Dupiton is experiencing what Marline had warned her family about.
A BONUS FOR YOU
Well this is the end of my report. But let me leave you with a bonus picture that reinforces what the poster taught us. Now since I could only fit 6 of her crazy messages in the poster, let me give you the full impact of her irrationality with this bonus picture of the FULL SET of incoherent messages she had bombarded me within 15 minutes. Then decide for yourself if these are from a normal person, or from a delusional Mad Doc full of hate.
BONUS PICTURE - FULL SET OF MENTAL MESSAGES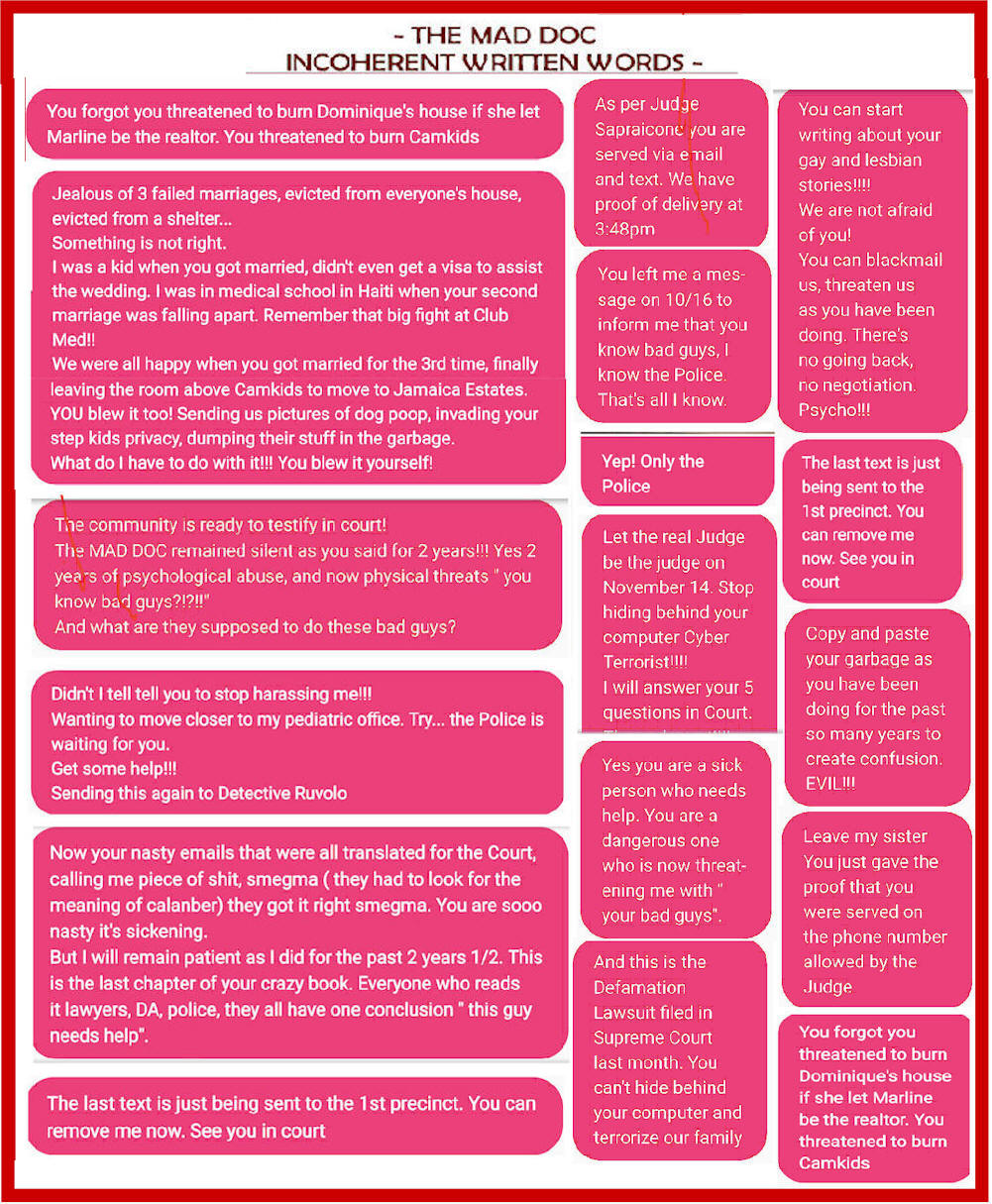 I GAVE YOU THE EVIDENCE, NOW YOU BE THE JURY
So I close by strongly encouraging you to read the last publication of 'Episode #7: Top-Secret Revelations' for a deeper understanding of these lessons and to have a view behind the troubling pictures in the poster. But equally important, is to learn the more serious steps that will follow if the families intransigence remains.
EPISODE #7 - TOP-SECRETS REVELATIONS


Then this report that tightly links everything
EPISODE #6 -"THE VERDICTS".


FOR FULL STORY, GO TO HOME PAGE OR FACEBOOK PAGE