DUPITON GOES CRIMINAL COURT
THE CASE OF 'WALKING ON LINDEN BOULEVARD'
I was thinking of naming this, the case of "Walking on Mad Doc Boulevard", since Dr. Dupiton thinks the Boulevard is the property of Camkids. But I opted against that because this is not simply a ridiculous case, but one that seriously defines the mindset of Dr. Dupiton, who will go to any extent to avoid accountability for her actions, regardless of cost, and who she hurts. However, never did I dream that walking down Linden Boulevard would make it into a criminal court case. But once you finish reading the 4 parts of this report, you will have an understanding of the driving force behind her. One that I defined in my last report as "Something Greater Than Hate"
Now, before I take you inside the courtroom to relive yet another Dupiton act of disgrace to herself and the family, there are some important details you need to know to understand the proceedings, and my decision to go against the lawyer's advice. Not because it was wrong, but because I've been around this block many times, and I know the devil I am dealing with. And once you know your devil, you don't leave it any crack to infiltrate.
That said, here are the 4 parts of this report:
FIRST: I will share a communication I sent to the family upon leaving the courthouse. It will serve as the introduction, and to show the mental framework that I am operating in.

SECOND: I will share a prior communications sent to my lawyer that will tell you about her complaint. Then my written challenge to her bogus claim, showing her history of legal harassment going back years, including one she had coerced my wife Marline into.

THIRD: Armed with all that information, I will you inside the Queens County Criminal courtroom, Part AP1.

FOURTH AND MOST IMPORTANT: The lessons for men to learn, and my message to the great women of our community
TEXT MESSAGE TO MY FAMILY
RETURNING FROM CRIMINAL COURT
Now, I am about to share is a personal text message I sent to my family as I left the courthouse. It is important in helping you understand my mindset and motivation. Because as this whole drama started from a jealousy based conspiracy against my marriage, it has greatly evolved with much greater consequences.
Now. I have described Doc Dupiton's motivation to be rooted in jealousy, and her driving force as "Something Greater than Hate". But in my case, I feel that this message, which was not intended for public viewing until I finished writing and reading it, will tell you about my state of mind, motivation and drive in doing what I do, and understand my decisions in court.
Now to be even more transparent, this message was only sent to sister Liliane, nephews Ricky, Fanfan & wife Donna, , niece Dominique & husband Patrick, my daughter Tanisha & mother Paulette, Guy Theus-Dupiton and Marline M. Elie. Excluded was Doc Dupiton on account of the restraining order, but I am sure that husband Guy shared it with her
HERE IS THE TEXT TO THE ABOVE FAMILY GROUP AFTER LEAVING THE COURTHOUSE.
Dear Family-of-today,
.
Just came back from court. Do you want to know what happened? Well, sure you do, but you have to wait for the public report to read about my sadistic Dr niece who is more deranged than even I thought. And also about our family that gave her a license for meanness. But the bottom line is that she got no case. So wait for the report on the gory details that expose more of her ugliness.
LET ME ADD THIS FOR THOSE OF YOU WILLING TO LEARN.
The only way for Johanne to salvage herself and get uncle Rock off her back, is to explain and admit what she did to screw up my daughter and my wife's head. And what benefit did that get her, that is worth disgracing our entire family, including her own mother
---
So, as her reputation is getting damaged in the community & her MD loses respect, she cannot blame me. She can only blame herself, her arrogance in sticking her nose between me & my wife, & my daughter, and her stubbornness in making a catastrophe from refusing to answer a 2012 simple question over an office bathroom that she got caught double-dipping in with 2 tenants out of money greed
---
So instead of Johanne running between police stations like a chicken with its head cut off, and displaying her ignorance, she should have accepted her mother's peace initiative. Because I was willing to forgive & forget at the time.
But just to forget without her accepting her wrongs & repent for poisoning my daughter's mind, IS NOT going to happen, as no father or mother would take that from anyone, and much less from a niece..
It is a well known fact that Johanne had no respect for her father. But that is not an excuse to teach my younger daughter to do the same with her father & corrupt her to tell me 'I DO WHAT I WANT WHEN I WANT', because she was raised to 'DO WHAT IS RIGHT WHEN IT'S RIGHT.
And just like Marline who Johanne taught the Creole version of "MWEN FÈ SA' M VLÉ, LÈ'M VLÉ. MWEN SOTI LÈ'M VLÉ RANTRÉ LÈ'M VLÉ", and lost her husband, my daughter lost a father.
All thanks to Johanne's campaigns of division. And who now has the darn nerve to be taking me to court

BUT THERE IS A BIG DIFFERENCE BETWEEN THE TWO:
While Marline is decades older, twice a mother and twice married, she owns her own stupidity.
But my daughter who is the youngest in her 30s, never been married & not yet a mother, to have been fed such crap that will impact her future by women much older with loads of experience, is immoral, cruel, criminal and UNFORGIVABLE..
That is why, even in losing her father, courtesy of a Mad Doc, I will do my job of father and demand full accountability for her from Johanne.
THEREFORE: UNTIL JOHANNE DOES RIGHT, UNCLE ROCK & FATHER JEAN-CLAUDE WILL BE BOTH BE ON HER BACK AS ONE
-----
And for the family's info, I decided to include this message in the upcoming court report to the community
Good Day
- Claudy
- The Equalizer
Now readers, I will not comment on what you just read. I will let you relate it to what's below.
HERE ARE THE RESPONSE DOCUMENT TO THE DUPITON COMPLAINT AND HER
HISTORY OF BOGUS POLICE/COURT ACTIONS IN A LETTER TO THE LAWYER
DOCUMENTS FOR CRIMINAL COURT CASE
JUNE 6, 2019
Dear Mr. A. Ditchev, ESQ.
In reference to Marie Dupiton, Case: CR-013640-19Q, here d is the information that you will need in preparing for the hearing this Thu. June 6.
This documents includes:
Details of exactly what happened that day when I was in the Cambria Heights neighborhood where Mrs. Dupiton erroneously claimed that I came by her place of business, including an area map.

All the background information about her historical pattern of filing bogus complaints and their dispositions

Also, the events leading to this complaint of violating the Westbury court order, with the recorded Nassau detective call that you requested
Sincerely.
Eng. Jean Claude Elie

BACKGROUND INFORMATION
FACTS - EVIDENCE
As I mentioned previously, this is a case of legal harassment, as my niece Marie Dupiton, daughter of my sister who seems powerless in influencing her daughter's actions. Specially with an MD title that she thinks is a license for family dictatorship. A very Vindictive person who after causing havoc in my marriage and our family is resorting to all types of devious means to block any family peace initiatives where she could be made accountable for her divisive actions.
And me, being the senior male of the family who exposed her activities & trying to bring a resolution, she made me her target by filing bogus police complaints, and once a temporary order is issued, she fabricates violations to get me arrested. Just as in this violation complaint, stating that I was around her place of business in a busy commercial Linden Boulevard.
But what she did not say is that for 8 years the 2nd floor of that building was my home and office where I ran a business called "RockMasters Marketing. And for those 8 years, she was my landlord I paid rent to religiously. Then after getting married and kept the apartment as an office, she started invading the apartment and intruding into my personal life & marriage. Then one day, filled with jealousy and vindictiveness as my wife resisted her early intrusion attempts, she went to her lawyer and had him send us the letter below. An eviction letter out of nowhere.
And that's when things escaladed in 2013, and continued with a series of malicious activities that impacted my marriage, wife, daughter, family, and life in general. Totally out of jealousy and vindictiveness as you will see in the court cases history later.
But for now, let's go into the current criminal violation complaint.
CURRENT CRIMINAL COURT COMPLAINT
"THE WALKING ON LINDEN BOULEVARD CASE"
THE DUPITON VIOLATION COMPLAINT
So, as I understand it, she claims that I violated the current Westbury Temporary Court order by going near her place of business, and that I was looking at the building.
---------
FIRST: AS FAR AS ME LOOKING AT HE BUILDING
What she omitted to say is that I was looking at my old 2nd floor apartment where I spent 8 great years of my life. And as you, or any human will do when they walk by a place they used to call home, they will look at their old home to reminisce about the old days and old memories. That is totally instinctive. And if she has a video, that's what it will show. I could care less about her clinic which I helped her with, lived above and saw everyday for over 8 years
AS FAR AS WALKING PAST THE BUILDING
Well, the map below will show you exactly what happened that day. But keep in mind that this is also my old neighborhood that I lived in for decades, where most of the people I know live, and where I do business.
That day, I took the bus up Linden Blvd, past her clinic on 225 street to the Brasserie Creole restaurant I do business with 2 blocks away on 227 street & Linden. So leaving the restaurant I walked back to a grocery store, and a bus stop 2.5 blocks away, walking on the opposite side of a wide Linden Blv.
WELL HERE IS THE TELL-ALL GOOGLE MAP WITH MY NOTES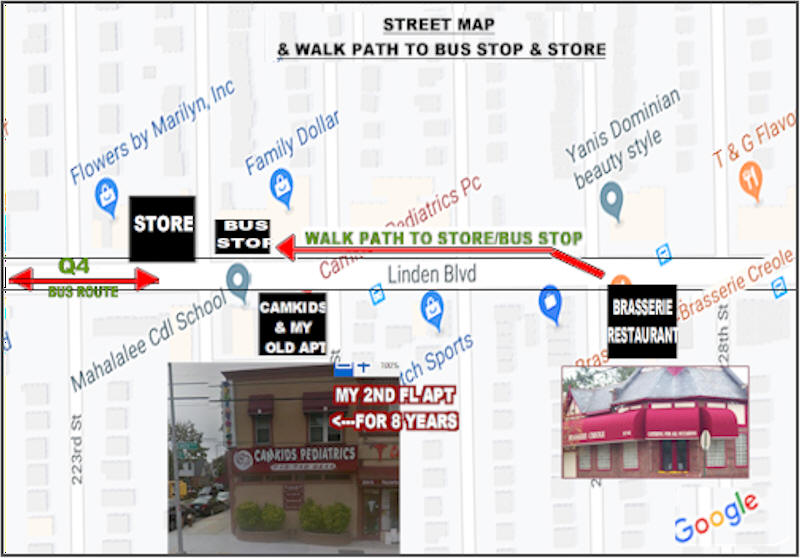 Now, her office is at the far end of the building, and with a wide Linden Blvd, I did not think of walking around with a laser measuring tape to confirm it was 100 feet . But I did get one more wake up call on how vindictive she is, and how strong is her determination to send to jail an uncle who was always good to her and the family. Thus the reason I cannot allow her to hold any restraining order as a permanent weapon or harassment above my head. And next, I will prove that to you with her pattern of bogus police complaints in the past.
My final and important point is that I am in Cambria Heights at least twice a week, and I plan to move back in the area soon. The Q4 bus is the only one serving that area. So there are no other options.
NOW LET'S GO TO THE FUN PART AND SEE THE PATTERN OF VINDICTIVENESS THAT GOT US HERE, AND WHY ANY RESTRAINING ORDER FOR MARIE DUPITON IS A NO-GO. THIS LAW WAS CREATED TO PROTECT WOMEN FROM VIOLENCE, NOT TO BE USED AS A WEAPON TO HARASS MEN.
BOGUS CASE #1
SEPTEMBER 2017
From the initial eviction of my wife & I from the apt/office in 2013, let' me jump ahead o 2017 after she already caused my marital break up. And without getting into details, let me show you the vindictive pattern of false complaints, arrests & my record of 100% dismissals in court.
As Marie Dupiton divisive and malicious actions within the family were getting exposed by me, she coerced my separated wife to file a bogus complaint that led to my arrest in a case I referred to as the famous "Blocked-Phone-To-Control" case. At the time I was represented by Carrie Solages (Nassau County Legislator). The case was such an obvious fabrication, that upon seeing the glaring proof, the DA withdrew the case. That was Sept. 2017, as shown by the certificate of disposition below.

BOGUS CASE #2
JUNE 2018 (9 Months Later)
Now 9 months later, without going into details, I find myself facing another bogus police complaint. This time, I was represented by Kayla Hardesky of Queens Law Associates. She got the case dismissed quickly on motion, as shown below.

FAMILY PEACE REQUEST
FROM HER MOTHER
Now, having had enough with this family drama, my sister Liliane, Marie Dupiton's mother called for a family meeting to bring all these shameful legal actions to an end. This was reflected in her text #1 below in French, saying that "Enough is enough, it's time to put an end to the quarrel and do a peace negotiation"
That was second in text #2 by Marie Dupiton's sister Dominique , then in text #3 by my daughter Tanisha, and agreed by me in text #4,
That all sounded great, until I got this message from Marie Dupiton, once more being vindictive and vulgar in blocking her mother's proposal.

BOGUS CASE #3
JULY 23, 2018 (1 month after last dismissal)
So here we are in July 2018, and with Marie Dupiton no longer getting help from my wife, she runs to the police herself claiming that I threatened her by saying "her 'Ass' will be grass". So, I received a call from a detective, and with Ms. Hardesky still my lawyer, I reported for another arraignment.
But this time, the Queens DA would have none of it. So while in the court house waiting to be called to see a judge, I get called aside by an officer and was handed this letter that came down from the DA, then he walked me to the exit door saying "Have a nice day Sir.". . That was July 23, 2018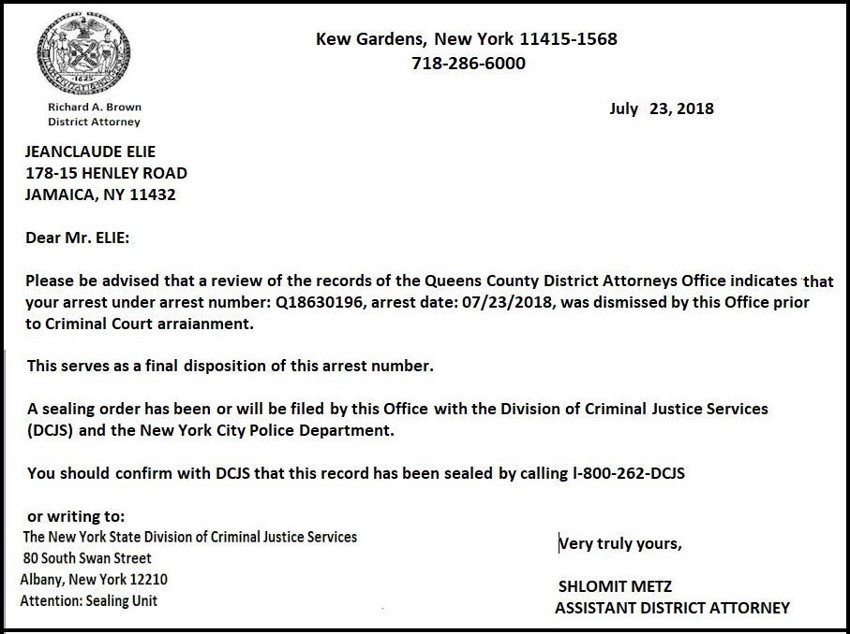 BOGUS CASE #4
JULY 26, 2018 (JUST 3 DAYS LATER)
Well, Mrs. Dupiton was not happy with the DA. So she went shopping for a friendlier court. And just 3 days later on July 26, 2018, she went to Westbury Family court to file the same complaint that the Queens DA had rejected, and got this Temporary order below which is now in trial.

For this case, I am now being represented by Ms. Jaimie Birk of Nassau County Law Associates at (516) 560-6452
In filing this complaint, the evidence of her obsession with getting me arrested is right there in her handwritten statement, calling for my arrest, and sent away for mental health. Just because she said so.
Then she sent me the texts below, further confirming her sadistic obsession with the police to get me arrested. You have it here in her own words to me after she was granted that temporary order.
BUT WAIT. IT GETS A WHOLE LOT BETTER, AS SHE GETS TO PUT THE ABOVE WORDS INTO ACTION, ARMED WITH THE WESTBURY TEMPORARY ORDER.
BOGUS COMPLAINT #5
NASSAU COUNTY POLICE CALL ON VIOLATION #1
Then all the sudden, I get a call from a Nassau detective saying that Marie Dupiton came to file a complaint that I violated a Westbury court order of protection by sending her an email. A complete fabrication which I was able to explain to the detective. But you don't have to hear it from me. The call was recorded. Listen for yourself,
Well the detective was convinced, and I never heard from him again. So did Mrs. Dupiton quit? Hell No!. That where you come in with Queens Criminal court.
BOGUS COMPLAINT #6
QUEENS COUNTY POLICE CALL (1 WEEK AFTER)
Now, just days after the Nassau Detective call above, I get an unexpected voicemail from my previous lawyer Ms. Hardesky, saying that a Detective from the 105 precinct in Queens called her trying to locate me, and that my niece had filed a complaint against me saying that I went by her place of business. Ms. Hardesky just could not believe that I was still going through this nightmare with my crazy niece after she got the last 2 complaints dismissed. So I told her about the open case in Westbury, and was told that I had to turn myself in to the 105th.
SO HERE WE ARE TODAY, AND MY SCHEDULE IS:
- CRIMINAL COURT: JUNE 6 WITH YOU
- WESTBURY TRIAL: JUNE 14 WITH MS. BIRK
YOU GOT THE STORY & WHY THIS NIGHTMARE MUST END
Thank You
Jean Claude Elie
917-406-5535
NOW MY FRIENDS & COMMUNITY READERS
YOU ARE READY TO ENTER THE QUEENS CRIMINAL COURT
THU. JUNE 6, 2019
I arrived at the courthouse at 9:45AM, and what do I see? Hundreds of people and police outside and the courthouse evacuated. So I said 'Darn, with my bad luck niece, there had to be a bomb scare today". Then I am told it was only a fire drill.
So an hour later, I was sitting in the courtroom. Then came the newly appointed lawyer who told me, let's go outside to talk. So we go in the hallway and he proceeded to tell me:
"The DA gave us a great deal. He is offering a 6 months ACD and.."
At which point I said: "STOP. The answer is NO. No deal. I've been around this block a few times with my wife, courtesy of this Marie Dupiton. I know what an ACD, and it's a NO"
[FOR INFO: An ACD (Adjournment in Contemplation of Dismissal) means you don't have to return to court, and the case is automatically dismissed in 6 months if there are no incidents]
Again he said "It's a good deal"
Again I said "Not for me. The only Good Deal is a straight dismissal"
So he said, "OK, I will file a motion for dismissal. But you have to come back to court". Which is fine by me.
So we go back inside to wait. But 10 min. later he calls me back outside and said: "Are you sure you don't want the deal. it's a good one?"
So I get ready to say "What the heck about the word NO that you don't get?' But I held my tongue and asked." So what case does she have for me to take a deal?
He said: "She got no case. By you just walking down the street is not going to get her anything?"
So I said: "Then why the heck you keep telling me to take this deal?"
He replied: "So you would not have to come back. And since I'll be leaving, it will be another lawyer following up"
So I said: "Then what do I do for 6 months? Live in a hole afraid to sneeze so my crazy niece don't claim violation via germs?".
Then he replied: "I got you. I'll 'write the motion, to dismiss"
To which I said: "Great, I am sure the next lawyer will be as good as you"
Finally I said to myself: "The lazy bum is leaving so he doesn't want to work and prepare a motion"
Well, we go back inside and our case gets called. The judge first turned to the DA who said: "Your honor, Mrs. Dupiton signed the deposition on May 17, (Meaning Crazy Mad Doc wants to proceed) and we offered a 6 month ACD"
Now before the judge got to us, my lawyer turned to me and whispered in a last desperate move: "Are you sure you don't want the deal. It's a good one?"
Now, I looked at him and thought 'If I punch the sucker right here, I'll really be in jail and make the Mad Doc happy"
So I said "NO & don't ask again"
So when the judge turned to him and asked for our decision, he replied that his client declined , and that he will file a motion for a straight out dismissal of the complaint.
So the Judge said "Fine", and gave him date to file his motion, and a date for me to return for the decision. A decision which is guaranteed to be dismissal #8 for me.
So in the end, aside for the comedy with the joker public defender, it was a no-thrill appearance as I expected it to be. But the thrills are not far away, as next Friday Mad Doc will be on the hot seat of the witness stand in Westbury court, where I will bring the charcoal to help in her grilling.
So as I headed back from the courtroom, I started to think that 'if the Doc could not get my wife to score 1 win in 2 years, what makes her think she can get one with these BS complaints?'.
All that shows is that the brain of a hater does not work like the rest of us. Because there is a proverb that says "When you are in a hole, you should stop digging". But this Mad Doc just keeps on digging thinking she'll come out in China and won't have to pay her dues. To which I say "Sorry Doc, You'll find the Rock waiting for you on the other side".
NOW, LET ME ADDRESS THE GREAT MEN & WOMEN OF OUR COMMUNITY
A SPECIAL LESSON FOR MEN &
MY MESSAGE TO THE GREAT WOMEN OF THE COMMUNITY
First, I want to point out to the community, that next week's fathers day weekend will mark the one year anniversary of launching the website theclaudes.com recounting this sad story, and the release of my first publication to this select community group you are part of. A story of internal family cruelty, immorality and inhumanity motivated by jealousy, greed, and driven by what I called in my last repot "Something Greater than Hate".
A story, while tragic, leaves many lessons for us all men and women of the community. So let me present a couple.
THE LESSONS HERE FOR MEN
The choice o fathers Day to release the story was meant to highlight the fact that us men, deserve respect as fathers and husbands, and we must stand up to unscrupulous women, like Marie Dupiton, who think that they can intrude in our marriages, coerce our wives, corrupt our daughters, and expect nothing will happen to make them accountable. Because they know that the laws written to protect them from violence, can be easily manipulated by them to use as weapons of abuse against men. A tactic you just witnessed Doc Dupiton apply to perfection with these series fabricated orders of protection to generate false arrests.
In addition:
These troublemaker women also know that men usually don't fight back against a system heavily weighted against them. Well, that was until Dr. Dupiton discovered that this uncle Rock does settle, nor take plea deals. That's why she'll be on the witness stand next Friday trying to fabricate some justifications for her allegations against me.
FURTHERMORE:
These women are also very skilled in turning men on each other, by taking advantage of somewhat insecure men trying to show loyalty to the female gender, or to prove their manhood, not realizing that they have been turned into puppets doing these women's dirty jobs for them. This was another tactic perfectly executed by Doc. Dupiton. And for this lesson to be perfectly clear to the men, let me give a couple of real life examples of that tactic used against me, directly from the Dupiton Playbook. A real-life lesson that I call:
WATCH FOR THE WOMEN'S HATCHET MEN
This troubling scenario that totally caught me off guard, involved Doc Dupiton's lining up the men of our family into a circular firing squad with me at the center, and all becoming victims at the end. All this happening while she stayed silent behind the curtains for 2 years directing my nephews into missions against me during my stay at my sick sister's house. Here are examples of actual missions, most of which I previously reported on:
Doc Dupiton blocking my nephew Ricky from sending me a warning message that Marline sent him for me about an obvious misunderstanding on her part that I would easily clear up, to fool Marline into executing the "Blocked-Phone-to-Control" false arrest you read about.

Then she blocked my nephews from bringing the court requested $100 to keep me away as they changed the locks for an illegal lock-out

Simultaneously, nephew Ricky would stage a drug addict slander with secretly taken pictures in my room

These male executioner nephews also tricked their poor-health dad into signing the house deed to them, for the right to execute the Dupiton legal eviction mission. which upon successful completion led to this conversation between The Doc & my nephew, which I showed in the previous "Beyond Hate" report


Mission commander to replies


Then nephew Frantz was delegated weekly to the house to harass me by disconnecting my internet cable from the outside.
The puppet nephews were then directed to invade my privacy by installing cameras inside the house to become Peeping-Toms watching my movements. Now, since this is the first time the "Peeping-Toms Cameras" Skelton is released, the evidence man must show the evidence. So here they are for #5 & #6 above

In addition, nephew Ricky who I blindly trusted as a protector of my daughter, was the male reinforcing the "Don't let men control you' phobia to her. Proven by a baffling message I received from my daughter saying: "I am not one of the women you have been able to push over"
Even worse, they became the only male members of the popular "0-for-3 in wives" chorus, as they are quoted telling me below

And the list of male missions goes on and on....

But my nephews were not the only betrayers of manhood. The list also includes Guy Dupiton (Aka Guy Theus), husband of Doc Dupiton. Also to a lesser extent, Marline's brothers acting on behalf of her divisive sister. All of them men who chose to look good to devising women, over their integrity and respect for the truth

So, these are a few of the pitfalls that the good men of our community should watch out for as they get targeted by divisive women who are jealous of their good life & what they have, or miserable in their own lives, or who are just plain haters.

Now, it would be a grave mistake on my part if I did not address the majority of great women of our community. Therefore, here are:

MY WORDS TO THE GREAT WOMEN OF OUR COMMUNITY
Let me first say that my victimization by an army of renegade women led by chief renegade Dr. Marie Dupiton, has not altered my view one bit, that the overwhelming majority are great women who treat men with respect and took care of us as mothers, wives, sisters aunts, grandmothers etc. They are the backbones of the good men that these devious women are targeting for destruction.

This is such a true belief of mine, that you frequently see me refer to my mother Anna-Rose. my Godmother Octavie, and my sick sister Roselyne, as the ones I credit for the person I am, and my beliefs in honesty, integrity, truth, love and justice. Not to forget God.

So, as someone who's always been a supporter of women's rights and women causes, I will not tolerate a few bad apples to impact the image o the bunch for me.

But, while these unscrupulous women are a small minority, they have greatly impacted the views on the majority for many of the men they have victimized. Men whose sad stories I heard, while waiting to see a judge in the back room of the courthouse each time a false accusation sent me through the legal system. Stories of black men who swear to never have anything to do with a woman, except for physical gratification. That is the legacy that women like Doc Dupiton leave behind by their acts of hate on innocent men.

So my words to the great women of our community, is to be conscious as not to tolerate a few bad apples simply because they are women like you, as their next victim may be your son, brother or father.

AND TO THE GREAT WOMEN DEDICATED TO HELP OTHERS THROUGH CHARITY


To these great women running organization that promote caring for the less fortunate, I am reminded of the French proverb that says:\

"Dis moi qui tu fréquentes, et je te dirai qui tu est
(Tell me who you associate with, and I'll tell you who you are)

A proverb meant for individuals, but equally valid for businesses, clubs and organizations. And any organization dedicated to charitable work, should even be more aware of who represents its public image, and the motives of whoever claim to be working on its behalf. As that association is a reflection of the organization's values and objectives.

Now, when it come to being charitable, we all know the saying that "charity begins at home". So ask yourselves these questions:
Can someone who promotes hate & division within her own family be considered a charitable person?

Can someone who is targeting an uncle with sadistic vindictive actions toward his demise, be charitable to others?

If that same person can corrupt the mind of a young girl and divide her from her father, can that person be compassionate toward strangers?
Can someone who displays greed, and pays allegiance to the God of $Green$, give financial contribution simply to be charitable?
Can some who is jealous of what others have, even obsessively jealous of an uncle living in Jamaica Estates, able to share her fortunes with strangers?
Can a medical professional putting a life at risk with a "Faking 230BP" diagnosis, then hides 2 weeks for a pharmacist to avoid refilling a critical prescription, be considered a charitable, caring & loving person?
Logic tells me that the answers to all these questions are NO. Because that person is a full-blown hater.
Therefore, any financial donation from that person for so-called charitable work, is just payment for self promotion commercials, or for a ticket for a seat at the community's table, or for acceptance in the social scene, or all of the above.
So, my final question to everyone, after having read all the above, where do you think that Dr. Marie P. Dupiton of Camkids Pediatric fits in that picture?. You answer, you decide, and the rest of us will be the judges. As there will be larger skeletons soon to be flying out of her closets .
CONCLUSION
DOC DUPITON'S DILEMMA & MISCALCULATION
The unfortunate tactical miscalculation by Doc Dupiton was targeting an uncle who is decades her senior, changed her diapers as a baby, and is 100 times smarter than she could ever be. An uncle standing like a Rock as a relentless fighter against injustice. And while always open to peace negotiation and honest communication, he will never capitulate or succumb to arrogant pressure. Neither will he forgive and forget until accountability is accepted, reparations made, and sorrow expressed for wrongs done. And if Doc Dupiton does not have the personality, or decency for any of these, and chooses to maintain an arrogant stubbornness, she should be ready for the long haul as more ugly skeletons start flying out of her closet.
.So, she drove herself into a prolonged fight that she thought would be a quick one, waged in secret. Instead, she finds herself in the embarrassing position of losing or capitulating with the community watching as a captive audience, and discovering her true face as a vindictive, sadistic, jealousy driven hater.
So I hope that my real life dramatic story of a fight against evil and for justice will serve as a motivation for other victimized men. But one thing that I am sure of, is that Doc Dupiton and her team of renegade women will never again stick their noses in someone else's private life and marriage. THAT, YOU CAN TAKE TO THE BANK.
So if the public sharing of this story will avoid just one soul from the renegades misery in the future, my efforts would have been worth it. As this struggle that I started on father's day 2018 was not just about me and my marriage, it was for the principle that while us men give maximum respect to women, elevate and protect them, we must fight for justice when wrong is done to us by a devious few,
So I leave you today by pointing out that, since all those people who supported Doc Dupiton's campaign of division seem to have retreated from those roles, I finally have Dr. Dupiton exactly where I wanted her. Standing alone from behind the curtains, and exposed to face me one and one.
MANO TO WOMANO
SO THAT'S IT FOR TODAY, AND UNTIL MY FATHERS DAY WEEKEND MESSAGE, AND A REPORT ON THE WESTBURY TRIAL DAY#2 SCHEDULED FOR THIS COMING FRIDAY, AS DOC DUPITON COMES BACK ON THE WITNESS STAND TO BE GRILLED
Checking out
Jean-Claude Elie
WHAT YOU JUST READ IS MY BIO OF DR. MARIE P. DUPITON
And if you are new to the story, or need a refresher on the background, Go to
www.TheClaudes.com
NOTE: Recent publications are not posted on the site due to the pending order.
So update are only via emails, or visit our Messenger group that you can join at
"THE LIE-BLOG"
https://m.me/join/AbYB_2E1Wi-fvgNQ