LILIANE CLAUDE - CALL TO ACTION - RELATING TO MY DAUGHTER
REVISED & UPDATED VERSION - APRIL 19, 2019
ADDENDUM:

Dear Sister

Below is an updated and expanded version on the "Call to Action" letter I sent you this week. I am hoping that this first letter from me directly to you as family elder and head of he Claudes branch of the family will be the last of my open publications on this tragedy.

I say that because I hope and expect that you will finally use this position of authority to take actions toward resolution and closure. Actions that will also serve to redeem yourself for your unfortunate participation in the drama, as revealed by the added information in this updated letter, using your past words, writing, and recording of Marline pointing fingers directly to you and my nieces.

However, the main purpose of this letter is still to address the negative impact on my daughter from her coerced participation on the conspiracies against her own father. Therefore, closure can never be reached until the matter of my daughter is addressed. And you are the person responsible to do so.

Therefore, let's go into the updated letter and my "Call to Action" request.
---
It is now 3 years since the day of infamy of Jan., 2016, and also 3 years of a family silence. So it is time for you as head of the Claudes family branch to answer the troubling questions revolving around my daughter and her coerced participation in the conspiracies of division that also victimized the whole family and my marriage.

As far as marriages are concerned: The scripture says that "What God has joined, let no man separate". Still, man frequently injects himself in relationships to cause that separation. And in my case, it was rooted on the evil of jealousy.

When it comes to parents & child relationships: Such rule does not exist in the scripture, as the idea of someone separating a union that God created at birth and bonded by DNA, was not morally imaginable. But again in my case, it came to reality from within my family.

Now, while the motives for the marriage division have been identified, the motives for the father/daughter separation campaign remain total mysteries. A campaign of brainwashing a daughter against her father, and using her in the marriage conspiracy. Therefore, it would be totally unrealistic for anyone to think that a father or a mother, would not demand full explanation of this immoral act.

Now on the day of the unexpected marriage break up, you and your daughters simultaneously made me enemy #1, and cut off all communications till today, as I became the one-way communicator of the family.

But here was the biggest drama.
On that same day and time, a daughter who I never once had an issue with, never had to discipline, and who was never even interested in boys, except for her books, in other words the perfect daughter, followed the Claudes path of cutting off communication with her father. Then was dragged into the Claudes prosecution of her father with writings so atrocious that I chose not to share them. But writings that she shared with you all, and that got your approval in total betrayal of adult responsibilities.

The first such writing was while the marriage was still intact. In it she stated directly to me, and to my disbelief: "You are going to lose a good wife , if you have not already".

Basically, here was my daughter in a message copied to you and your daughters, predicting the demise of my marriage more than a year before. And I know that my daughter is not a clairvoyant. But the most troubling part is that while you were copied on it, you had no reaction of shock, as any adult aunt would have. Why?

Still, at the time I treated it as a fluke, just like the many other warning signs that I ignored over the years, believing that my family could do me no wrong. But now I know that the coercion of my daughter's mind, along with that of Marline, started early on in our marriage.

Then just recently, Marline made some strange references to my daughter in an email to me stating: "You got the wrong ladies. "We do what we want when we want".

Then months ago, I discovered from an officer that your daughter Dr. Dupiton, had dragged Marline to a police station to help her file a false complaint asking for my wrongful arrest. That was more than 2 years after she broke the marriage. Totally baffling! Thus proving that the Claudes intrusion with Marline and my daughter had ever stopped, as they were bent on blocking any possible reunification of the marriage. And all this intrusion, coercion and manipulation took place with my daughter dragged into the conspiracy and not allowed to speak. Thus proving that this is a totally abnormal situation with everyone's long silence that spells "Guilt"

Daughter Connection in the "Faking 230BP Diagnosis

This one is a 3-years burning question that has been met by a rigid wall of silence. It is a suspicious story that I shared before, but because it involves my daughter's name, l am haring it again as it requires a long overdue explanation from you and your daughter.

It is about the night when a Walgreen pharmacist called me about an important prescription that Dr. Dupiton had written for me and that he was trying to refill. He advised me to get another doctor rewrite the Rx, because after trying to reach Dr Dupiton for 2 weeks, he concluded that she was purposely "hiding" from him. And that in his whole career, he had never once been unable to reach a Doctor for days, let alone for 2 weeks.

I was so shocked and upset that my own niece could be so cruel and devious, that I got excited, became dizzy, and my blood pressure jumped to a life threatening 230BP. So, I rushed to my wife pleading her to take me to the ER. But to my disbelief, she just froze without saying one word with a telephone in her hands. In the end, I took off & dangerously drove myself to nearby Queens General hospital. As proven by this picture which I snapped at 217/136 before running to the hospital. And any doctor will tell you this was a deadly number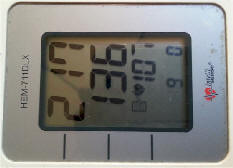 Now I did not mention the incident to my family, fearing a backlash on my wife. But little did I know about who was on the phone and made her freeze. But each day afterward, I would ask her for an explanation and was always met with silence.

It was not until 2 weeks later that God put the phone bill in my hands, and I discovered that your daughter Dr. Dupiton was on the phone with my wife at the time of the incident, followed by a series of 6AM phone calls involving Doc Dupiton. But my biggest shock came when I observed my daughter's number in the series of more than 5 calls to my wife. Calls that even my wife had never mentioned to me, reflecting the secrecy that was demanded of her toward her husband.

So when I inquired with the family as to why no one had called me, everyone went into a total silence upon hearing of my phone bill discovery. It was not until 2 years later that I got the answer from nephew Eric Balmir Jr. (Ricky). The same nephew who had informed me upon hearing of the marriage break up, that "These women in the family are trouble, and that is why he lived far from them in Brooklyn".

Well, that was before he too was converted by these same women who had already converted my daughter into their feminist anti-men and "Control" philosophy. But under pressure from me, he finally revealed that Doc Dupiton had convinced my wife not to take me to the ER with a baffling medical diagnosis that I was "FAKING" the 230BP. So the 6AM phone calls that followed, were to check if her diagnosis was correct. That is, if I was Dead or Alive.

But in my habit of recording arguments to protect myself, I also discovered that I had recorded an instance of me questioning my wife before I knew of the phone calls. So listen to a clip of me angrily confronting my wife just a day or 2 after the incident, and wrongly suspecting that her family was behind it.



TO THE BIG QUESTIONS FOR SISTER LILIANE ARE:
WHY WAS MY DAUGHTER INCLUDED IN THESE EARLY MORNING PHONE CALLS, AND WHY SHE HAD NEVER CHECKED ON HER FATHER?

WHY TILL TODAY, SHE WONT TELL ME THE NATURE OF THE 6AM PHONE CALLS?

SINCE YOUR DAUGHTER WON'T TALK EITHER, AND SINCE YOU KNOW THE ANSWER, "WHAT WAS THE REASON BEHIND THE "FAKING" DIAGNOSIS?"
THESE ARE MY BURNING QUESTIONS THAT YOU, SISTER LILIANE, MUST ANSWER ON BEHALF OF MY DAUGHTER & THE GREATER FAMILY. BECAUSE, IF THE SECRECY OF THESE ANSWERS IS THE LOAD ON HER CONSCIENCE THAT'S PREVENTING HER FROM SPEAKING, YOU MUST RELIEVE HER FROM THAT LOAD IMMEDIATELY AS HER AUNT.

And as to the motives of your daughter who is a practicing physician, I leave that question for her to answer to her conscience and to God. Specifically since this is just one of hundreds such questions that she'll have to answer to him.

And just for the sake of it, let me snare a couple easy questions that you should also be able to answer for her
EXAMPLE #1: THE JAMAICA ESTATES HOUSE JEALOUSY
It was on a peaceful day at home with my wife, when a shocking message popped up on my phone. So Liliane, you should ask your daughter, "Why she send me this text below?"

& why she went silent after I said that my wife's home, & I saw no cops?. "Was a Jamaica Estates jealousy shock?

[Following is the message that did not upload in the original letter]
Then just recently, your daughter sent me a message in which she forgot that upon marriage, I had moved from a large 2.5 bedroom apartment & office to my wife's home for a lifelong relationship wherever she lived. Well, read for yourself how she described that move and the locations I was moving from and to:


Suddenly, my 5 rooms apt. became a "room", and Marline's home was called "JAMAICA ESTATES", In upper case!
CONCLUSION: Jamaica Estates house jealousy gone Ballistic

EXAMPLE #2: THE EX-WIVES CLUB
In this example, here is a text of Marline that I stumbled upon. In it, Marline confirmed Johanne's promise to her of an 'ex-wives club' with my first wife (my daughter's mom).


Well, I guess this is one promise that was kept by niece Dupiton toward my wife

WELL: FOR ANYONE QUESTIONING "INVOLVEMENT", THESE ARE2 PERFECT EXAMPLES OUT OF 100, OF NEGATIVE /DESTRUCTIVE INVOLVEMENT
ADDENDUM- ADDED SECTION TO LETTER
For this updated report, I am adding the section below containing your own words & those of your daughter Dominique to further confirm the 'Jamaica Estates Jealousy motive, and your participation in the overall conspiracies.

While this section deviates somewhat from the main focus of the letter, which is my daughter, it is important in showing the link from the marriage conspiracy to the father/daughter division campaign. Thus making it more believable that the Claudes are responsible for her current state of mind.

I am also including this additional information for another more positive reason. That is to show how much I am willing to forgive for the benefit of peace and for the well-being of my daughter. Therefore Liliane, you will have no reason not to do what is right, and respond positively to my 'Call to Action"

So, here are just 5 cases involving you to show that the marriage conspiracy has been proven, and its mysteries solved to my satisfaction. So the only mysteries that remain, revolve around my daughter. Therefore, that ball will be handed to you at the end of this letter.

CASE #1: LILIANE'S GIVING HOUSE ORDERS

Now, 2 weeks after the break up, I had informed you of the possibility of my return home. Then instead of the happiness I expected to hear, you angrily yelled at me over the phone in Creole:

"Ou pa ka al nan kay sa'a san ou pa gin yon papye ki siyen pa Malin"
(You can't go back to the house without a signed paper from Marline)

Obviously, Marline's house was also an issue with you. Even speaking for her about her own house, and telling me what to do in my marital home.


CASE #2: YOUR DAUGHTER DOMINIQUE ON HOUSE

Then I get a nasty long email from Dominique replying to my possible return home, and I quote:

What I don't get is that you tainted Marline's reputation with your public texts
Yet you want to remain in the marriage? SOMETHING DOES NOT ADD UP

Well, I don't know what "did not add up" with wanting to return home, except for the Claudes "Jamaica Estates" jealousy. And, that message came just 2 weeks after the break up, and till today, not one person can point to one derogatory word that I said or I wrote to stain Marline's reputation, in spite of everything that happened.


CASE #3: LILIANE ON THE HOUSE AGAIN

Now, the Claudes even told Marline that I married her for her house, and the absurdity that I want to steal her house. That forced me to reveal that my first duty as husband was to save the house from foreclosure, because of Marline's long unemployment, and because it was also our marital home. Then 2 people you know said to me: "Claudy: Liliane told me & other people that you are lying about he house".

And why would I create such lie when there are bank & court records. Plus, I said it with Marline's full knowledge.
So Liliane, you had a hard time accepting that fact, because it goes against the house jealousy.


CASE #4: LILIANE ON THE CLAUDES PLOTTED DIVORCE:

In this case, I was taken back when a couple of people asked me about my divorce. And seeing my dumbfounded look, they said that "Your sister Liliane was spreading the news of your divorce to Marline". A news that as the husband, I should be the first to know.

Well, since this illegal Haiti divorce was another one of Doc Dupiton's secret plots, you had first hand knowledge of it. But what you did not know, was that I had moved from my friend's house, and never received a copy of that fraud document. In the end, you incriminated yourself and your daughter by jumping the gun to spread the juicy hot news of a divorce that would keep me from the dreaded "Jamaica Estates" house for good.
Well, Haitians have a name for people like that. We call them "Just Come" or "Arivis"


CASE #5: LILIANE SELF-INCRIMINATION WITH THE WORD "ALSO"

Upon relocating to my other sick sister's house after the beak up, you dear sister Liliane came to the house, and when I started to question you, you yelled at me

:

Map fѐ you fout ou déyo ici a "TOU"
(I am going to get you kicked out of here "ALSO")

Now, I capitalized the word "ALSO", as a major self-incrimination on your part. Because by saying "ALSO, you basically admitted to have done it before. And since that was just one month after my wife broke the marriage, you inadvertently took credit for that action, and confirmed the existence of the marriage conspiracy.

MARLINE CLOSING THE CASE ON SISTER LILIANE.

Now Liliane, let me have Marline confirm all that I said. Here she is NAMING LILIANE & JOHANNE INSIDE THE MARRIAGE. You must listen to this, because you can't deny what is recorded LIVE in Marline's voice
CLICK
LISTEN

CASE CLOSED - SO LET'S GO BACK TO MY DAUGHTER
So Liliane, as I go back to the issue of my daughter, you just saw from your optics only, a tiny sample of the mountain of evidences confirming to all, that the marriage conspiracy was real, ambitious and effective.

Therefore, having proven that fact, you need to know that your daughter Doc Dupiton is no longer my concern. Because I know all I needed to know about her activities, plots and complicities. So I will let her conscience, the community and God be her judges. Therefore she can stop wasting her time and money going after me, and let the police & the courts use their time & taxpayers money to chase real criminals.
SO LET ME RE-EMPHASIZE THAT MY ONLY CONCERN NOW ARE THE MYSTERIES AROUND MY DAUGHTER

THE BOTTOM LINE OF THIS "CALL TO ACTION"
it is also a fact that the script writers of all past activities, up to the current Westbury court case, come from the Claudes branch of the family, and operated with your full support at its central location in Baldwin, Long Island, where the coercion of my daughter was also planned. Thus leading to her current state of mind, and inability to express herself truthfully

Therefore Liliane:
AS THE CENTRAL FIGURE WHO IS 100% KNOWLEDGEABLE OF ALL THE DETAILS AROUND MY DAUGHTER, I PUBLICLY DEMAND THAT YOU END THE SILENCE TO EXPLAIN WHAT WAS DONE TO CAUSE THE DRASTIC CHANGES IN HER. THEN HOPEFULLY, SHE CAN BE FREED FROM THIS GRIP OF SILENCE & SPEAK FOR HERSELF. I DEMAND THAT OF YOU AS SISTER AND ELDER OF THE FAMILY. IN ADDITION, BY SETTING THE RIGHT EXAMPLE MAYBE OTHERS WILL FOLLOW.
Now, while Marline, who is also under some gag order on speaking, owes me some explanation for self-destroying the marriage, I can't force her to do so. However, as a mother herself who knows all the details about the negative manipulation of my daughter, she has a responsibility to set aside her "People-Pleaser" duties toward my family, and be truthful to me about my daughter.

In the end Liliane, I am a peacemaker, a forgiver, and not a vindictive person looking for revenge and punishment as this niece of mine. But I will fight for my rights and what is right,

In fact, Marline had said it best when she wrote in my defense during her long-gone 'Good-Wife' days:
".my husband is always there to help everyone, but he is not going to let anyone walk all over him.."
And what I will not tolerate is for anyone to think they are better than him...
Very Well said Marline. But "How time has changed!". Or should I say "How people change with time!"

So Liliane, I may be a man of peace, but no one will walk all over me. You should also know that when it comes to wrongdoings involving someone's child, specially an only daughter, forgiveness and moving forward cannot be accomplished without the truth needed to bring closure.

In fact, I have already forgiven Marline, being that I always saw her as another victim along with my daughter. I may even add my nephews ton that list. That is why I am closing once more with the words of this wise old Haitian woman (Gran Moun) who told me upon learning of my story.
"JC., you should forgive your wife. Because if someone can do the impossible of coercing your daughter to go against you and side with them, when a daughter is money in the bank to a father. Then brainwashing your wife against you is 100x easier. It takes a demonic force to achieve this impossible double hit. So somewhere, somehow, through someone, a Demon entered the family"
So, Liliane, you have been handed the ball, and your "call to action". It is also a chance to redeem yourself as the family elder. You will not be doing it for me, but for yourself, the greater family, and most of all, our late mother watching you from above.
Let me leave you with this thought

For the first 2 years of our marriage, Marline constantly bugged me to start writing a book on our story that began in 1998. Even the title was already chosen. You can ask Marline, and she wont be able to deny it.
The chosen title of the book was to be,
"A HAITIAN LOVE STORY"
But then, love clashed with jealousy, Haters, and intruders, including those outside my family, and not identified in my publications. But will be in the different book that will be titled
- FROM LOVE STORY TO HORROR STORY -
The perils & dangers of jealousy from within familie(s)
~~~~~~~~~~~~~~~~~
And for a reality check on this title, I invite you to watch the NEW VERSION this historical video called
A TRIP DOWN MEMORY LANE
And a lot will become clearer.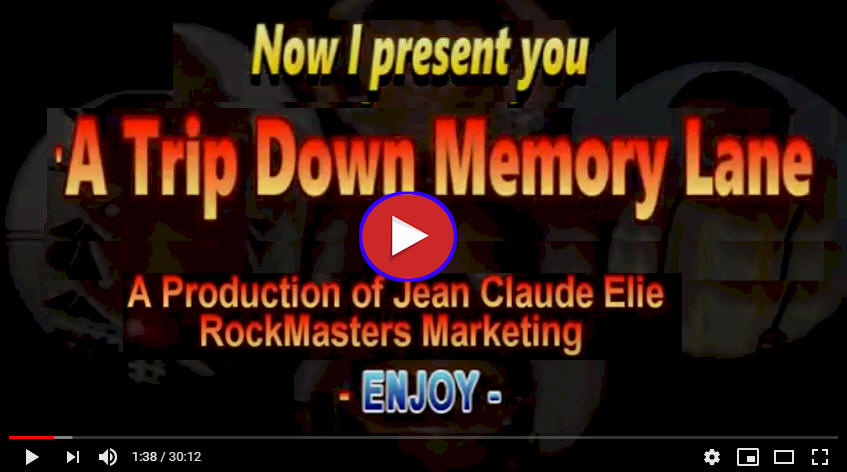 - THE LESSON TO TAKE -
Attacking a man's wife and Marriage is one thing. Corrupting a man's daughter is crossing the red line.
GOING AFTER ALL 3, IS CROSSING THE RED LINE & TOUCHING THE 3RD RAIL
I NOW INVITE YOU TO READ THE PREVIOUS PUBLICATION THAT GOES WITH THIS ONE. IT'S CALLED
==> ABOUT INVOLVEMENT & INTRUSION <==
THANK YOU
Your brother Claudy
Eng. Jean Claude Elie