For this scenario, I decided to add a touch of humor with the facts and statistics presented in a fictitious game scoreboard.
So, let's compare the cruelty score between my family under Doc Dupiton, compared to my wife A score measured by the number evictions, abandonment's and kicking my butts out. For that, we have the following:

TEAM MARLINE ELIE
A team of one, with 1 cruelty point scored from the way she kicked my butts out in the day she broke the marriage.

TEAM DUPITON- RENEGADES
A team of Family Renegades coached by Doc Dupiton with a diverse record of scoring points on every element of the cruelty spectrum, as strategize by its coach.
So let's go to the play by play scoring by players of Team Dupiton
Doc Dupiton's marriage conspiracy, and strategist for Marline Kicking husband Butts out. (She gets 1 point for assist.)

After a good friend and his wife took me to their home, the Doc's sister Dominique wished that they too kicked me out by sending me a message saying: "I hope that your hosts will not be the next one you blame after they KICK YOU OUT". (She scores 1 cruelty point)

After moving to my sick sister Roselyne's house, sister Liliane yelled at me "Map fe yo fout ou deyo ici a tou (I am going to get you out of here also. (Scoring 1 Cruelty point)
And when I told her that I may be able to return home, she again yelled at me "You cannot go back to that house without a signed paper from Marline (Point #2)

Abandoned into detention for days by refusing to bring a lousy $100 requested by the court from their "Blocked phone to control" framed arrest (1 more point for the coach)
Then my daughter said: "I will not go to some dirty jail to get you. I will do no such thing:. For that she gets (1 point for assist)

While still living at home, Doc Dupiton sends me a scare tactic text saying "Claudy, get out of THAT HOUSE. Marline is sending the police to arrest you". A total lie (1 more point earned)

Attempted illegal eviction by locking me out from my sister Roselyne's house in freezing winter weather. (1 cruelty point for the coach)
Then my nephew Frantz & my daughter came to execute the lock out at my sister's house (1 point for each)

Coercing my nephews into a court ordered eviction by suspiciously switching their parents house deed to them (1 point)
Then my nephews who took me to housing court (Each gets 1 point)
So that makes a total of 16 cruelty points from team Dupiton on actions against my living freedom. Oh No! I almost forgot the big original eviction sin of Doc Dupiton:
This one should be worth 10 points by itself for smashing the "Doc's Vindictiveness Scale".
Here is the play-by-play of this score.
Soon after Marline and I got married, and still renting the office/apartment above Camkids, Doc Dupiton got frustrated that my newlywed wife rejected her early advances and lashed out with an act of revenge proving how far back she was the dangerous loose canon of today. .

1) GIRLS IN MY OFFICE CRUEL LIE:
One day, Johanne became grossly creative with the activities in the busy RockMasters office above Camkids. So when she told my new wife, and I am paraphrasing what Marline told me happened,
"Oh Marline, I am going to tell you something to help your marriage. Your husband is bringing girls to the office". (Referring to ladies coming to get party tickets).

Well Marline who was aware of all the traffic in the office shut down Johanne, telling her "I Did not come here to talk about my husband". Which to the Doc is a slap in the face

#2) THEN THE SINGLE PARTY INVITATION
Then Johanne became more daring by sending my wife a single's invitation that excluded me for a party at her house. Obviously early attempt at ownership of my wife. But Marline, still herself, was baffled by the invitation, showed it to me and did not bother to reply. But I did launch one the many early complaints I I've talked about to her sister Dominique about the trouble Johanne was starting on my first year of marriage. But I got this jealousy loaded reply from niece Dominique saying: "Didn't you say that Marline and you are one? So if Marline is invited, so are you"

Now before I show you the huge cruelty point that Mad Doc scored, please notice how the Claude sisters were already feeling ownership of my wife, even telling me that she is the one who get to bring me to my own family events. Then there is her glaring expression of jealousy by throwing back to my face the fact that I had said "my wife and I are one."

SO HERE IS JOHANNE VINDICTIVE REACTION AGAINST MARLINE (Which Marline seems to forget)
Doc Dupiton ran to her hr lawyer and had him send us the first EVICTION LETTER BELOW

A vindictive act because she could not get to my wife. But her perseverance paid off 3 years later. (So more cruelty point)
So Let's take a look at the final score on the Cruelty Scoreboard to see who's the real problem.
THE CRUELTY SCORE BOARD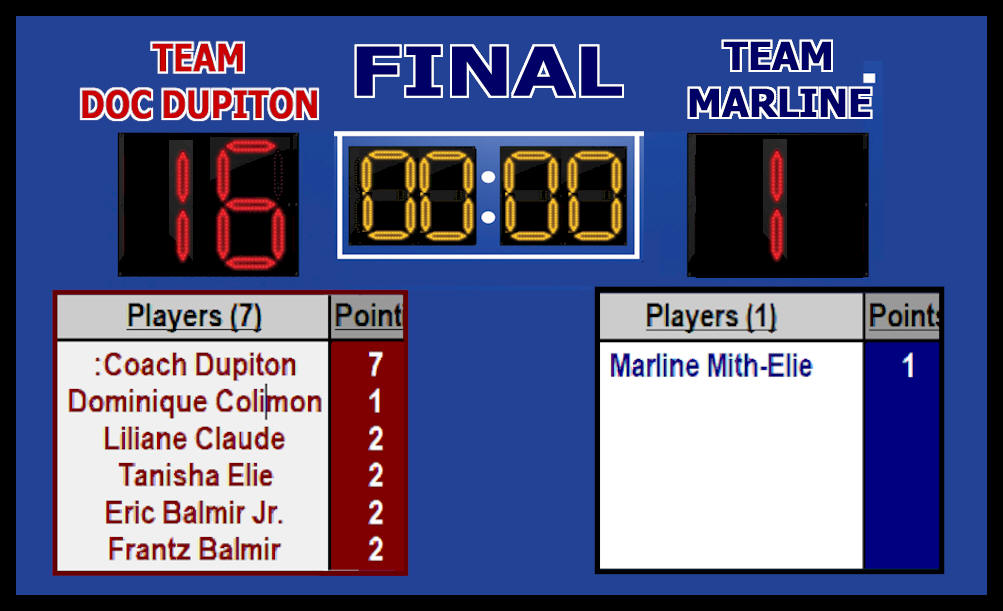 So when it comes to cruelty, this family beats my wife by a lopsided score of 16 to 1, in an unbalanced match up of 7 against one. Proving once more how Doc Dupiton and my family renegades are responsible for this catastrophe, the marriage break up, my daughter manipulation, my wife's brainwashing, our family breakdown
THE FACTS ARE THE FACTS
This graphic represents the type of scientific facts that Johanne Dupiton is obsessed with blocking me from publishing. So she imposed a reading ban and a speaking gag order on everyone. And now she is running to police & courts trying to shut me down. But that ain't going to happen in the good old Democratic USA, where freedom of speech & of the press are guaranteed under the constitution. Specially when what I am publishing is 100% the truth.
Now, in desperation she is resorting to police scare tactics by creating another one of her crazy slogans which she sent to me saying
So her 10x smarter uncle replies:
"I KNOW HOW TO WRITE DARN WELL. THAT'S ALL I KNOW. - YEP, DUMMY!"
NOW LET'S DO SOME OF THE TRUE INTELLIGENT LOGIC THAT THE DOC HATES
Before Marline had scored her point upon breaking the marriage, she used to give me suggestions on where I would go live if we ever broke up. Allusions that you probably heard in recording saying the following::
"Go to Liliane. Go to Johanne. Go to your family."
"I already told your family & I will tell them again"

Basically those recorded statements reconfirmed that my family was part of the plan to force me from my home. But these statements also work in her favor, as they prove that she expected me to go stay with Liliane, Johanne or other member of my family with its 5 houses and 2 apartment buildings. She did not know that their plan was to force me into the streets. But good man Jean-Claude with a good heart has good friends who would never allow that to happen. So Jean-Claude was never once in the streets.
NOW LET'S ANALYZE & QUESTION THE FAMILY'S INHUMANE BEHAVIORS
For that, let me directly address the family about these 6 questions on inhumane, immoral and abnormal acts of evictions, lock-outs and abandonment of a family member that they will have to address for this family to cleanses itself in front of society, and for Dr. Marie Dupiton to be again viewed as a viable member of this community, socially and professionally.
QUESTION #1 TO MY FAMILY
Regarding my midnight distress call to you upon exiting my home, I stated clearly that I had no wallet, no money and no car. Thus unable to even take a cab or subway. So by ignoring me.
In fact, here is a screenshot of the actual distress message, and who I sent it to in the family on Jan. 26, 2016 around midnight.

:
So by ignoring my SOS call. what the heck did you expect to happen to me? Sleep on a sidewalk? Live & die in the streets?
THE COMMUNITY WANTS TO HEAR THE JUSTIFICATION.
QUESTION #2:
Now, going into my framed arrest on your "Blocked-Phone-to-control" plot. When the judge only asked for $100 bond, she was making it easy for me to go home to return on the court date. But what she did not know, is that my dear niece Doc Dupiton would block delivery of that $100 for a week. Thus forcing me to stay detained in a dormitory. So with this other act of inhumane cruelty comes this question:
Can you explain the heartless justification for refusing to bring the lousy $100 & forcing my detention in a act of extreme cruelty?
THAT'S WHAT THE COMMUNITY OF FAMILIES WANT TO KNOW.

QUESTION #3:
Then on the day I came back and found myself locked out , I could see my nephew Frantz, and to my disbelief, my daughter inside my sick sister's house telling me "Go away, you are not allowed inside". WOW, WOW!
So, as it was freezing outside with only a sweater on, what did you expect to happen to me if I just walked away to nowhere? To go freeze to death in some street corner?.
THAT'S WHAT THE COMMUNITY WANTS TO UNDERSTAND?

QUESTION #4: (A Big Multi-parts one)
On the same day above, you took my daughter and delegated her to my sister's residence for the purpose of locking out her father in freezing weather with nowhere to go. Then never offered to take him to her 3 bedrooms house. A mind blowing act that will leave all fathers and daughters reading this in shock & asking:
A) Was that her initiation to prove herself worth of being an anti-men Renegade capablle of extreme cruelty?
B) Was that to solidify the Dupiton scripted separation from her father?
C) Was it to condemn her to a life of eternal guilt if something was to happen her father in the streets?
D) How come she did not take him to her house where she lives alone. And how come no one told her to?
WELL FOR THESE ANSWERS, THE COMMUNITY WANTS TO HEAR FROM THE FAMILY ELDER LILIANE CLAUDE WHO TOLERATED SUCH INHUMANE BEHAVIORS.
QUESTION #5:
Then my nephews were pushed into making their sick old father unknowingly sign the house deed to them for the sole purpose of executing my legal eviction, which they succeeded. That was followed with a series of celebration messages with the Doc breaking 2 years of silence in a group text message inquiring about the success of the eviction with the mission commander, nephew Ricky. Here are screenshots of the exchange. BTW: You get to see this because ofDoc Dupiton's mistake in not realizing that I was also in the text group.
Here is the Doc aking the mission commander

And the commander to reply


Without having to show again the rest of the vulgar celebration messages, let's just ask this question.
Was that celebration a premature belief that you had finally eliminated me for good physically since I run on batteries, and never to be heard from again, Dead or Alive?
Obviously a gross strategic miscalculation as I am in your face constantly, and will continue to be until all the answers are given. And specially on the cultist indoctrination that my daughter was subjected to.
AND NOW WE HAVE A TOTALLY SHOCKED COMMUNITY, WONDERING ABOUT DOC DUPITON'S SANITY & TRUSTWORTHINESS AS HEARTLESS PHYSICIAN.
QUESTION #6:
Then going back to this question that I've asked many times when Doc Dupiton tried to trick me into self-evicting myself from my home with a real cheap shot. Obviously taking me for a big idiot, but instead made an idiot of herself with this scare-tactic police text she sent me when my wife and I were at peace.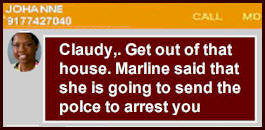 Which raises the following question:
For the Doc to attempt such an idiotic cheap shot hoping for my self-eviction, she must have been hit with an overwhelming rush of the "Jamaica Estates" house jealousy? Or what else could it have been?
SAME THING THE COMMUNITY IS ASKING